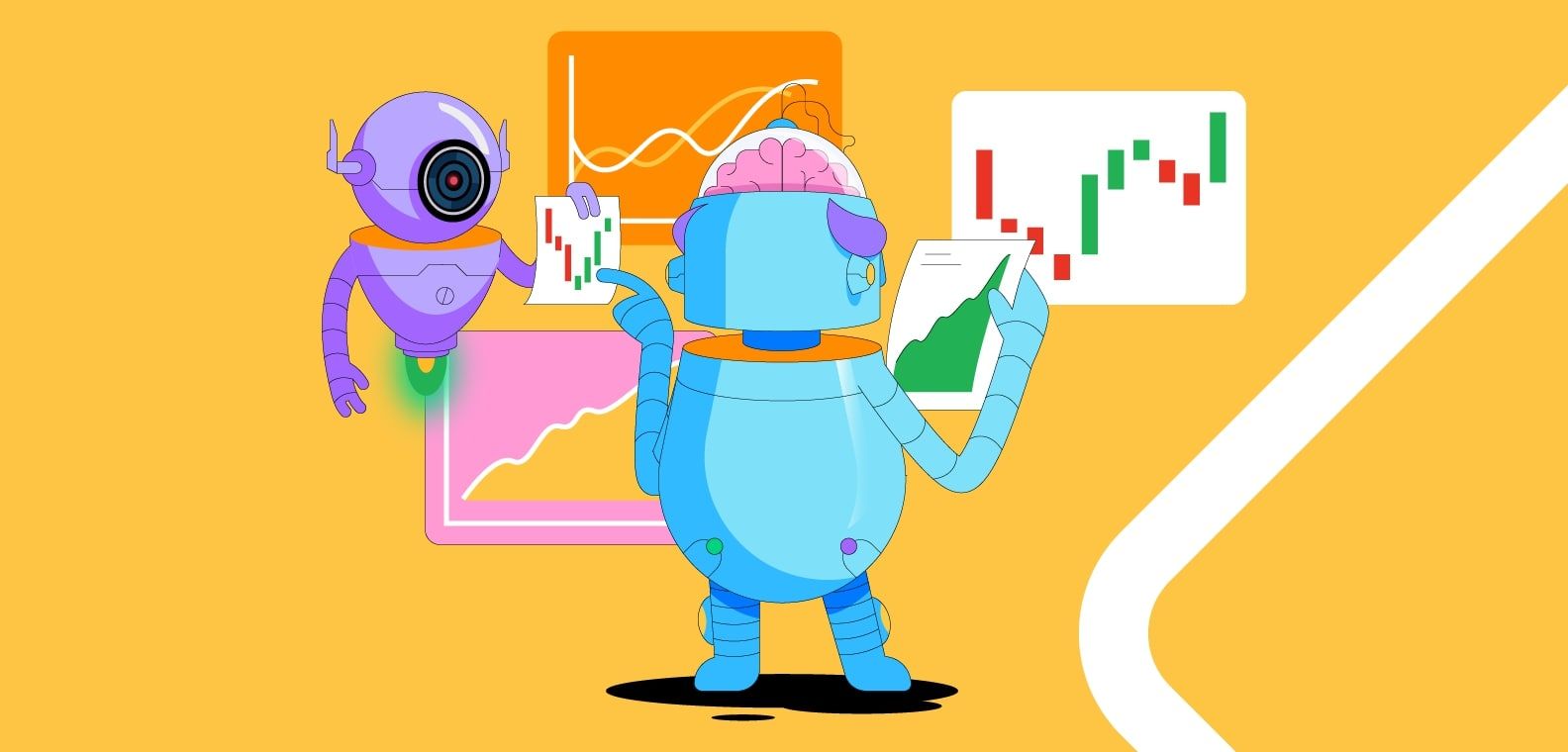 9 Best On-Chain Analysis Tools In 2022 (Most Are Free)
Doing your own research on crypto can be difficult without the right tools at hand. If you're struggling to choose the one that best meets your needs - check out the list below, it might help.
The list of records on a blockchain is growing every second, and it's easily accessible to anyone who's interested in seeing this data. However, trying to manually analyze those records to make important trading decisions can not only be inefficient but also… simply painful.
Here's where on-chain analysis tools can come in handy.
Since there is an infinite number of possible sources for the crypto market analysis, such tools aim to simplify this process by organizing all essential and relevant data into one centralized view. This can provide you with visualized information on the emerging trends and patterns, thus helping to make more informed decisions.
So without further ado, let's see what some of the best (free!) on-chain analysis tools can do and which ones are worth your attention in 2022.
DEXterlab
Best for: Tracking the adoption and usage of digital assets, new asset discovery, following different wallets, identifying emerging market trends.
Pricing: All features are free.
One of the freshest in the market (but very promising), DEXterlab is a free on-chain analysis tool aimed at making complex crypto data simple and easy to understand for everyone – both beginners and experienced crypto investors.
This platform will allow you to analyze the data from multiple blockchains (starting with Ethereum and Solana). You will get to track the movement of funds, see a comprehensive view of transactions, discover new crypto projects, tokens, hot NFT collections, monitor their prices, adoption, usage, longevity, spot emerging trends, and more. This way, you can be more confident about the investment decisions you make.
The best part? Besides offering a customized data feed and powerful digital asset tracking and discovery features, DEXterlab also makes this whole process fun and engaging by allowing you to interact (e.g., give awards) with your favorite wallets, NFT collections, coins, tokens, and more.
Key features:
In-depth insights on any digital asset (coins, NFT collections, tokens)
Discovery tools for new crypto projects and the possibility to monitor the old ones
Wallet tracking – follow whales, traders, institutions, etc.
Key information about holders (wallet types, transactions, interests, etc.)
Early discovery of emerging trends in DeFi, NFTs, DAOs
Customized dashboard and data feed based on your interests
Custom notifications for important events
Multiple blockchain support
Trading platform (in the later stages of development)
Drawbacks:
There is no user base yet to test the platform, and the social sentiment is currently low. The platform has no time frame for success, and a decent trial version is not active – it has yet to live up to its promises.
DuneAnalytics
Best for: Doing Ethereum blockchain research by creating simple (mainly pre-written) queries to existing databases.
Pricing: Free plan available. PRO plan costs $390/month per user.
DuneAnalytics is a crypto data platform that is essential for everyone who wants to get accurate insights related to the Ethereum blockchain. It allows you to analyze smart contract data with simple SQL queries (used to interact with a database) and easily visualize and share the information you've collected with the community.
These queries and dashboards you're able to create and explore using DuneAnalytics are two of the most important features of the platform. There are tons of premade dashboards focused on a specific section of the Ethereum blockchain that you can check and follow (e.g., Top NFT collection buys of BAYC holders), and the same goes for queries. This way, you can easily access the data that's already been compiled by other users or, in case something's missing, start your own research from scratch.
Key features:
Premade dashboards consisting of valuable insights on the specific section of ETH blockchain
Categorized and visualized queries that allow matching your search intent quickly
Custom dashboards that you can create by adding queries to them
Access to many different metrics for on-chain data analysis
Easy data collection, visualization (charts, graphs, etc.), and sharing
Exporting results to CSV (available in PRO plan)
Drawbacks:
Even though DuneAnalystics has a plethora of information, it has a lackluster UI and does not give enough freedom for chart editing. Similar to other platforms that offer quality data – it is costly.
Nansen
Best for: Crypto professionals and investors looking for in-depth insights into on-chain data.
Pricing: Free plan available. Paid plans vary between $149/month and $3000/month, depending on your needs.
Nansen is one of the most popular crypto analysis tools that provides detailed on-chain data combined with a huge database of crypto wallet labels. The platform is great for crypto professionals and investors but can also be helpful for crypto newbies that want to get a better view of the market.
With Nansen, you can access the necessary data via easy-to-use dashboards, SQL queries, and APIs. This platform allows you to get insights into fund movement and get a detailed view of transactions by analyzing millions of wallet labels, discover various digital assets and spot emerging trends early, get customized alerts for important events, and more.
The data is available for leading blockchains, including Ethereum, BSC (Binance Smart Chain), Polygon, Fantom, and others.
Key features:
Analysis of 70M+ wallet labels to provide insights into the flow of different coins and tokens
Exchange, token teams, and funds tracking
Discovery tools for new projects, tokens, new NFTs
Spot emerging trends in DeFi, NFTs, DAOs through visual dashboards
Support for multiple blockchains
Wallet profiler, ETH tracker, DEX trades, downloadable CSV data, and more are available with paid plans
Custom smart alerts for important events
Drawbacks:
Nansen is costly and not budget-friendly for retail investors. The tool provides value to all users, especially real on-chain metrics. However, Nansen is used chiefly for big wallets, institutions, and professionals.
Glassnode
Best for: In-depth analysis of market indicators for various cryptocurrencies and keeping up to date with market changes.  
Pricing: Free plan available. Paid plans start from $29/month (annual subscription).

Glassnode is one of the best crypto research tools that offers an in-depth overview of valuable on-chain market indicators and insights into fundamental metrics for wallet addresses, exchanges, miners, institutions, OTC desks, and many more.
Those are all available on the platform's live data explorer, where you can dive deep into various charts and dashboards. For instance, if you click on "addresses," you'll get 30+ more detailed insights on things like address activity, balances, growth, supply, hodlers, etc. Meanwhile, tracking advanced on-chain metrics using Glassnode's huge metric library can help you understand how the market is moving and react accordingly.  
Key features:
Variety of on-chain market indicators for different digital assets
200+ metrics with 10+ years of data
Customizable dashboards that enable users to add their preferred metrics for supported coins
Comparison of different metrics for different coins
Integration with TradingView
In-depth reports on popular blockchains and digital assets
Drawbacks:
While it has a lot of comprehensive and complex data, Glassnode contains no alerts. It is difficult to grasp for beginners and casual retail investors, and it has no watchlists.
DappRadar
Best for: Exploring everything DeFi, NFT, and gaming.
Pricing: Free.
DappRadar is a powerful tool for exploring the crypto space, more specifically, discovering, tracking, and analyzing dapps (decentralized applications). The platform hosts more than 10 000 of them from 40+ different protocols, so you can be sure that you'll be able to stay up to date with the latest trends.
In addition, by creating an account (totally free) on DappRadar, you will be able to access exclusive member-only features, like wallet management, NFT discovery and giveaways, token tracking and analysis, token swap, Airdrops, and more. This crypto analysis tool will help you keep track of the top projects in DeFi and even allow you to buy and sell your digital assets right from your DappRadar portfolio.
Key features:
Discovery, tracking, and analysis of dapps, NFT collections, tokens, DeFi projects, and more
Token swap feature (Ethereum, Binance Smart Chain, and Polygon)
Industry overview updated every 24 hours
Possibility to participate in Airdrops
Wallet portfolio tracker for managing your assets, checking recent dapp usage, your NFTs, and more
High-quality resources for learning crypto fundamentals and staying up to date
Drawbacks:
DappRadar is pretty much the CoinMarketCap of new projects and NFT. The only issues they face is being generic and lackluster on some of the data that is provided – not all of it is accurate from time to time.
DEXTools  
Best for: Crypto traders who use decentralized exchanges.
Pricing: Free plan available. Paid plans start from $100/monthly paid in DEXT (DEXTools token).
DEXTools is an analytics tool that allows traders to make their decisions easier by providing comprehensive insights into crypto assets in real-time. For now, you can use DEXTools to analyze data from Uniswap and Sushiswap DEXs (decentralized exchanges), but more are coming in the future.
DEXTools offers a great variety of features that both crypto enthusiasts and those just starting should find truly useful for improving their trading strategies. Using the platform, you can quickly discover trending tokens and other digital assets, track pair movement, follow the most relevant swaps, interact with wallets, and more.
Key features:
Discovery of trending pools, liquidity monitoring
Real-time transactions and graphics on pair movement
Monitoring of big swaps or, in other words, whale trades
Option to interact with multiple pairs on a single screen
Following and researching different wallets
Price alert notifications via desktop, email, or Telegram
Trading platform
Drawbacks:
DEXTools has no on-chain metrics as some of the other tools have. Its main priority is pairing, aggregation, and wallet information.
Santiment  
Best for: Strengthening your investment decisions by tracking ongoing and emerging social trends.
Pricing: From $49/month. You can also burn SAN tokens or pay by DAI/ETH.
Santiment is a cryptocurrency analysis tool that offers a variety of features for crypto market research, exploring new opportunities, and analyzing different metrics to help make informed investing decisions.
Using Santiment, you can perform on-chain data analysis using the platform's specialized tools, like Sanbase (where you can view charts of all coins) and recognize important market events. Not only that – the Santiment team aims to provide traders with high-quality insights, so you might also want to check their Insights section or subscribe to a newsletter for some on-spot reports, reviews, and observations.
Key features:
20+ on-chain, social, and dev metrics
Social media listening and analysis features (e.g., top 10 trending words on SM about cryptocurrency)
Emerging social trends
Customized alerts for major network anomalies
Personalized watchlist for weekly coin updates
Insights and behavioral reports from Santiment's crypto analysts
Drawbacks:
Lackluster UI/UX that could sometimes provide an overwhelming experience to the retail user and some of the features are relatively useless.
Uniwhales
Best for: Tracking the transactions done by whale traders to understand market movements.
Pricing: Free plan available. Paid plans start from 5K UWL/Hold.
In crypto, traders who move the markets the most are whales, so to understand the movement of specific coins and tokens and make the right decisions on time, it's important to spot these trends earlier than they get to the masses. Uniwhales can help you do just that and a bit more.
Using the platform, you can get real-time transaction hash data which will help you keep up to date with who is buying what and when. Analyzing specific whale addresses will give you more in-depth insights into particular wallets and their activity, but you can also do your research by analyzing a specific token. Joining a community with a paid plan also gives you the advantages of being a part of Uniwhales DAO.
Key features:
Real-time transaction data from crypto whales
Different filtering possibilities – filter by date, tx value, wallet address, tokens, etc.
Tracking top transactions and trending tokens
Alerts (Telegram) for top wallets, swaps, DEX liquidity, NFTs, bridges
DAO membership
Community calls and interviews with top founders/investors
Drawbacks:
Uniwhales is one of the newer projects yet to make a statement and their free features are not essential – to access everything else, you'll have to choose one of the paid plans.
Etherscan
Best for: Exploring the trading activities on the Ethereum blockchain.
Pricing: Free.
If you're wondering what you can do with Etherscan, the answer lies in its name – it's one of the most popular explorer tools for the Ethereum blockchain. The key goal of Etherscan is to make ETH easier to understand and analyze for everyday users.
This crypto research site allows you to access the details of any transaction that is pending or confirmed on the ETH blockchain and search through wallet addresses, smart contracts, and other on-chain data.
With Etherscan, you can also get a better image of the whole Ethereum ecosystem, therefore, avoid falling victim to any suspicious behavior or scams.
Key features:
Checking assets held on any public ETH wallet address
Analyzing transactions, wallets, blocks, tokens, smart contracts, and more
Gas fees tracker
Airdrops discovery
Alerts for incoming transactions, whale activity
Data feed creation
Portfolio management
Drawbacks:
Etherscan has no community or communication integration. It provides no guidance and informative articles, and seems too generic as the data is accurate yet narrow - lacks variety of tools.
Time to explore the chains
There are so many great on-chain analysis tools that can give you a better understanding of what's happening in the crypto space, thus helping you make decisions that are based on real data, not guesses. And most of them are free!
If you're new, getting your head around such tools might not be an easy task, but definitely beneficial if you're serious about owning and trading digital assets. Hopefully, you'll be able to find something that you like in the list above and choose the tool that best fits your needs.