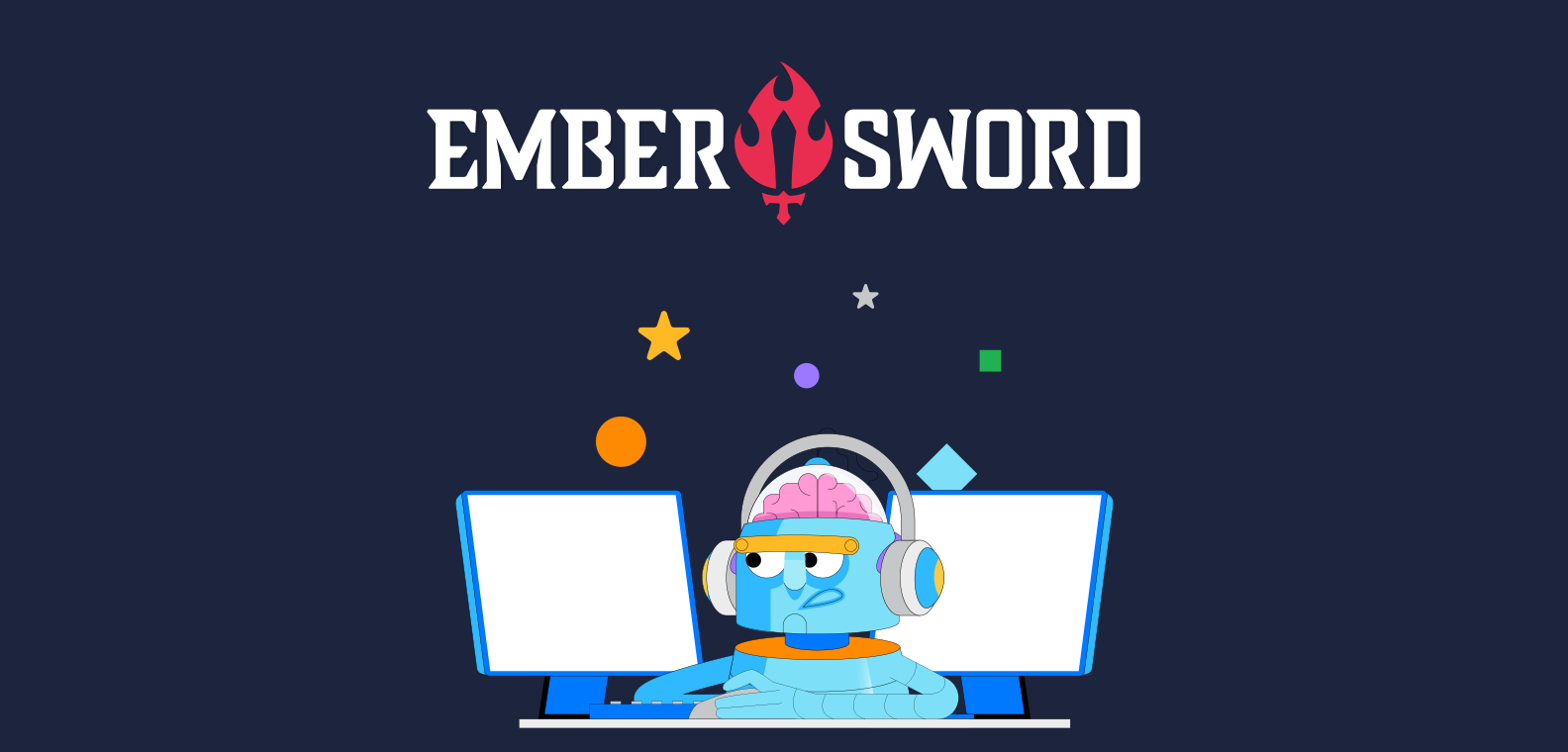 Ember Sword: What Epic Adventures Await?
Ember Sword is a MMORPG p2e game where players will hone their skills, go on epic adventures and earn or buy unique cosmetic collectibles like swords, pets, mounts, and emotes.
Ember Sword is an MMORPG p2e game where players will hone their skills, go on epic adventures and earn or buy unique cosmetic collectibles like swords, pets, mounts, and emotes. These collectibles will be possible to trade inside or outside of the game allowing players to earn income.
The game will launch on a PC as a browser game, later the team will focus on expanding to mobile platforms.
The game has colorful cosmetics and reminds popular non-blockchain MMORPG game Fortnite to some extent but not in a way that it would feel like a replica. In fact, Ember Sword has less detail and graphics are much simpler, camera view is also different.
But blockchain opportunities give a great advantage in this comparison - Ember Sword will allow ownership of in-game assets. Even if the Ember Sword would have just a 1% of the player base of Fortnite (350M in 2021), it would have 3,5M players.
One of the in-game assets a player can own is a land. There will be 4 types of land, a portion of the 40K of plots that will be available has been already released and is currently trading on secondary markets.
Regular plots are the cheapest, these include campsites, NPC houses, resource deposits, monster spawns. Regular plots come with a Sir/Lady title.
Settlements come with the Baron/Baroness title and examples of what you can build include small player housing, small guild houses and small player stores.
Towns are larger than settlements and offer to construct refinement stations, crafting buildings, medium guild houses, and an exchange, a structure which gives you access to the global item trading network. The land gives an Earl/Countess title.
City owners are granted the title of Duke or Duchess and alongside all buildings from settlements and towns, cities allow you to construct large guild houses, portals, caravan trading posts
Floor prices of each:
Regular land - 0.27ETH
Settlements - 1.67ETH
City - 21.4ETH
Town - 5.09ETH
Although there aren't many listings, the sales frequency is average, in the last 7 days there were 120 sales, for the average price of 0.5ETH.
The collection did 2,4K ETH in volume and trades more or less sideways:
Tokenomics
EMBER will be a token of the game. It will serve as a utility for game functions such as buying in-game assets, forging special materials that can be found in the game, upgrading collectibles, and breeding new pets.
The team has a little bit different approach on distributing the tokens for the community. It's not clear if there will be a public IDO.
The badge that has four types will grant access to the early game tokens, although it will not guarantee the access, it will still be the first comes, the first gets, but only the badge holders will be able to access the early tokens.
Each tier of badge has a certain amount of EMBER allotted to it. The distribution per badge is as follows:
The Bronze tier includes 2,500 pieces of Ember
The Silver tier includes 5,000 pieces of Ember
The Gold tier includes 25,000 pieces of Ember
The Platinum tier includes 250,000 pieces of Ember
The cheapest is priced at 0.21ETH and the most expensive - 23ETH. There are an unlimited amount of badges. In 3 months badges made 1,1K ETH in volume.
Currently there are no details about the date of token drop, supply or distribution.
Team
The game is developed by Bright Star Studio which was established in 2018 by games-industry veterans and MMO fanatics, including Joris Huijbregts, Mark Laursen, Sage Durain and Loren Roosendaal
The studio has no other projects in the portfolio and looks like it was created specifically for the game Ember Sword. This would mean that the game is being developed for over 3 years.
Co-founder and CEO Mark Laursen, previously worked at Fortemworks which is Developer of advanced server architectures, infrastructures, and gameplay systems used by massively multiplayer video games.
Co-founder and CTO Joris Huijbregts also comes from the Fortemwork, where he was a founder. Previous experiences also revolve around the gaming industry where he held high positions.
Co-founder and Executive Producer Loren Roosendaal is also founder and CEO of Knowingo, an organization which helps other organizations deal with learning in a new way. He has less job titles in the gaming field than the above mentioned founders but Loren has a background in gaming too. He started developing video games when he was 11 years old.
Co-founder and Creative Director Sage Durain has experience with game designs as a freelancer for indie and AAA projects.
Advisors Rob Pardo designed games like Starcraft, World of Warcraft and Warcraft III.
The core team members are doxxed and have links to their social profiles. There was nothing about developers in the team and no Github page could be found.
Partnerships and investors
Bright Star Studios has raised a total of $2.7M in funding over 3 rounds. Their latest funding was closed on Dec 6, 2021.
In between investors there are mainly individuals and not VC firm names.
Speaking about partnership there were few announced. One of them is with ImmutableX. The team moved from Polygon where the land sales were conducted for the better scalability opportunities.
The other partnership is with Token Trove which will support and maintain a section on their marketplace dedicated to current and future Ember Sword NFTs, such as land, badges, and cosmetics.
Socials
There are 83.2K followers on Twitter, the account grew by 5.3K new followers in the last 30 days.The project is followed by big names in the crypto field including brands like DeRace, Aurory, ImmutableX, Sandbox and individuals like Yat Siu from Animoca Brands, @BoredElonMusk (1,7M followers), @elliotrades (650K followers), @ZssBecker (750K followers), @Zeneca_33 (210K followers) and others.
The engagement on Twitter is pretty low.
Discord community is 74K large, 17K are online at the time of writing and the chat is averagely active.
The Medium page has more topics rather than just announcements and updates. There are many posts but in between them there are also posts about blockchain gaming industry advantages over traditional games, team's vision, production overview.
Reddit page has 4,7K members but not that much activity. 7K people on Telegram, chat is averagely active.
Roadmap
Ember Sword is currently in pre-alpha. Alpha testing is planned for the first quarter of 2022, with more gameplay focused alphas coming later this year.
Summary
The Bright Start Studios and the Twitter profile of Ember Swords was created in 2018 meaning that the game is in development for quite some time. Although, there's not that much the team can show. There's no recent game-play videos that would give a better understanding about the game and it should be at least 70% of the game finished if the Alpha launch is in the first half of 2022.
The core team looks trustworthy because of their previous gaming experiences but it's not clear how big is the development team and how fast the project is progressing from the technical perspective.
I also would like to see more marketing effort from the team, right now, there's no attempt in the social accounts growth, press releases and building awareness in general. It's not even clear who is the marketing person in the team.
Regardless, the project has a decent community, land sale was successful, the price is holding. I think it's worth watching how the token will perform when it is launched.