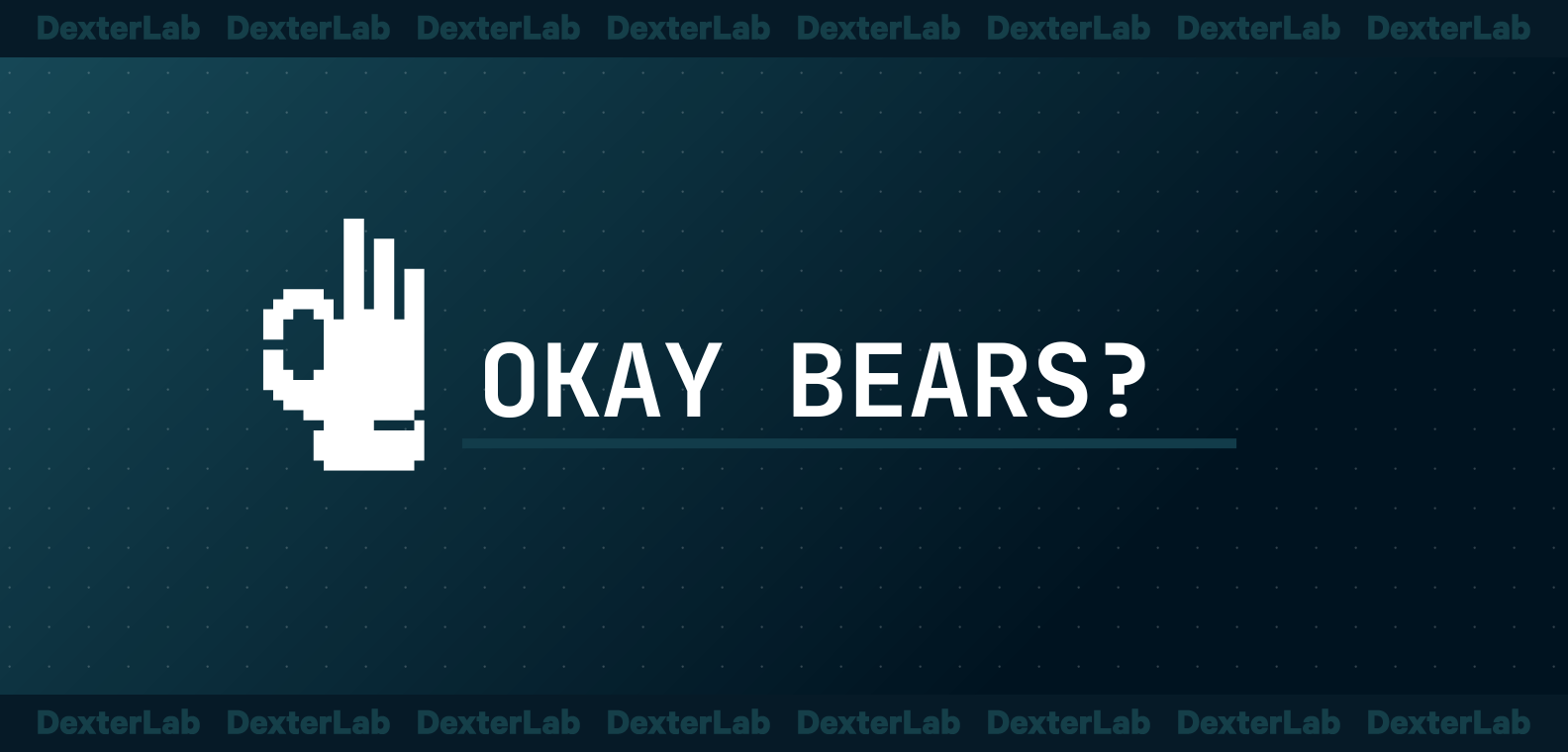 Okay Bears: Is it all Okay on BTC Ordinals?
In the fast-paced world of crypto, while every project is headed to Ordinals now, what does the future look like for Okay Bears? Let's dive into the basics to move forward.
In the fast-paced world of crypto, it is nearly impossible to predict which trend will boom and which one will drop. From a distant view, the field seems full of opportunities for NFT creators. But once you look through the bushes, it becomes clearer. The road is full of bumps, and nobody knows what lies ahead.  
Okay Bears is a PFP NFT project that decided to take on this road in April 2022. The project's motto is to go against the norm and empower everyday individuals to embrace their inner bear. They are known to be a community-driven web3 brand that's all about good vibes and, here to disrupt the status quo, redefining what it means to be "okay."
Is it just about Bears?
A bear market, by definition, in the financial world represents declining valuations. But Okay Bears steps in making the bear its mascot, turning it into a symbol of resilience and self-acceptance, almost like a pat on the back saying -" it's going to be okay, even if the market is bearish." Their mission is to change the way we perceive undesirable conditions and show us that it's okay to embrace who we truly are.
In the vast ocean of crypto, where most people are focused on catching the big waves, Okay Bears invites you to ride a different wave. Being a blue-chip non-fungible token (NFT), their collection of 10,000 algorithmically-generated bears powered by the Solana blockchain has made its mark in the marketplaces like Opensea and Magic Eden.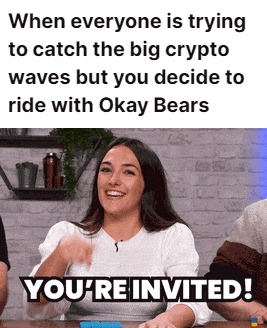 The Ecosystem: Perks and Privileges
Okay Bears' ecosystem offers holders exclusive perks and experiences which include exclusive drops, participating in outdoor campaigns, and even attending live events, full of like-minded individuals who share their love for the Okay Bears lifestyle. Bear drops are probably the most exciting part of being a collector or holder of their NFTs. With two airdrops: Founders coin and Bombox, they introduced digital collectibles with redeemable gold values. Meaning, the assets' prices are backed up by actual gold.
To stir up things for the better, Okay Bears recently announced their Grails reward for holders based on the collections they hold and their holding activities. Leaning forward, the winners will have significantly higher odds of securing the second BTC ordinals drop.
Their digital space consists of platforms targeted to increase community engagement. It comes with-
Park: a virtual channel where you can vibe with other members, have fun, and listen to lo-fi music
Studio: where holders gain access to future collections, artworks, and even curated lo-fi mixtapes
Gallery: This is an online and offline space that showcases the breathtaking Okay Bears collection and curated fan art. It's a place where artists are celebrated, and their talent is given the recognition it deserves.
Boutique: It is the place for exclusive real-life collectibles for the holders or collectors of the brand.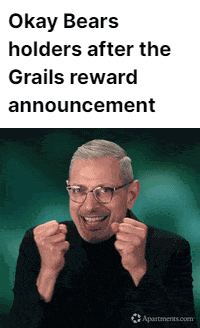 What's different?
What sets Okay Bears apart from other projects is that it is not just about virtual experiences; they're also making waves in the real world. With their efforts to launch pop-up stores in various cities, conferences, and events, you might stumble upon their exclusive treasure trove in the heart of your city, where you can find limited-edition merchandise, prints, and collectibles that proudly display the #WAGBO spirit.
To say the least, Okay Bears stand to be one of the most successful NFT projects to be launched on Solana. It ranks on top with a trading volume of 3.2 Million on Solana, beating DeGods. Looking at the charts from NFT inspect, which ranks NFTs based on the NFT owners' engagement on Twitter, the Okay Bears has the 8th position. For the Solana ecosystem, it is at the top of the chart. Moving Forward, their strength as a brand has also fluctuated after their partnership with IMG, the world's top licensing industry.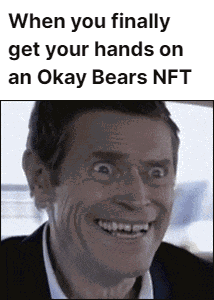 So what has Okay Bears done to become this successful? Their unique approach to branding and guerrilla marketing has been an obvious factor in their success. But the real difference was brought by creating value with their art. They've captured the hearts of their community by creating a brand that embraces the power of being "okay", encouraging their followers to show their support through fun and engaging campaigns, such as changing their Twitter profile pictures and sharing photos of their hands making the 'okay' sign. When you see their marketing or branding strategies, you cannot help but appreciate how they went above and beyond with that. The campaigns were not just limited to creating a familiarity with their brand but they also resonated with GenZ, like wildlife preservation, climate action, and mental health.
Glow eyes in BTC Ordinals?
Okay Bears has already taken the Solana space by storm, making history with their groundbreaking sales. Now, they are off to Bitcoin Ordinals. With the current trend of NFTs shifting to the Ordinals chain, Okay Bears finally decided to jump in with their Twitter announcement. They have confirmed only a limited collection, the ones with glow eyes, to be inscribed on BTC. Following the Twitter buzz over this announcement, the glow eyes' price has skyrocketed. The floor price for White Glows has already reached 200. With the news of Okay Bears expanding in BTC on the 26th of June, the Twitter community has been hyping up orange-themed bear banners, sharing their excitement for the historical encounter.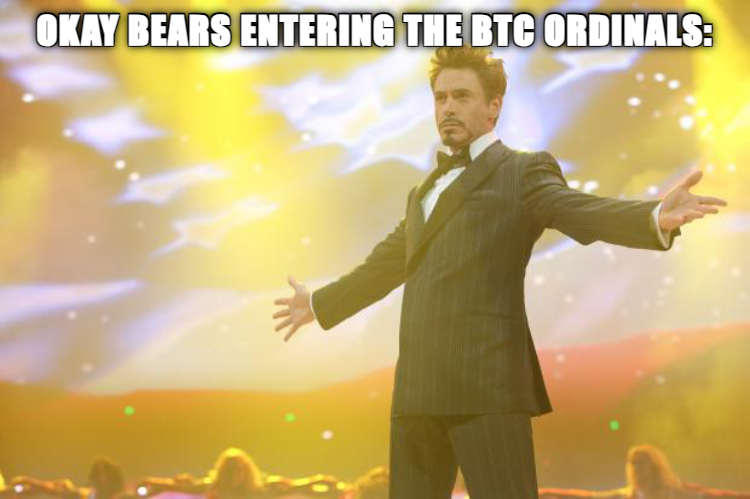 Conclusion
With the progress Okay Bears has made so far, they've proven that blockchain technology can be a gateway to a world where self-expression and individuality thrive. The shifting tides of ordinals have only thrust their growth upwards. As Okay Bears continues to evolve and grow, we eagerly await their next moves and see if they can truly become one of the top web3 brands in the world.