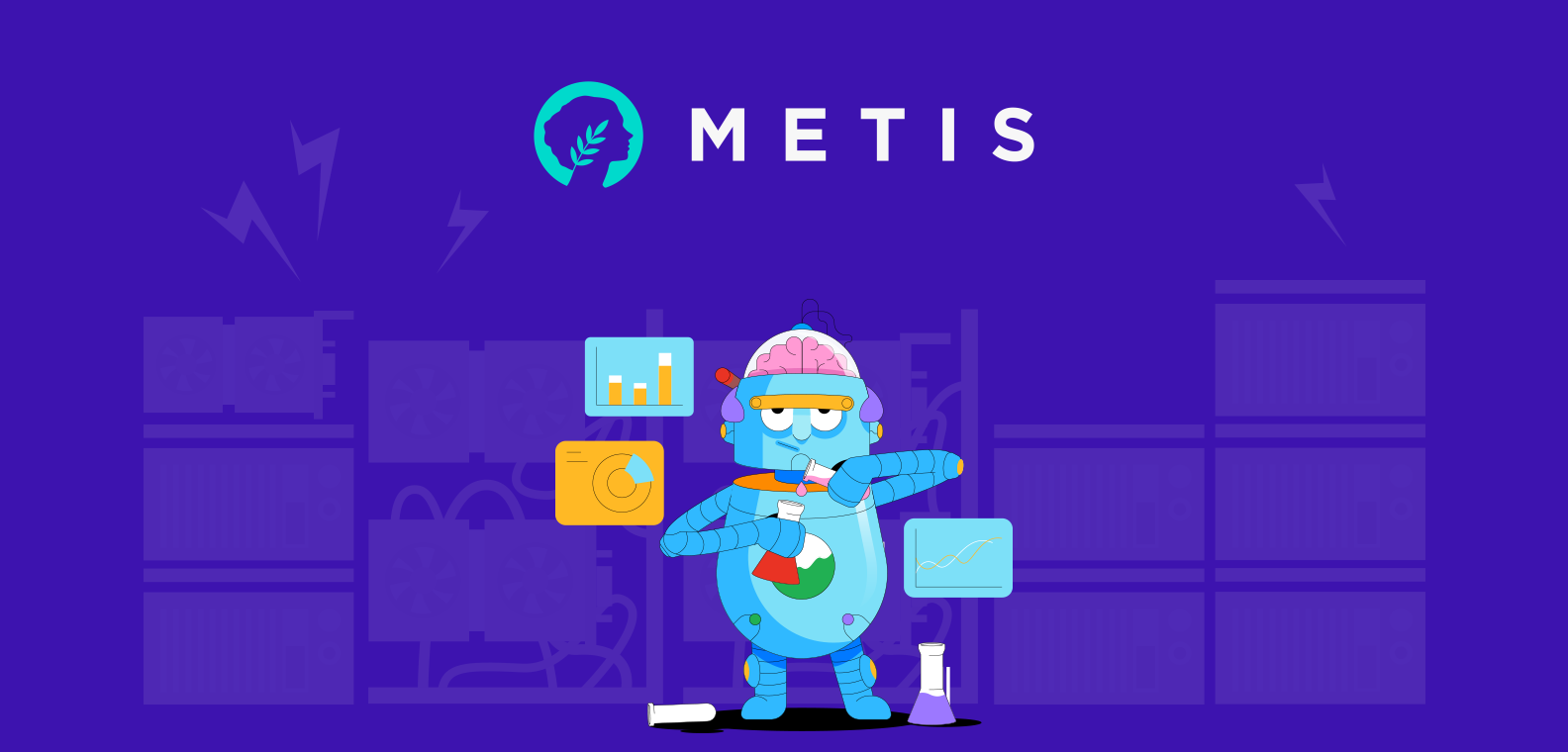 Why Do You Need To Keep Your Eyes On The Metis DAO Token?
In this article, we'll take a closer look at the Metis DAO and see why it can potentially be the best layer 2 crypto project and the future of the decentralized autonomous organization.
Metis DAO is a layer 2 rollup infrastructure where DAO is a fundamental unit enabling users to interact in a peer-to-peer manner to create a self-governing community in Web3.0, known as a decentralized autonomous organization.
So far, DAO mainly serves the purpose of voting as a governance measure, but founders of the Metis DAO foresees that decentralized organizations will play a much more significant role in a new generation of Web3.00. The team aims to serve a decentralized economy, where the whole autonomous business runs on top of the blockchain.
In this article, we'll take a closer look at the Metis DAO and see why it can potentially be the best layer 2 crypto project and the future of the decentralized autonomous organization.
The importance of layer 2 in today's crypto environment

Metis DAO is built on Ethereum layer 2 scaling solution Optimistic Rollup, which is a big part of the project helping to address scalability problems Ethereum faces. Optimistic Rollup allows to avoid high gas fees yet process a more significant number of transactions securely. The layer 2 technology enables Metis DAO to process the vast majority of smart contract interactions the decentralized business needs to operate.
Why does Metis DAO stand out from the broad list of Layer 2's?
Metis will enable individuals to build their own blockchain, DeFi, or NFTs for their businesses without being a developer and will offer the following use cases:
Launchpad
NFT minting and trading business
Decentralized exchange
Yield farm
Freelance business
Investment business
Token mint

Below are the advantages Metis has over other Layer 2's:
Low gas fees (as low as a few cents instead of tens of dollars on Ethereum or more than $1 on Polygon).
Fast transactions (2 seconds instead of at least a few minutes on Ethereum).
Native file storage (not possible on Ethereum, nor Polygon).
No coding smart contracts required - Metis will provide one-click deployment from pre-developed templates.
Completely compatible with Ethereum EVM - if you are already on Ethereum, you can port to Metis for all the above advantages at no cost and in no time.
NFT Bridge enabling to bridge NFTs on Ethereum to the Metis network.
The METIS token

$METIS is a utility token used for the network gas fees and as the base token for all transactions. The supply of Metis is 10 billion, a little bit less than a third of it is currently in circulation.
The current market cap of $METIS is $480 million, and the diluted valuation is $1,6 billion. The 24-hour volume is 34 million.
The token has been available to trade since May 18, 2021. Investors started to notice it at the end of August. The price spiked upwards in December but fell from its highs, and in the recent few months, it has been consolidating in the $1.20 - $1.60 range.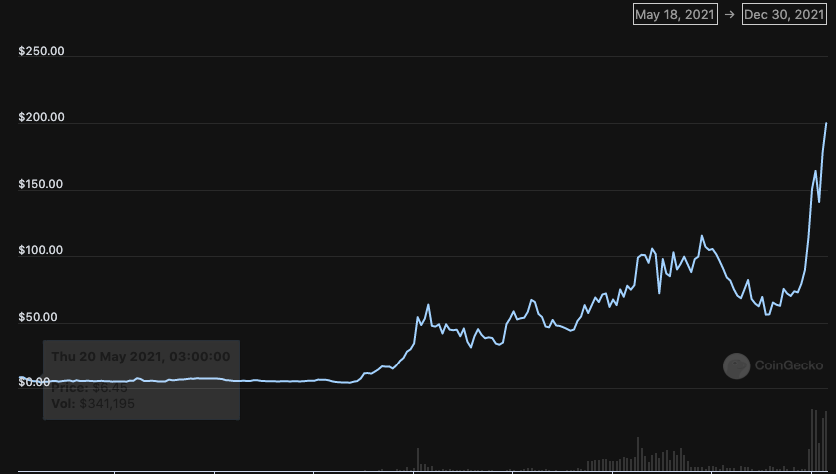 On-chain metrics of Metis token
Etherscan shows 13,661 holders and 167,196 transfers. The on-chain activity chart aligns with the price action, but the unique daily addresses interacting with smart contracts are steady. It is a good sign as the current crypto market generates very low interest.


The Metis token sale ended on May 13, 2021, generating 3 million US dollars.
From the Cryptorank details, we know that a large portion of coins from private, seed, and strategic rounds have been unlocked by now. 10% were released at TGE, and the rest have varying vesting schedules. The Metis token mechanics are thoroughly planned out so that the selling pressure would not concentrate on a specific date.
Below is the Metis token allocation pie chart with extensive details.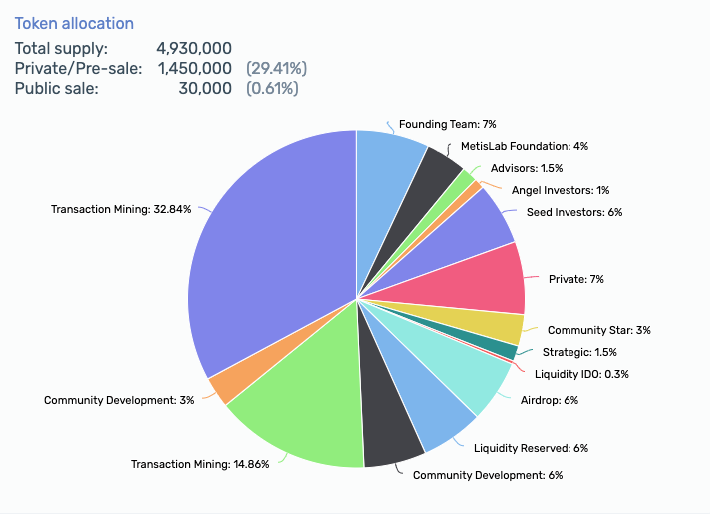 What do we know about the Metis DAO team?

Metis was founded in 2018 by the core team members:
Co-Founder CEO: Elena Sinelnikova
Together with Natalia Ameline, a mother of Vitalik Buterin, Elena previously co-founded and was the CEO of Cryptochicks, an educational non-profit that focuses on blockchain education for women.
Co-Founder Product Lead: Kevin Liu
Previously, co-founder of Token Economy Labs, other experiences aren't related to crypto but are analysis and finance based.
Co-Founder and Tech Lead: Yuan Siu
Worked in IBM for a long time and is also currently a Head of Development for CaseWare International, which isn't a crypto industry business.
There are other 15 team members and three advisors listed on a website. All of them are doxxed and can be researched through the provided links.
Partnerships & investors
Metis DAO has raised 1 million USD in seed and angel funding rounds. The most recent funding round took place on August 1, 2021.
The investors are Ralf P Gerteis, P1X Capital, Waterdrip Capital, DFG, Chain Capital, AC Capital, Block.power Combinator, Hotbit, SSSnodes, Crasolum, Kernel Ventures, Catcher VC, Jubi Labs, and Ming Liu, former co-founder of Tron.
The Metis ecosystem is growing fast, with new projects joining regularly: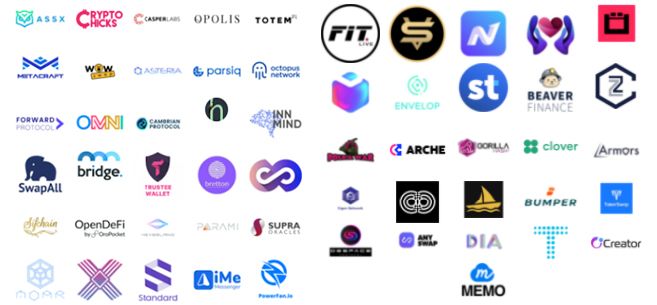 Metis DAO social accounts and public sentiment

125 thousand people are following the project on Twitter. The community is very positive and emits a bullish vibe about the Metis DAO.
Discord has 6,4 thousand members, 600 of which are online. For such a low number of members, the activity is pretty decent; the conversation revolves about matters of the project rather than about profits from the token pump, which is a good sign of a strong community.
Telegram has 32 thousand members. There's also a Medium page filled with Metis-related updates and news helping the community stay up to date.
Metis DAO in 2022
The path to materiasing the Metis DAO vision relies on the key milestones the team will be focusing in 2022:
Q1 2022
Verifiers will conduct real-time verifications, thus shortening the finalization window for transactions. Instead of a week or more for withdrawals from Layer 2 to Layer 1, L2-L1 withdrawals using Metis will take just a few hours, and eventually just a few minutes.

Q2 2022
The Metis Sequencer Pool will open for community participation. All the verifiers will be added into the Sequencer Pool automatically. A challenge and voting mechanism will be implemented to choose which one can be the next sequencer, ensuring that Sequencer positions rotate efficiently.

Q3 2022
Cloud deployment code for both the main and peer nodes will be released, enabling everyone to run a Metis node with high security and efficiency.

Can the Metis DAO be the next Polygon but better?

Well, no one has a crystal ball but the Metis DAO has a strong team and vision behind it. Essentially, the project is like what Vitalik Buterin, the creator of Ethereum, envisioned his brainchild to be - decentralized, scalable, cheap, and centered around decentralized autonomous organizations.
From the investment perspective, it's worth watching how the ecosystem will grow because the ecosystem will determine how much the token will be used. The more Metis token is used, the more it will appreciate in value.
For the closure of this quick evaluation of the Metis DAO, below is a quote from a Metis representative comparing Metis with Polygon:
Is Polygon a competitor to $Metis?
"Sort of, but not entirely. And actually, the market is large enough; we are glad that more and more solutions are coming up to the market. Polygon is more like a sidechain, while we are a Layer 2 Rollup.
Polygon doesn't provide the infrastructure for data and file storage. If you were to build your own data infrastructure on Polygon, it would be super expensive."
Remember, always do your research!