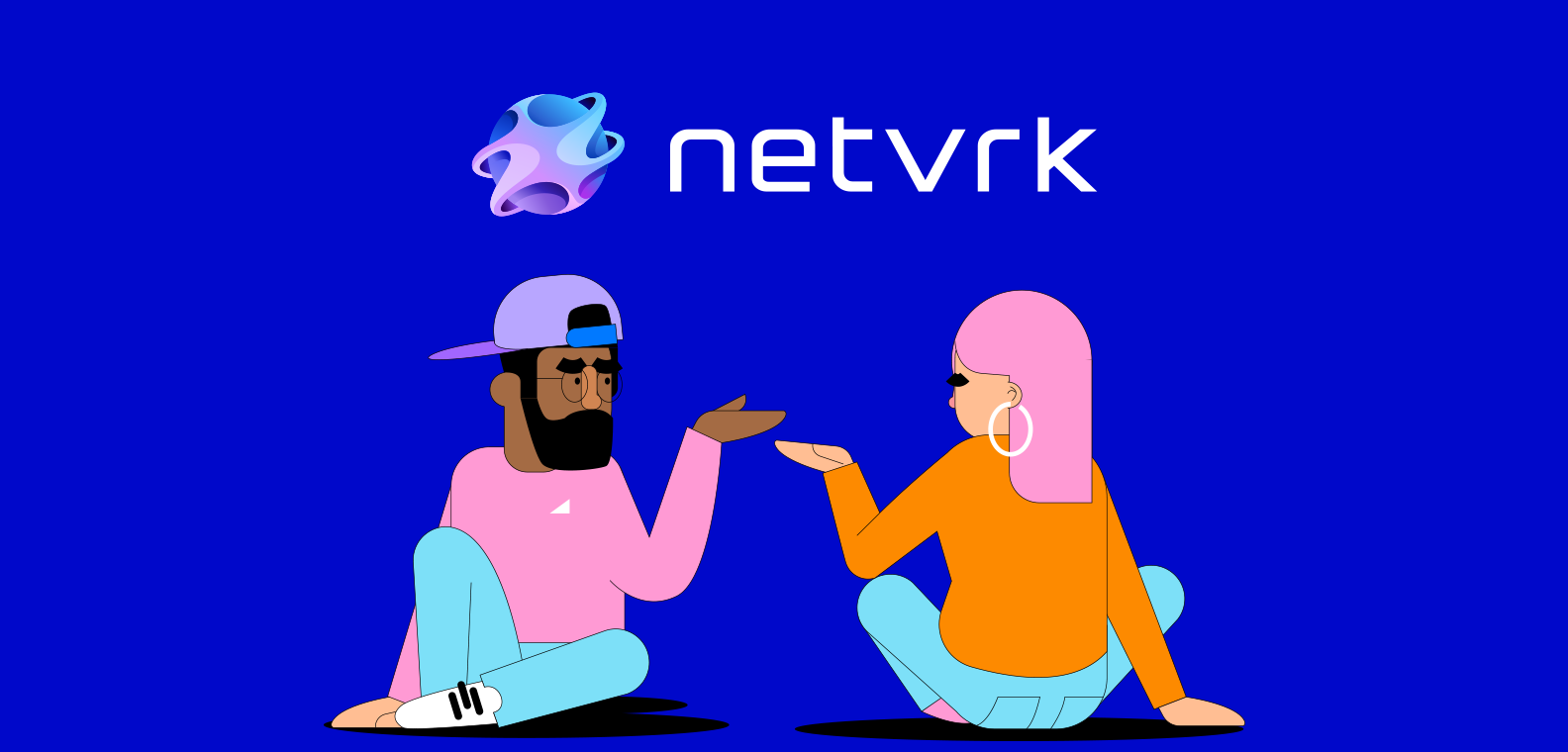 Creating An Ever-Expanding Digital Metaverse With Netvrk
Netvrk is a blockchain based VR platform where users and businesses will employ the tools platform offers to create an ever-expanding digital metaverse, enjoy the experiences within and monetize various activities.
Netvrk is a blockchain-based VR platform where users and businesses will employ the tools platform offers to create an ever-expanding digital metaverse, enjoy the experiences within and monetize various activities. Netvrk is based on a model of the universe, with planets, cities, and interactions and it will enable everyone to use their worlds, not only for entertainment purposes, but also for professional needs.
Team's goal is to offer the tools so that anyone who joins the world can create without the knowledge of code or 3D software. With the contribution of many users, the metavrse can expand with more and more new content. This is one of the problems the team aims to solve - the lack of content in the VR space.
This demo video shows game graphics and building tools.
These are some of the activities platform user will be able to engage in:
create VR content;
monetize on the created content and experiences;
advertise products/services;
trade, rent real estate and other in-game NFT assets;
The Netvrk platform will generate revenue from:
premium account sales - these will offer extra features for businesses and casual users;
subscription model - subscription will allow users to receive extra benefits from platform utilization;
advertising;
sales of available applications in the Netvrk database;
in-app purchases.
There was a land NFT sale recently during which people who already own one of the Netvrk NFTs could acquire a parcel of virtual land.
All NFTs from the projects are first vested for 2 weeks and there aren't any sales on Opensea yet.
The prices of the land can be seen below:
We also know how the map look like:
The transportation NFTs are also available to buy but currently have no sales because of vesting.
Tokenomics
$NTVRK in the ERC-20 token on Ethereum that will serve as currency and utility of the ecosystem.
It will be used for buying assets - lands, vehicles, buildings, advertising space (or collect income from advertising), generating NFTs or stake. It will also grant access to the platform meaning that the adoption will directly affect the supply/demand mechanics.
The current cap of $NTVRK is $94M and the diluted is $299,6M which is only 3,1 times larger. Compared with most of the blockchain games that are currently being developed, that's a very small dilution ratio. 24H trading volume is $1,8M.
31M out of 100M of tokens are in circulation which is almost the amount that is held in private and public investors hands - $29,5M. These coins are vested from 1 to 7 months but the majority of the coins in these hands are unlocked by now as the $NTVRK is trading since mid summer.
Almost a third of the tokens being in investor hands is a huge portion but Netvrk also offers staking incentives with different locking periods varying from 90 to 750 days.
All of the stalking rounds have been filled so at least it's nice to see that there are believers and long time holders within the community.
20% of the tokens are allocated for staking rewards, there's another 20% for community enrichment wallet, which is a means to provide support to its users.
Team has 12.5% of coins which are locked for 8 months and vested for 28.
On chains metrics show that there are 7911 holders and 79671 transfers made.
Team
Xmod - a studio developing Netvrk was founded by Michael Katseli in 2016. The company developed multiple projects for major firms in the industry of technology and architecture. Previously, Michael led and co-founded software development startups in the field of mobile applications, 3D simulations, engineering, and augmented and virtual reality. He also developed a prototype of VR goggles 5 years ago.
A co-founder Linus Chee - was an investment manager and personal trader for many years. He studied entertainment design under some of the best designers in the world at Gnomon School of VFX in Hollywood, and Brainstorm School in Burbank California. At Xmod, Linus is a part of a development team and leads the concept design, art direction and management for the company.
Xmod has recruited diversely skilled professionals, there are 25 profiles listed on a website, as expected for a project like this, all are doxxed, with names and faces.
In the core VR team there are people who worked on movies and TV series like Spider-Man 3, Minority Report, I, Robot, The Day After Tomorrow, The Lion King, Pocahontas, The Hunchback of Notre Dame, Hercules, Mulan, Tarzan, Kung Fu Panda. Also on the games and VR/AR experiences such as ABZU, Friday the 13th, Star Citizen, Capcom's Lost Planet 3, Follow Me Dragon, Jurassic World VR Expedition.
Github page of NetVRk shows no activity - no people, no issues, no pulls requests.
Partnerships & investors
Netvrk has a large list of partners many of which are the blockchain projects and games. The exact details of the partnerships aren't disclosed. I assume these partners will create their project related experiences in the metaverse.
According to Icodrops, Netvrk has raised 2,5M during the public IDO but on the other sources numbers don't match. There are no funding details of private investing rounds either but we do have a list of investors who participated.
Social sentiment
The Twitter account @NetVRk1 has 86,2K followers, in the last 30 days it was followed by 5,1K new people.
The engagement is average. The tweet about yesterday's mint received 769 likes, 369 retweets and 129 comments. The comments mainly consist of questions about the mint because the execution was pretty poor. The tweet doesn't even have a link to a mint page, the announcements on other social platforms also lack details. While doing research it was also very complicated to gather the information about the mint.
Medium page just like Twitter is filled with partnership announcements. Discord has only 6K members and 1K of them are online at the time of writing. They also have Instagram with 2K followers, the last post was published in August, 2021.
Telegram has 23K followers, Facebook Netvrk page was completely forgotten, poor activity on Reddit.
So they have links to pretty much all social platforms but they all lack decent attendance. It doesn't feel as the team's focus is on communication at this point.
Roadmap
Before the official release of the VR version, there will be a version of a web interface where early users will be able to buy virtual real estate and start trading and offering it on the marketplace.
Nearing towards full product release all VR/AR content will be migrated to enable virtual experiences.
Full roadmap below:
Summary
A lot of promises but there's little to show!
Speaking about the actual development there are only a few teasing videos available but there are no details on how the development of the platform currently goes and at what stage the metaverse is.
The recent news are just partnership announcements. NFT drop execution was poor, the recent talk in project social channels consist of people confused about some aspects regarding the drop. Team's communication isn't the greatest.
The team looks pretty strong but I wasn't convinced they are able to execute what they are aiming for. The goals they are trying to achieve aren't easy even with simple graphics and it seems as if they are willing to offer pretty detailed game elements.
Seeing the blockchain game built on Ethereum is a bit of a throwback at this point in time but I'm sure if the gas issue will not be fixed the team will enable L2 or find a solution because operating all these transactions on Ethereum would be a massive pain.
On a brighter note, the frequent partnerships with decent names is great to see. If those collaborations means that partner projects are building in the metaverse, it would also mean that they will bring in their user base. Perhaps, the partners have access to building tools already and are already creating experiences people will enjoy once the Netvrk is launched.
The market cap is pretty low at this time, if the team will actually deliver upon its promises, Netvrk will definitely be a big name among metaverses with multiple billions in market cap.