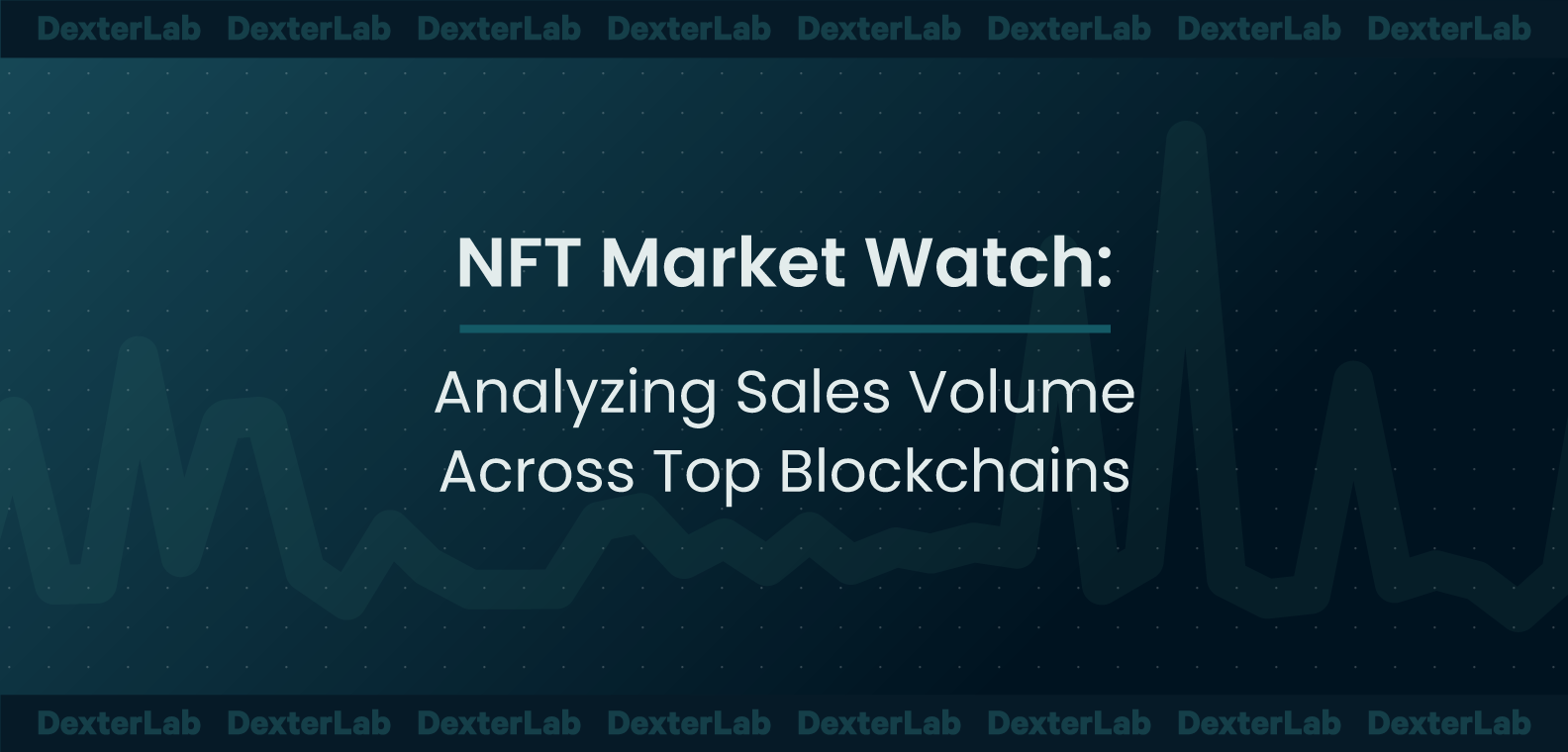 NFT Market Watch: Analyzing Sales Volume Across Top Blockchains
Discover the latest NFT sales volume trends for Ethereum, Solana, Polygon, Bitcoin, and Arbitrum.
At the end of last year, Dust Labs made an announcement that DeGods and y00ts would be leaving Solana as Frank, a lead behind both collections, decided it was time to explore new opportunities. DeGods migrated to Ethereum on April 1, and since March 27, y00ts has been living on Polygon.
It's just the beginning. pic.twitter.com/F3vxzXQAOy

— Frank (@frankdegods) December 25, 2022
Top Blockchains Currently Dominating NFTs World
Ethereum has always been a leader in the NFT world, with over 38.3 billion USD traded on the blockchain. It has a first-mover advantage as it is the oldest and most established smart contract network, not only for NFTs but for everything crypto.
Solana came into the picture in 2021. People loved the super-fast and cheap transactions that were perfect for non-fungible tokens. Although still far behind, to date, 3.9 billion in NFT sales have been made on Solana, and it maintains a reputable second place in the race of NFT sales.
To be completely accurate, if you judge by the numbers, Ronin blockchain has more sales than Solana - 4.3 billion, although all sales come from Axie Infinity p2e game NFTs, which is a completely different sub-niche, therefore we will dismiss Ronin today.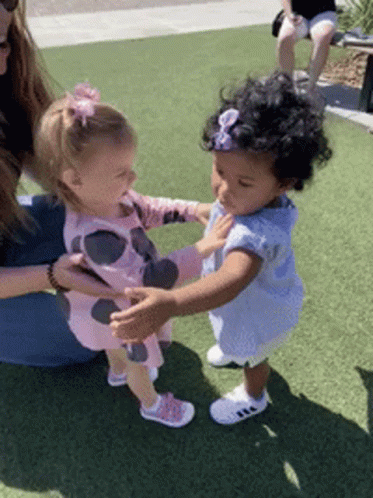 It's too early to say if the two top Solana collections' migration will have a huge impact on the race for NFT activity, but it will definitely be interesting to watch how and if the dynamics will change.
Today, let's review the NFT sales volume of Q1, 2023. It was an interesting quarter for NFTs, with the DeGods and y00ts migration, the pleasant surprise of Ordinal NFTs on Bitcoin, and the emergence of Ethereum's L2 Arbitrum.
NFT Sales Volume On Ethereum
In the first quarter of 2023, 2.212 billion in NFT volume was traded on Ethereum. That was an 81% decrease compared to the first quarter of 2022, which saw 11.725 billion. However, for the majority of 2022, NFT volume on Ethereum has been declining up until September, which was the worst month in terms of volume. Since then, monthly sales have been rising, up until March when the trend started to show signs of declining from $867.8 million in total volume in February to $541.9 million in March.
On a brighter side, we did see an uptick starting at the end of March. If crypto tokens will continue showing green candles, we might see the NFT volume curve continue to move upwards as crypto profits will rotate into NFTs, and Ethereum will get the biggest  piece of the pie.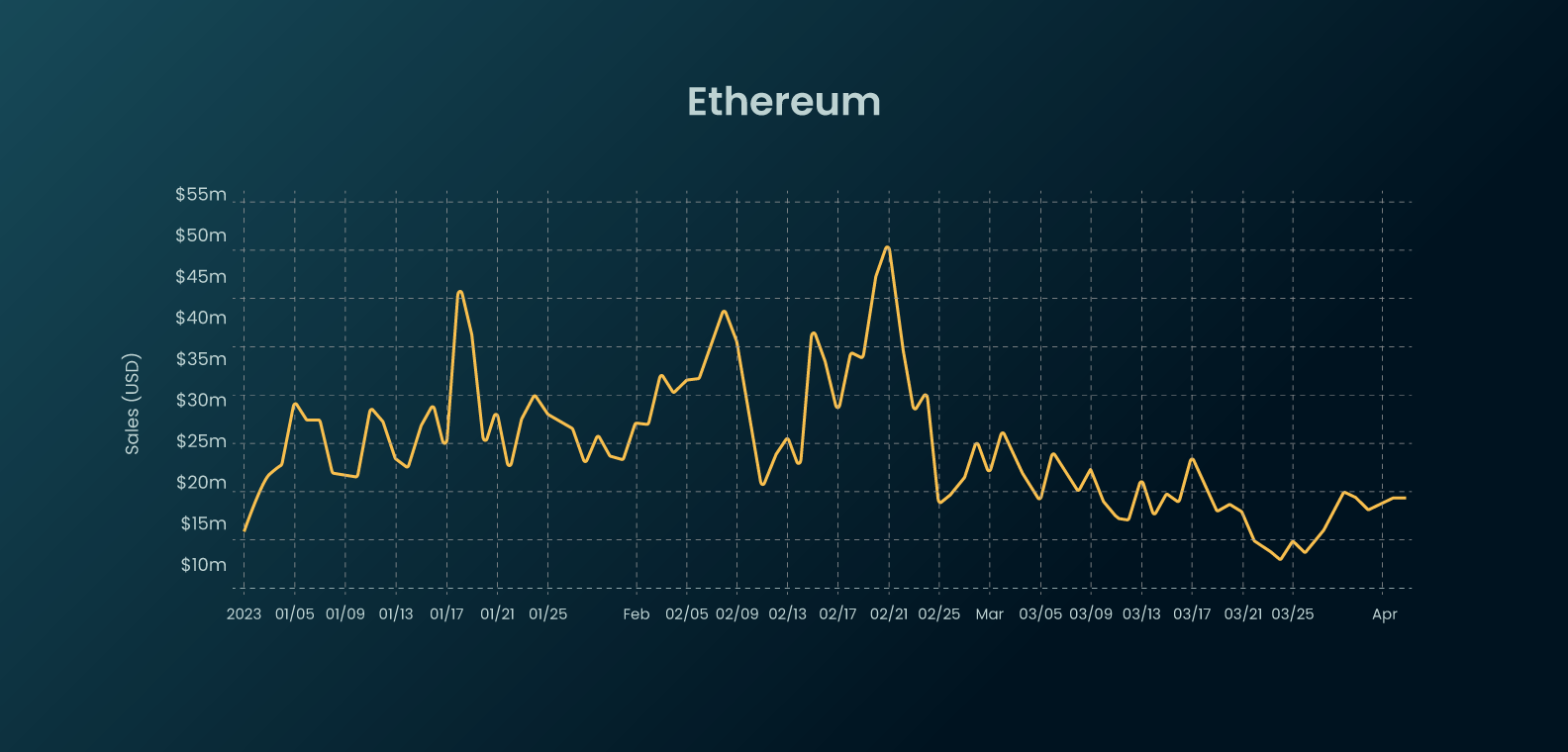 NFT Sales Volume On Solana
Let's talk about Solana now. Two blue-chip collections left in the middle of the bear market, after the turmoil of FTX. It was disheartening news for the SOL NFT community. The migration happened at the end of Q1, but people anticipated the change as the community was informed about the plans in December last year.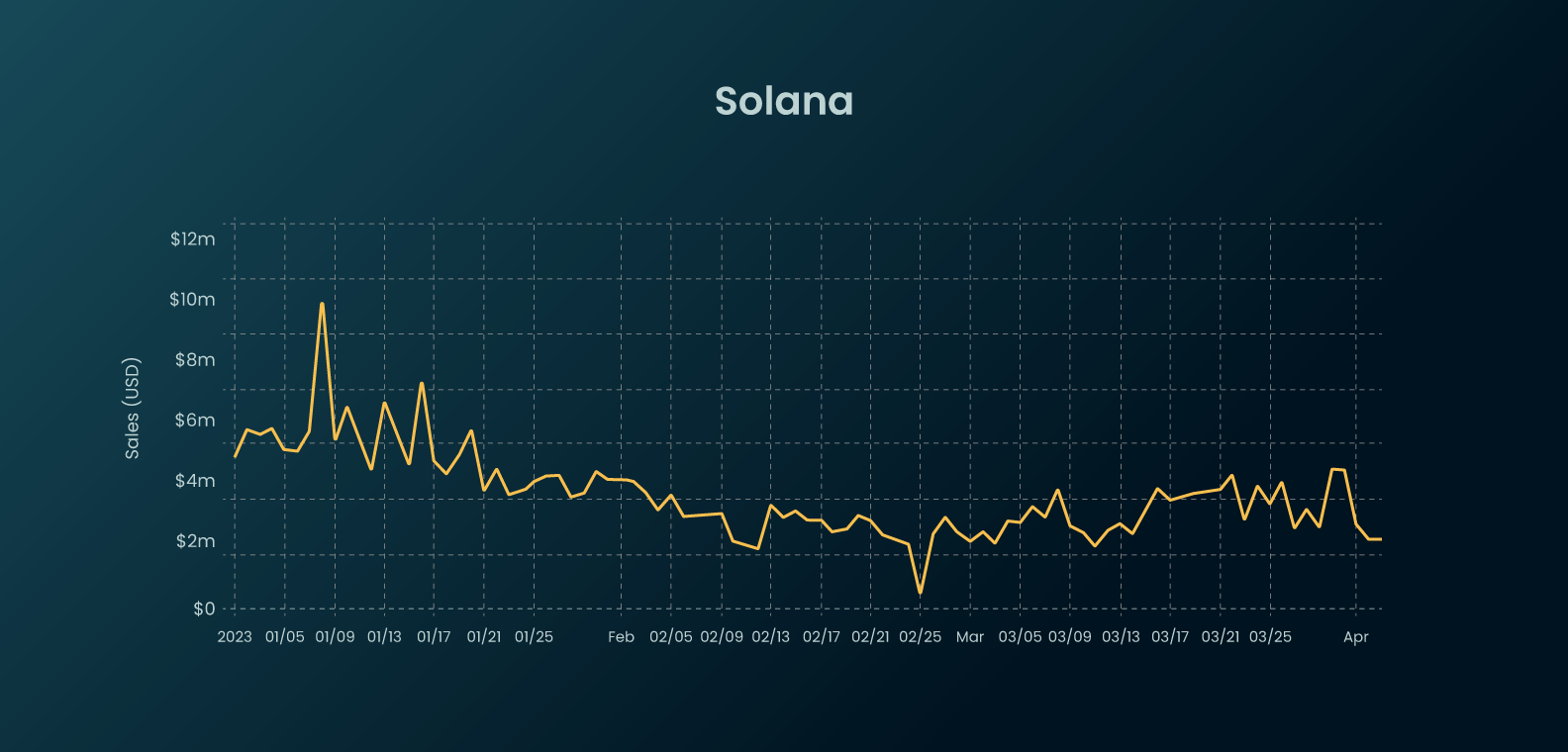 Coincidentally or not, Solana NFT sales volume has been declining for the better part of the first quarter of 2023, although March outperformed February by 23%. In total, 327.1 million in NFT volume was traded on Solana in Q1. Same as for Ethereum, it was a much worse quarter compared to last year's first three months when Solana saw 799.5 million in NFT sales.
NFT Sales Volume On Polygon
Let's take a closer look at Polygon, which boasts some of the biggest Web3 games and metaverses like Zed Run, Aavegotchi, The Sandbox Game, and Decentraland. The network is fast, secure, and offers cheap transactions, making it no surprise that projects are turning their heads towards Polygon.
We see a slight uptrend in sales curve and Q1 looks more positive for Polygon than for Ethereum or Solana. However, when compared by total volume, the network is still far behind. $84.1 million was traded for NFTs on the Polygon, which is 3.8 times less than the volume on Solana and is way behind Ethereum.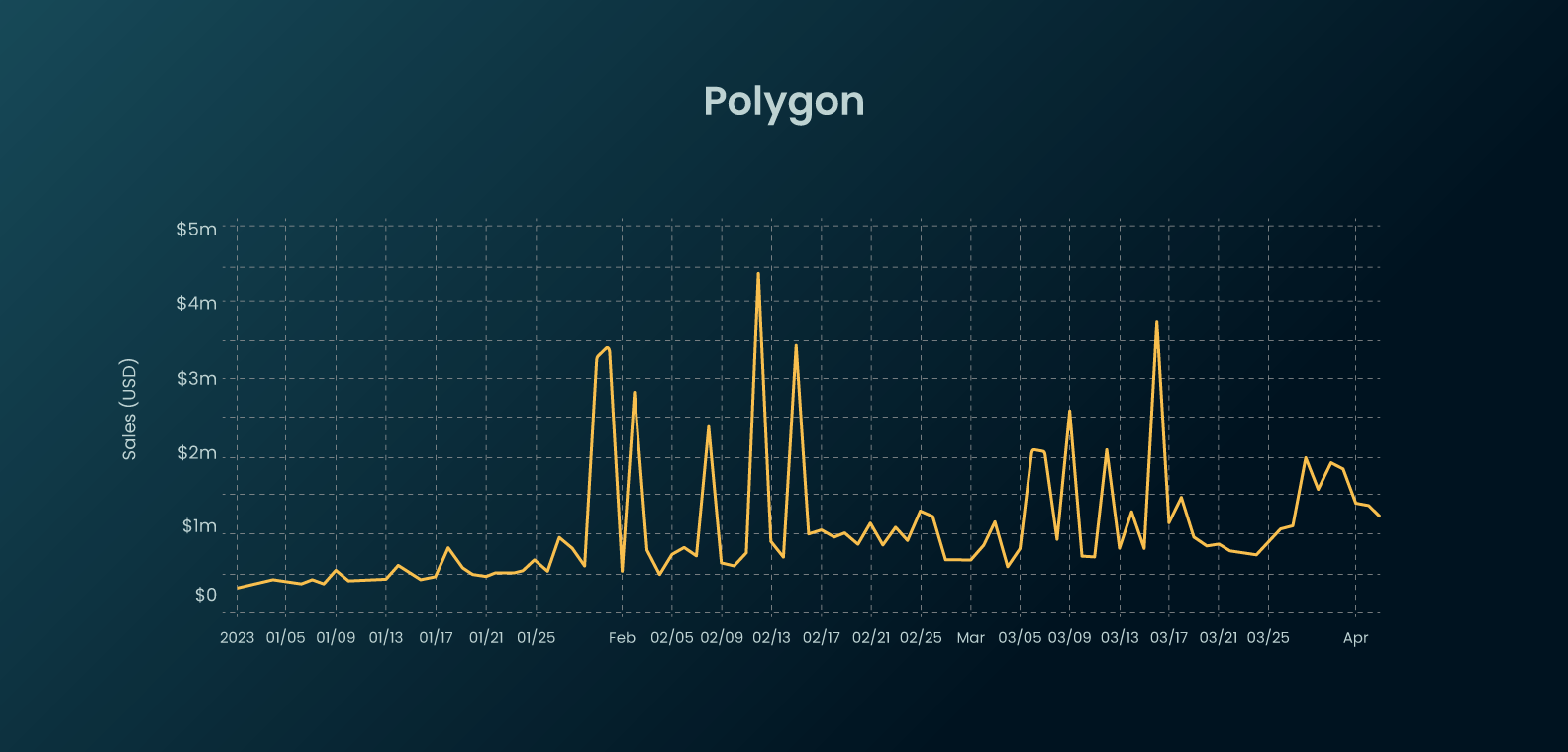 We also see an uptick at the end of March, right before the y00ts migration. It's likely that the increase in activity is related. The collection was migrated less than 2 weeks ago but y00ts is the number one project based on 30-day volume on the Polygon chain.
Three days ago Polygon also sow the biggest NFT sale accross all blockchains.
The number 1 NFT sale among all blockchains in the past 24 hrs was on Polygon pic.twitter.com/2u83YNTq59

— onPolygon (@onPolygon_) April 3, 2023
NFT Sales Volume On Bitcoin
Moving on to Ordinals, the sales data available for this Bitcoin NFT platform is only 6 weeks old, and during that time, $18 million was exchanged trading Bitcoin NFTs. The peak on February 28th might be related to Yuga Labs' announcement of the "Twelvefold collection". Since then, Ordinals' volume has been steady with no apparent signs of declining or reaching for the skies.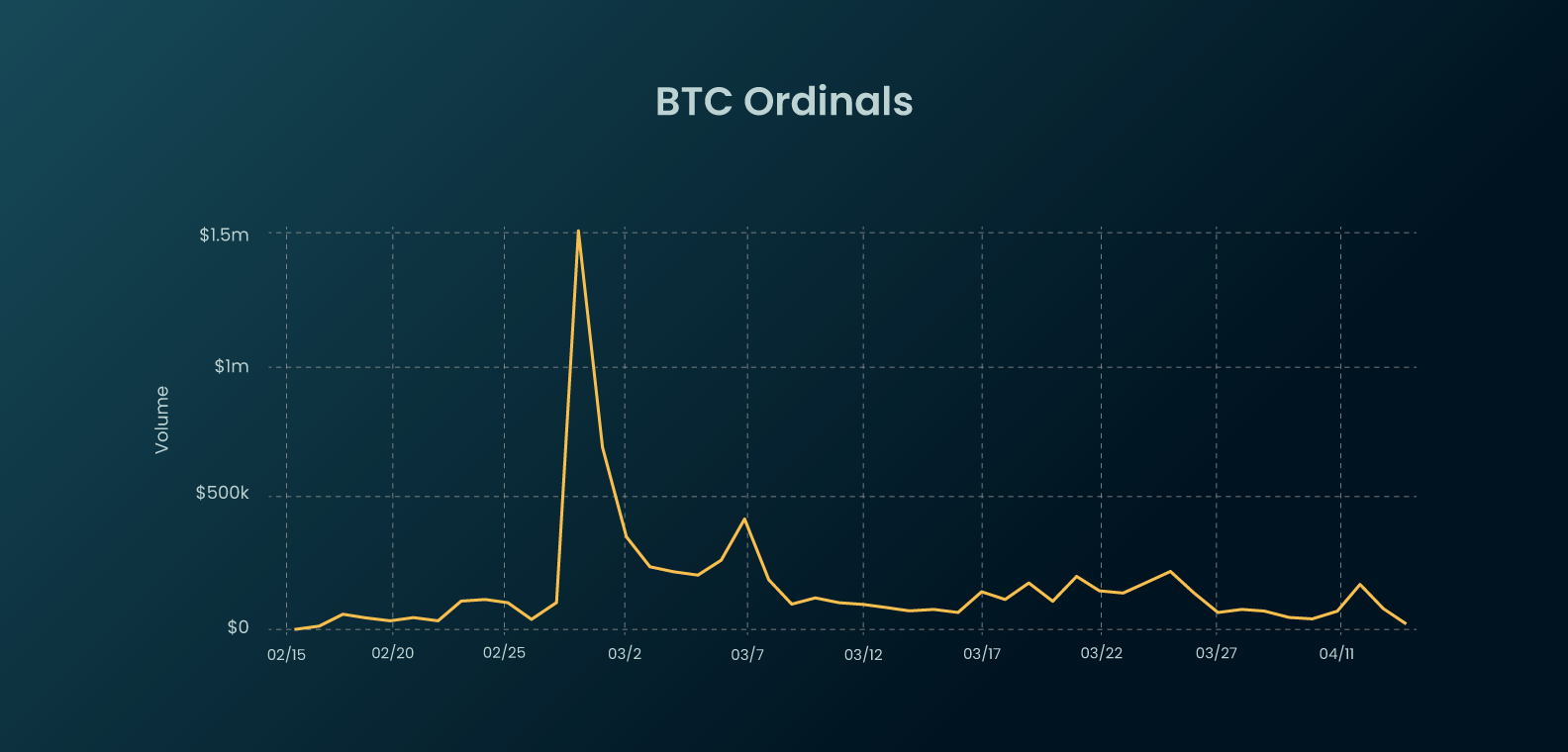 NFT Sales Volume On Arbitrum
It's also worth mentioning Ethereum's L2 Arbitrum, which may not be on the radar for many NFT traders and investors.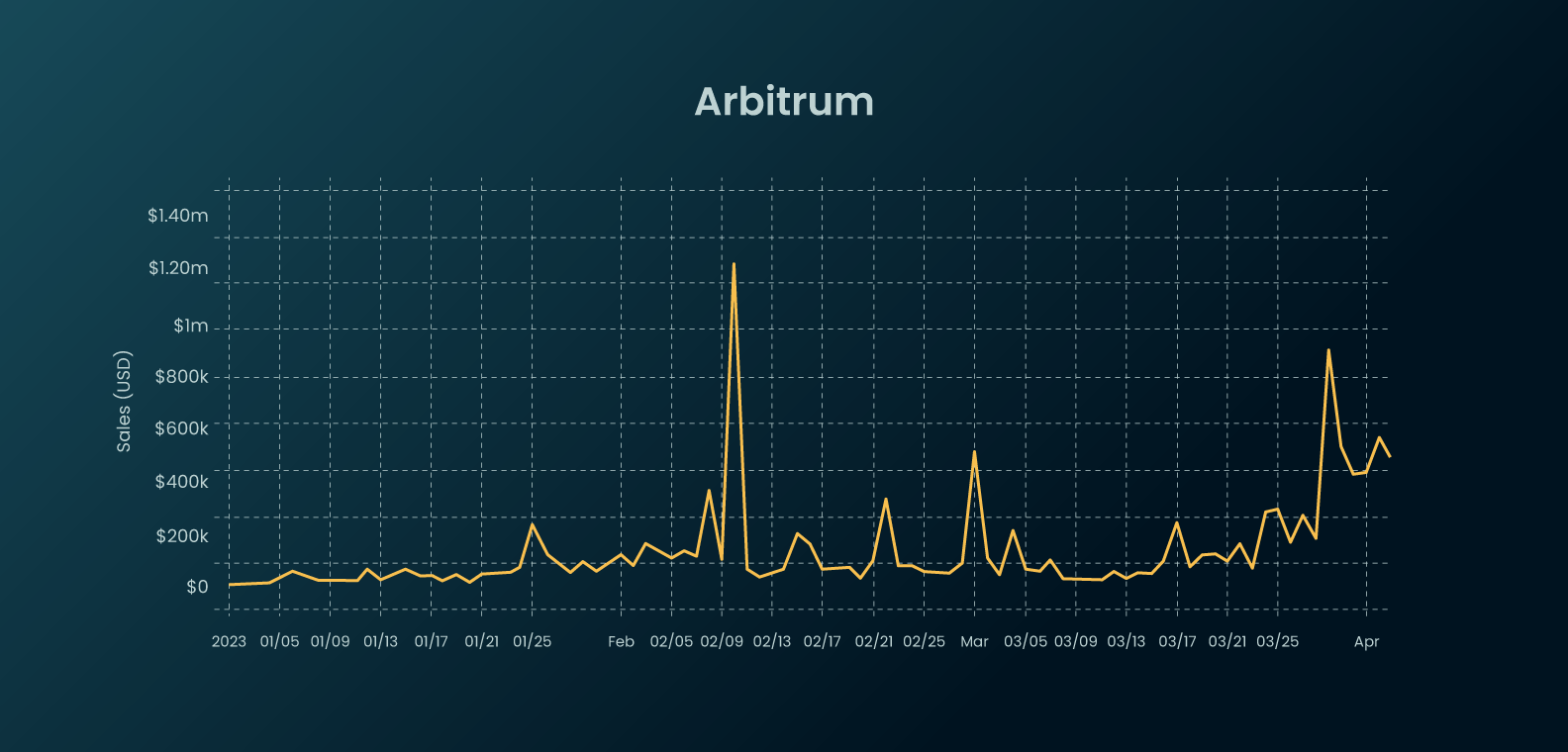 The chart shows an increase in activity. It is most likely related to airdrop profits moving to Arbitrum NFT collections. The total volume of Q1, 2023 is relatively low – 11.2 million, however, the figure is not too far behind Polygon, a home for a handful of big Web3 brands and projects. The airdrop farming is no longer relevant, so the liquidity flow into Arbitrum NFTs shows that there's genuine interest there. It's worth watching if the increase in volume is temporary or it will keep growing.
In conclusion...
The NFT market continues to evolve and shift, with different blockchains vying for dominance. The recent migrations of DeGods and y00ts may have an impact on the NFT market, and it will be interesting to see how the dynamics shift in the coming months.
As this sector is still in its early stages, we can expect further growth, innovation and new opportunities weather it will b on the currently dominating networks or new blockchains and L2's.