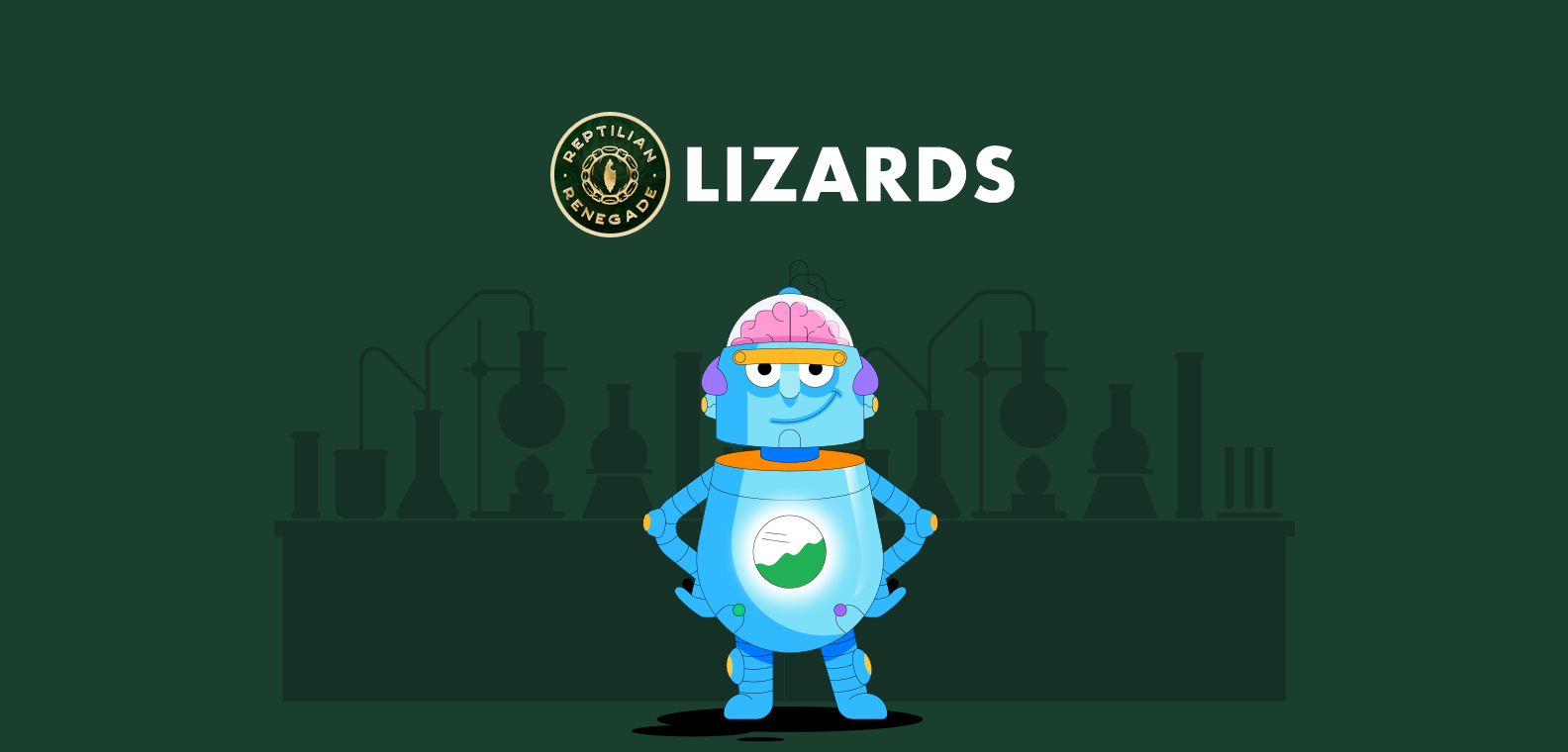 Reptilian Renegade: Why Images With Lizards Are Dominating SOL NFT Twitter Feed?
Reptilian Renegade NFT collection skyrocketed from the 4 SOL to 12 SOL in 2 days. Check out what's so special about the Lizards.

(a few moments later)

On 14 May 2022, a project led by a guy named Foupist minted for 1 SOL on Hydra launchpad. At this point, there was nothing special about the Reptilian Renegade collection, it was an average PFP collection.
A few days after the mint, ETH whales start buying those jpegs with an image of a Lizard, and the RR doesn't stop until it hits 47 SOL floor price.
Soon, the community will find out that Foupist is a serial rugger who rugged Baloonsville NFT collection (if you want to know more about Baloonsville, check out this article about NFT scams).
The bad news came from Prez, a lead at a Hydra launchpad to whom Foupist came asking for a job. According to him, he'd be very good at exposing rug pulls as he is a rugger himself. That didn't work out though, and while talking to Foupist, Prez was able to alert Hydra devs to secure mint funds and royalties. Hydra took over most of the funds and promised the community to build the RR from the ground back to the top.
One important thing to notice at this point is that the community didn't die off after the rug. Even after the FP went as low as 2 SOL, Discord was still vibing, which is special.
Let's talk Eyes
The Reptilian Renegade ecosystem contains the primary collection, two secondary collections–Eyes: Gen 1 and Gen 2 and also a token $SIGHT holders get (4 a day) if they stake their Lizard.
The Eyes Gen 1 was airdropped to Lizard holders soon after the mint. As for the Gen 2, you can get one playing an Eye game, which is a fun form of a lottery.
By sending Gen 1 eye into the portal and paying 75 $SIGHT, players have a chance of winning a Gen 2 eye, maybe even 2 of them, also double or 10x the $SIGHT. If they are not lucky, they can lose both the Eye and the $SIGHT.
The game ended 13 of June. The eyes in circulation are all eyes that will ever exist (1000). If you want an eye, you can only get one on secondary markets places. And you might want one because Eyes will play an essential role in revamping the art of Reptilian Renegades.
Deviant and Corrupted Reptilians
Let's break down what we know about the art upgrade.
As mentioned above, the Eyes play a key role here. There are 2 types of them – red and green. This applies to both collections, Gen 1 and Gen 2.
There will be a couple of options to upgrade your Lizard. First will come, Deviants. Then there will be Corrupted Lizards.
You'll need a green Eye + Lizard + SIGHT to create a Deviant, and for the Corrupted Lizard, you'll need a red Eye + Lizard + $SIGHT.
At this point, we have sneak peeks of Deviants. The art is more detailed and complete but still looks super clean, making it an outstanding profile image.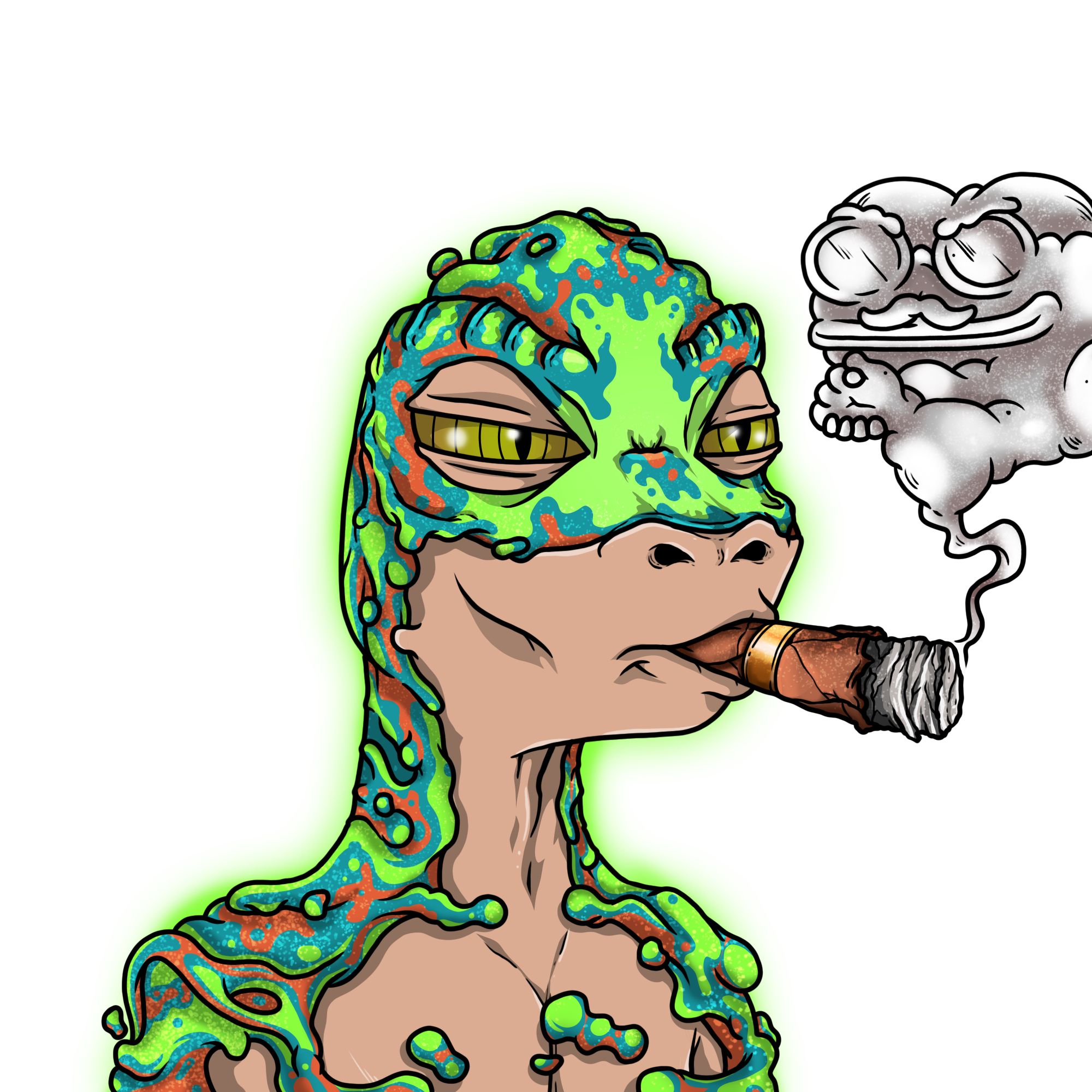 There are even fewer details about Corrupted RR, but the red eyes are more expensive, so Corrupted Lizards might be fancier.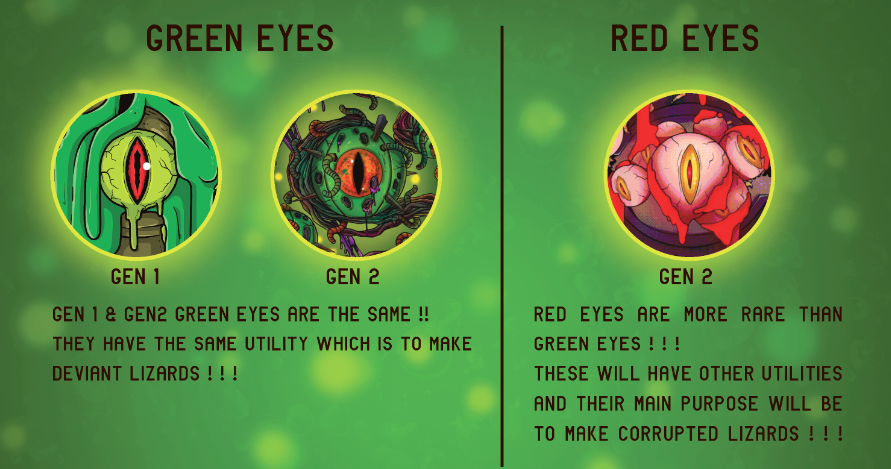 The art upgrade is fantastic but there's more brewing for the Reptilian Renegades.
Another big thing coming is a Degen Toy Machine. DTM is almost done, and soon, projects and investors will get to use it.
DTM will be used as a gamified way to distribute WL opportunities. It will also serve as an additional option to fund the LPs in a fun and simple way. The toy machine will accept 0.25 SOL or 0.50 SOL and will be filled with random prizes, including SPL tokens, WLs, NFTs, or SOL.
Hydra team experts also worked hard on many use cases supporting $SIGHT. Revamped tokenomics are finalized and can be dropped any day now.
Are we still bullish on the RR after this pump?
We now see how hard the Hydra team has worked since it took over the Reptilian Renegade Lizards and the RR community start to enjoy the rewards.
Holders have lots to wait for, Deviants, Corrupted, DTM, new tokenomics, and utilities… and seeing how devoted and dedicated the Hydra team is, there will likely be more bullish surprises coming in the future.
Finally, the Discord also has decent Alpha hunters and is just a nice place to hang out as the community is active and positive.
Don't take this article as a financial advice though. Invest at your own risk!
If you liked this quick review, make sure you follow @Dexterlabdata on Twitter. We do not have affiliation with other projects, all reviews are unbiased. We're also building something that will help you make money from NFTs and crypto. You don't want to fade that. PROMISE!