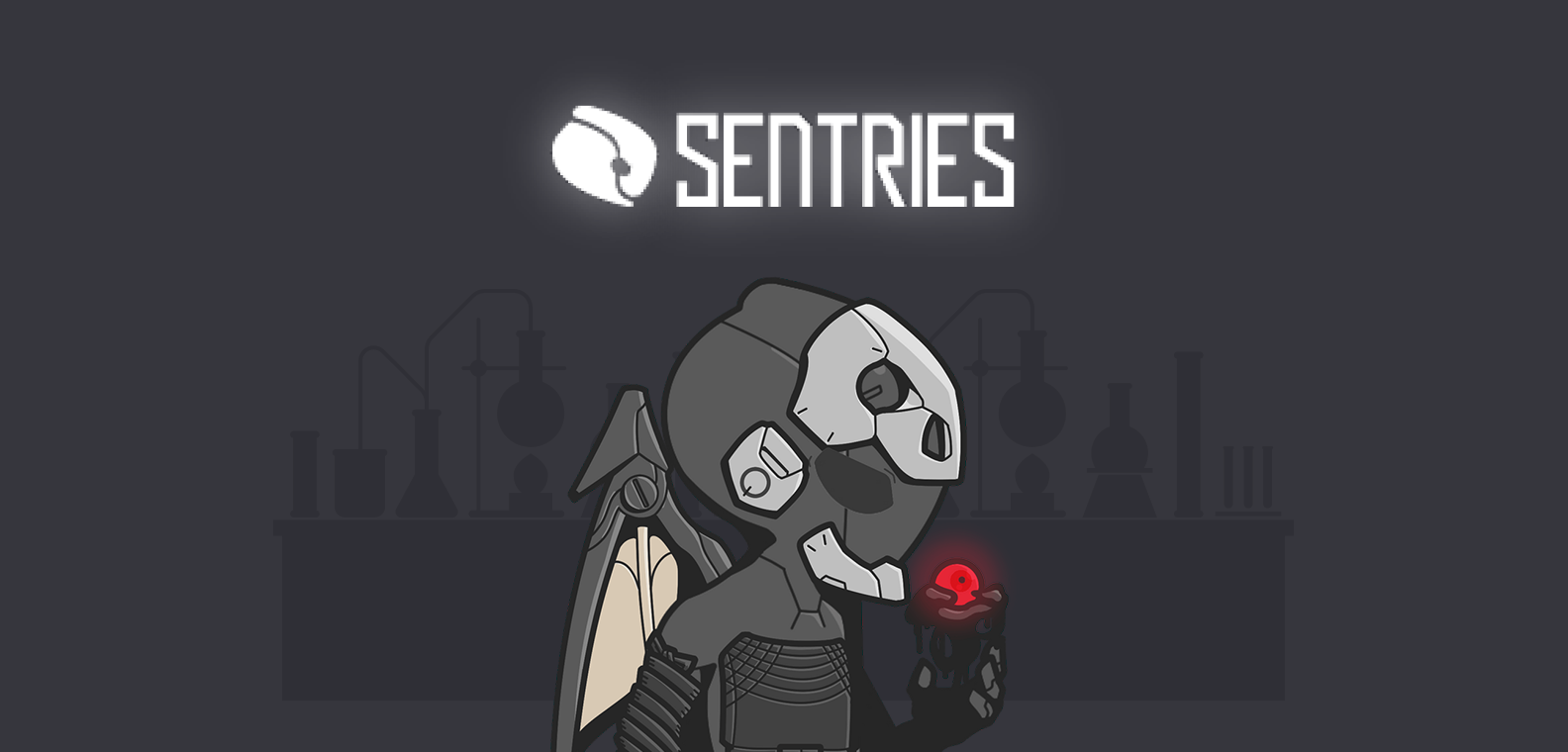 Sentries: Blockchain Infrastructure As A Service
Everything you need to know about Sentries NFT collection!
Sentries is an NFT collection of 8000 weird-looking creatures minted August 19, 2022. It was the second mint on the Bifrost launchpad.
In case you're unaware – Bifrost (Blocksmith Labs) team is very strict on choosing who can mint on Bifrost. If Sentries managed to get the launchpad, the project must be a real deal.
The mint successfully collected 176.89k $FORGE (token of Blocksmith Labs ecosystem) and 7.65k SOL.
Half of the royalties of a total 7% from each sale are allocated to the admin team and the other half goes to The Lode (more about it below).
Okay! So, what are those Sentries all about?
Sentries is a blockchain infrastructure company deploying Solana validators and RPC nodes. On Sentries official website, you can find three taglines:
Gamified SOL validator
Single-sided staking platform
Blockchain infrastructure as a service
Let's break them down in more detail.
The Lode
In short, the Lode is a Solana Validator. You can think of a validator as a "checker" that confirms transactions. Validators are required to stake Solana. In return, a staker can receive rewards earning approximately a 5% annualized reward rate.
At Sentries, the validator, or The Lode, will act as one of the revenue sources and liquidity reserves for the rest of the Sentries ecosystem. 5k SOL from the Sentries mint went directly to the Lode. Also, as mentioned above, 3.5% royalties fees go to the Lode.
Since the mint date, Sentries harvested 1820 SOL from royalties. So, the Lode's stake from mint and royalties are 5900 SOL. The amount would bring ~300 SOL as rewards annually.
But the funds allocated by the Sentries team aren't everything that goes into the Lode. This is where we can mention the first Sentries NFT holder benefit. If you hold a Sentry PFP NFT and a Lode Link (earned by HODLing), you can participate in 0% commission SOL staking. Public/non-holders are subject to a 7% commission rate.
And The Lode is pretty popular, as the total stake of the validator is over 100k SOL at the time of writing. In fact, the Lode is #1 validator by the rankings of Marinade Finance. Not bad!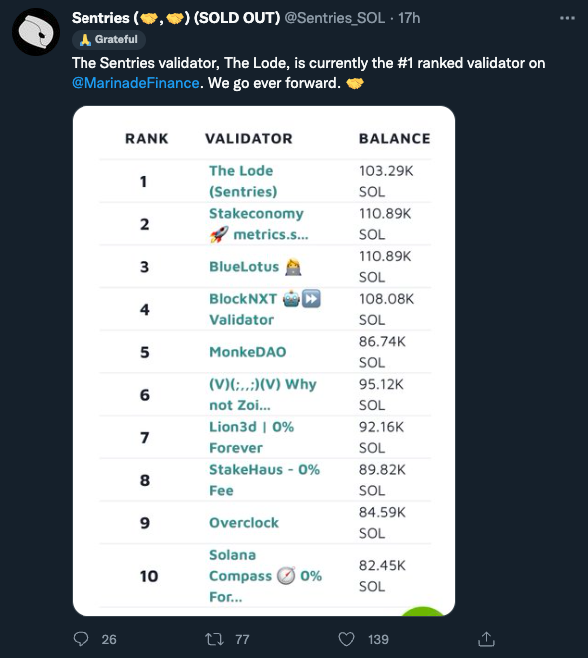 As per the current expected APY, revenue from the Lode stake would be ~6500 SOL. Portion of those rewards will be distributed to Sentries holders.

RPC nodes
Another component is RPC nodes. RPC, or Remote Procedure Call, allows users and applications to communicate with validator nodes. Think of it as the middle-man in your transaction or someone who translates your request for the blockchain.
Sentries will use part of the mint funds to develop a permissionless, on-demand RPC Node access system. It will be available to the public at the default pricing, while Sentry holders will receive discounted access based on the number of Sentries held.
Access to RPC nodes comes in handy for NFT investors who love snipping NFTs. The competition between snippers is also high, and a fast RPC node can give a huge advantage.
B2B Services
The next category is B2B Services. Sentries will provide validator and RPC node services to businesses. This is all about hardware, set-up, maintenance, support, and UI UX.
The revenue from the B2B services will supplement the operational budget.
Sentries holders can participate in the referral program, allowing them to earn rewards for referring B2B Services clients to Sentries, with bonuses depending on the number of Sentries held and their Power.
Sentries NFTs
As mentioned above, Sentries NFT holders will get discounted access to RPC nodes and B2B referral programs. There's also a Flex-&-Earn incentive to use Sentries PFP on Twitter. Those who have a Sentries NFT as a profile image will earn additional rewards. Although so far, this wasn't a strong incentive, as only 250 people are using Sentries as PFP.

On top of that, holders also receive the revenue share from the Lode rewards, and they can even power up the rewards by delegating 5 SOL in the Lode. There's no limit to how much SOL you can delegate to the validator, but only 5 SOL per Sentrie staked will give the additional reward.
Overall, The Lode rewards to holders boil down to a pro-rata 5% share of business gross profits, plus a pro-rata share of the 3% commission per Sentries NFT powered by 5 SOL stake.
At certain thresholds, Sentry holders will also unlock additional perks, including visual upgrades.
Final thoughts
When the primary holder's benefit relies on a passive income, the amount of that passive income will define the NFT collection appreciation in value. At this point, it is hard to predict how much revenue the business will generate. But whatever the revenue, we must keep in mind that the revenue share will be divided by 8888. Calculating the rewards holders receive from Lode stake by today's APY would bring less than 1 SOL  yearly per one Sentries NFT without power-ups.
So, holding one or a couple of Sentries might not bring life-changing money, but if you have a larger bag, after some time, you might accumulate a worthwhile amount of SOL, especially if the Sentries will keep growing as a business bringing more and more revenue.
A lot depends on the team and how they will manage to grow the business. And the team looks decent. It was doxxed by Bifrost and Alpha Labs.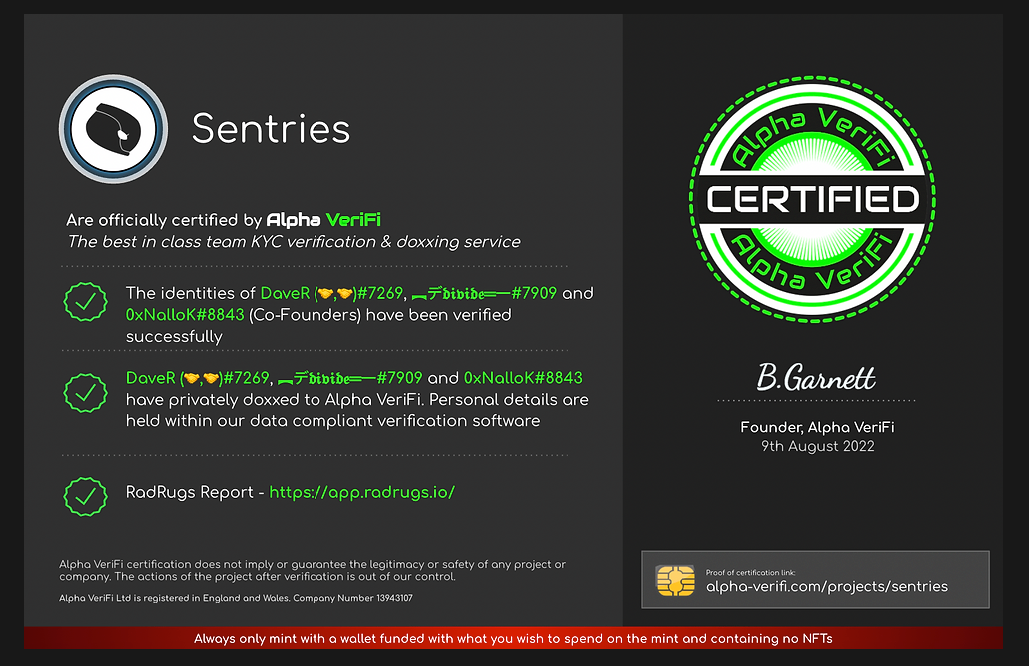 The team has people with expertise in law, B2B marketing, business scaling, crypto, Solana RPC node operators, community engagement, tokenomics experts, internet infrastructure, cloud services, and more.
The weakest point is art. It looks like a cheap Fiverr artist made it, the character is not something large audiences would identify with, has no facial expressions making it harder to relate to. Regardless, utility projects don't need high-end art, but nice-looking PFPs always help. Hopefully, the art upgrades will bring something fresh to the table.
Nothing in this article is financial advice! Always do your research!