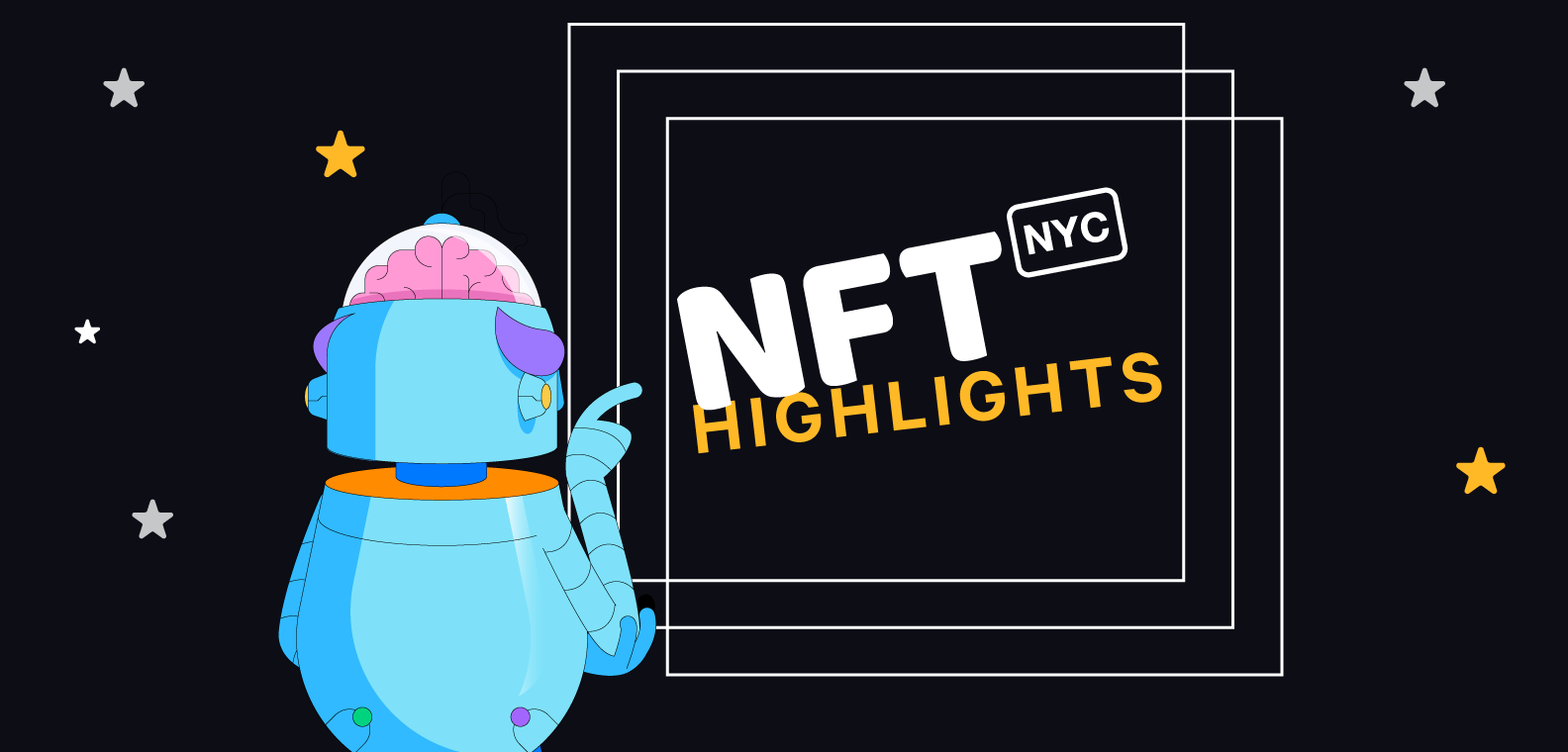 The highlights of NFT.NYC 2022
An overview of some memorable events that took place during the 4th Annual NFT Industry event in New York City in 2022.
Last week the 4th Annual NFT Industry Event in New York City took place. Over the three days, thousands of crypto enthusiasts, digital creators, brand executives, and many known faces from the tech world gathered in Manhattan despite the recent plunge the crypto market has seen.
Those taking part in the NFT NYC Conference this year got to see firsthand the adoption of Web3 into the entertainment space and into the mainstream.
So in order for you to be up to date with what is happening, let's have a little recap of what exactly is NFT.NYC 2022 and what went down.
What is NFT.NYC and what the future has in store for NFTs?
For those who are not familiar with NFT.NYC, take note that it is the largest and most respected NFT conference in the world. This year's event brought together more than 15 000 artists and enthusiasts and over 1500 speakers around the world.
While it cannot be denied that we are on the doorstep of entering the bear market in crypto, the long-term promise of NFTs to fundamentally change the market still persists. And that is clearly seen in the outcome of the event.
But first, let's go over why are NFTs attracting so much attention?
Currently, the purpose of NFTs is to keep records over digital ownership and provide authentication and verification to asset holders. However, the future shows promises of NFTs expanding to industries such as real estate, insurance, publishing, and more, and making innovations within live events and experiences.
And those achievements and future prospects were widely celebrated in New York last week.
2 Highlights Of The NFT NYC 2022 Bringing NFTs Into The Mainstream
One of the questions forever circling the crypto and NFT communities is how to bring crypto and NFTs into the mainstream? A huge event like NFT.NYC might be one answer to this.
Here are two memorable moments of NFT.NYC 2022, which definitely got some attention from even those not regularly interested in what's happening in the crypto world:
Billboards advertising NFTs
If you happened to take a walk through Times Square last week, you would have witnessed that NFTs have made it into the mainstream. The place was filled with ads for NFT projects and blockchain companies bringing Web3 right into the cultural spotlight.
NFT statues across NYC
Eight-foot statues of "Jojo Bears" were placed around the city by an NFT company called the littles to promote their brand and bring Web3 awareness among the masses.
Outstanding Events of NFY NYC Conference
Naturally, the conference was not only about putting on a show on the streets. During the week, visitors could attend numerous events with experts: panels, workshops, concerts, and be part of immersive experiences, co-working sessions, and more.
Among all the events, some of the most noteworthy are:
Artists Metaverse Offical Launch
A custom metaverse space was created by MetaBell, a global metaverse service provider, with the goal of creating a metaverse space for global NFT artists to communicate.
The space includes all 221 NFT artists that were listed at the NFT.NYC Official Art Collection that users can visit on their browser and easily follow their favorites on Twitter or purchase NFT artworks.
For NFTs created by global artists, MetaBell will provide privileges such as IP spin-off displays (chat dialogs, avatars, skins, pets, characters, etc.) and exclusive customization space.
Solana Mobile launches Saga
Solana Mobile debuted its new device an Android phone called Saga for Web3. The new device makes transactions and managing digital assets like tokens and NFTs easy and secure.
The new phone features new unique tools and functionalities, which are tightly integrated into the Solana Blockchain. According to Anatoly Yakovenko, the co-founder of Solana, Saga phone will help set new standards for the Web3 experience on mobile.
Mobile-first NFT Experience
The move towards smooth mobile experiences was also provided by a new-generation cryptocurrency wallet Blocto together with NFT-centric blockchain company Flow and who designed a unique mobile-first NFT experience for the attendees of NFT.NYC.
In a statement, Blocto noted that their mobile experience was a way to make the conference more enjoyable and rewarding for the visitors as they were able to claim unique NFTs on Flow for free, together with associated physical packages.
The 2nd Annual ApeFest
The Bored Ape Yacht Club (BAYC) hosted their second annual ApeFest at Chelsea Piers in Manhattan.
One of the noteworthy moments of the last night of ApeFest 2022, Snoop Dogg and Eminem premiered their music video "From The D 2 The LBC" where their BAYC NFTs are the key stars.
Steve Aoki's Goblintown NFT NYC Party
Superstar DJ Steve Aoki is a known fan of Goblintown NFTs and he was the main star of hyping up their NFT.NYC party. Together with his DJ set Broadway stars such as Jay Armstrong Johnson (Phantom of the Opera, On the Town, Quantico) and Mikayla Petrilla (Sleep No More, Saturday Night Live) did a performance dressed up as realistic versions of Goblintown NFTs.
During the performance, Steve Aoki also performed his brand new song "Piss on the Dance Floor" which minted on the 24th of June.
Sword Collection Display
An NFT company Knights Who Say Nah whose mission is to help people remember their forgotten culture, displayed a collection of ancient invaluable swords at Manhattan's Explorers Club.
The display was put on to promote their upcoming NFT launch and the collection included an authentic Viking Ulfbrecht sword" and a Dredien Rapier dating back to 1570 from the Holy Roman Emperor.
To Sum Up
As you can see NFT.NYC 2022 had many events that brought crypto and tech community together to celebrate the new achievements and future prospects and hold many great parties and networking events.
Now all we can do is to wait and see what will NFT.NYC 2023 have in store for us!