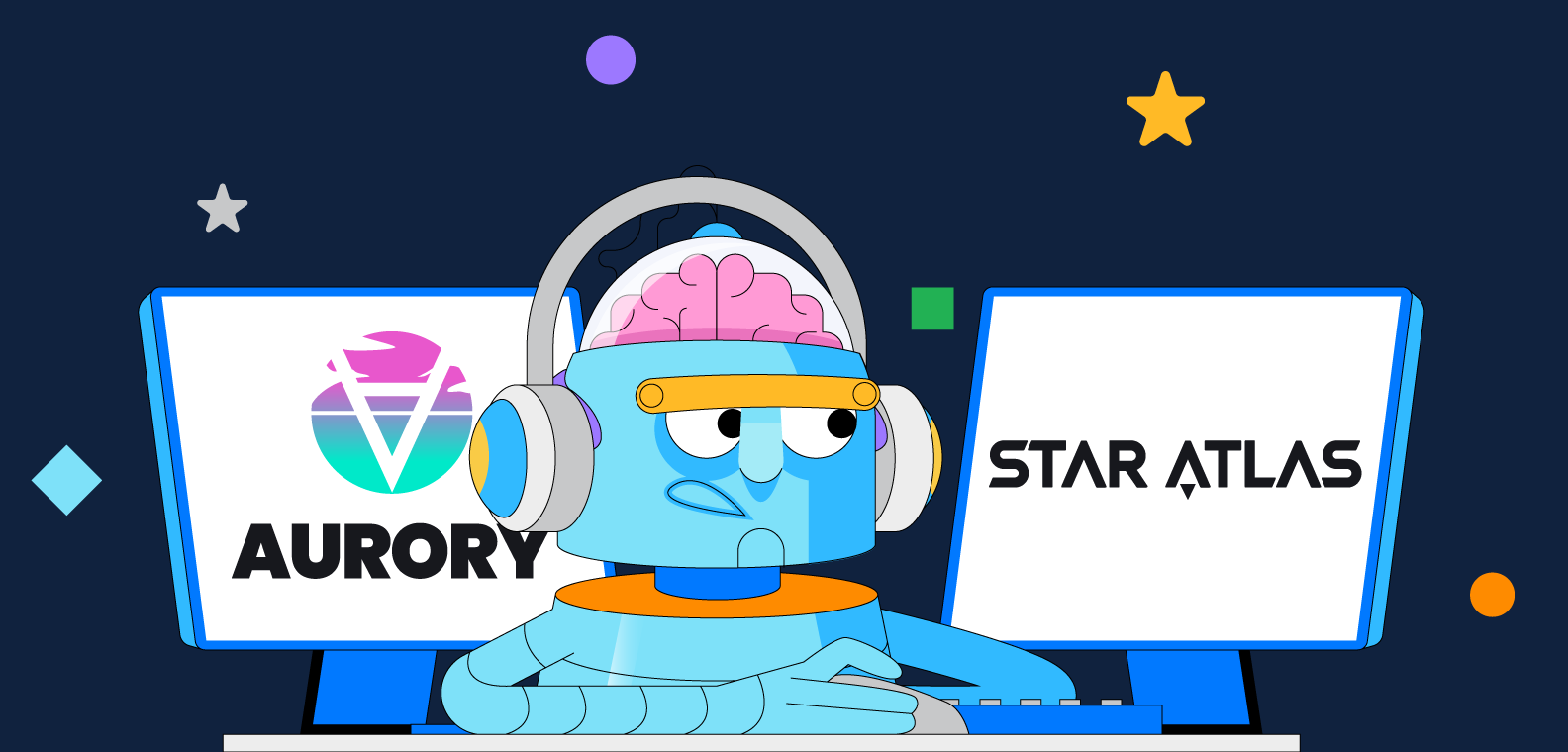 6 Best Play-To-Earn NFT Games 2022
Play-To-Earn NFT games are increasing in popularity every day. Let's go through some games with high potential to be profitable.
Play-to-earn games provide their users to earn money in multiple ways including in-game purchases. P2E refers to games where players can earn cryptocurrency rewards and utilize them for in-game purchases either to make further investments in the game or cash out their rewards.
As play-to-earn crypto games are seeing a lot of traction and growing in popularity, we have analyzed numerous projects and created a list of P2E games with a high potential to be profitable.
The Best Play-To-Earn Games With High Potential
For analyzing NFT projects some of the main things to take into consideration are the art (or in this case the overall game mechanics together with the graphics), the core team's abilities, token utility, project investors, and community engagement.
For the list below, we have considered all these factors together with the current market conditions and the future predictions for the projects.
So without further ado, here's the play-to-earn games list with projects worth your attention in 2022.
Star Atlas
Token Name: $ATLAS
Total Supply: 36,000,000,000
Current Market Cap: 13.3M
Volume (24h): 3M
Star Atlas is a space-themed, multiplayer gaming metaverse built on Solana Network that brings together blockchain mechanics with traditional game mechanics and has several major feature releases scheduled for 2022.
Since last year, the company behind the game has brought many unique NFT products to the market. One of the most popular NFTs from them is their playable spaceships that have currently generated Star Atlas nearly $200 million in revenue.
All Star Atlas NFTs (ships, mining equipment, collectibles, etc.) can be purchased and immediately put to use in the came to take your ship on missions, claim land in the metaverse, build out mining operations and spawn with further economic activity.
Some reasons why Star Atlas should be on your radar:
Star Atlas offers more possibilities to earn real money than any other games
One of their features launching this year called the Volant Studio Showroom deploys real-time graphics technology using Unreal Engine 5's Nanite that will provide players with a cinematic quality video game visuals and a top-notch gaming experience
While $ATLAS has seen a downfall since November 2021, its long-term price forecasts are mainly positive. It can be argued that the project could get new momentum during the next bull run and possibly the game launch could be aligned with it.
Overall, Star Atlas looks like a good candidate for a P2E purchase and is a project to be on the lookout for.
Decimated
Token Name: $DIO
Total Supply: 1,000,000,000
Current Market Cap: 2.2M
Volume (24h): 21K
Decimated is a 3rd person survival role-playing game built on Solana Netwrok where players can decide if they want to fight against or team up with other players, scavenge loot, transport cargo, and collect legal and illegal resources and trade them.
The game is one of the very first 3D-based crypto games and has been in development since 2018. In 2019 at the CGC Conference the game was awarded "The Best Crypto Game" title and has received a lot of attention since.
While today the volume of Decimated is low, we see a lot of potential for the game in the future. The game will be launched on the Steam platform bringing it in front of 25M active Steam users will definitely bring attention back to the project.
Mist
Token Name: $MIST
Total Supply: 1,000,000,000
Current Market Cap: 890k
Volume (24h): 152k
Mist is an open-world, Action Role Playing Game that has a dynamic combat style, which is one of a kind in the world of MMOs (massively multiplayer online games) built on blockchain network.
In the game, players can collect NFTs, battle monsters, and explore infinite immersive environments. The game's universe connects to the MIST native token as the in-game currency, which enables players to farm and stake tokens to earn in- and out-of-game rewards.
Although the current 24h volume is below 1M and the game has not received much interest and not attracted much hype during the bull market, their graphics, open-world approach, and augmented reality implementations are very promising.
Furthermore, as mentioned above, Mist's token utility is solid as it can be staked and used for farming both inside and outside the game universe. The token can be used to purchase or invest in in-game businesses, such as taverns, general stores, and farms and generate revenue.
The project's Pre Alpha was launched in mid-May so the game launch is on the horizon, and the team seems promising with numerous developers for smart contracts, game developers, graphic designers, content and marketing team on board.
SIDUS
Token Name: $SIDUS
Total Supply: 30,000,000,000
Current Market Cap: 1.9M
Volume (24h): 300k

SIDUS is a futuristic play-to-earn NFT MMORPG (massively multiplayer online role-playing game) that utilizes blockchain possibilities and provides players with numerous adventures and opportunities.
The NFTs from the SIDUS Heroes collection unlock the SIDUS HEROES gaming metaverse for its holders. Every NFT can be transformed into one of the gaming characters that players can use on a journey of their space exploration, power struggles, and battles.
While currently their NFT sales and 24h trading volume are low, the core of the project is strong:
The gameplay is solid and the graphics are good
31 of the team members are doxxed
They have a successful track record
Animoca Brands will be involved in the development of SIDUS' gaming mechanics and the two companies will be collaborating in marketing initiatives to reach a larger audience
More or less Sidus checks all the boxes to have a fruitful future and therefore can be considered a solid candidate.
Cryowar
Token Name: $CWAR
Total Supply: 1,000,000,000
Current Market Cap: 3M
Volume (24h): 300k
Cryowar is a real-time multiplayer PVP arena NFT game that is developed on Unreal Engine 4 and Solana Network where users can collect and trade in-game elements for value. The game brings together traditional gaming experiences with best practices of the blockchain world, DAO voting, NFT, and DeFi.
There are numerous things that speak for Cryowar:
The team is knowledgeable and dedicated and they have been developing the game for more than three years already
The visuals are provided by a cut-edge gaming technology AAA Graphics to provide an immense video game experience
The project is backed up by notable investors such as Alamenda, Animoca, Amazon, Coca-Cola, and others
As GameFi projects are slowly receiving more attention in the crypto world, Cryowar is definitely a project to keep an eye out for as it seamlessly combines Defi, NFT, and blockchain gaming.
So now that gamers are eager to convert from conventional gaming to P2E, Cryowar's best days are definitely ahead.
Aurory
Token Name: $AURY
Total Supply: 100,000,000
Current Market Cap: 20M
Volume (24h): 1.4M
Aurory is a free-to-play, tactical, turn-based JRPG (Japanese Role-Playing Game) built on Solana blockchain that allows players to explore a diverse universe as they complete quests, discover lost relics, defeat enemies, and compete against other players using creatures called "Nefties."
Nefties are designed as NFTs are at the center of the game that power all the operations in the game universe (hatching, evolving, trading, battling, etc) and that are enabling the in-game economy.
What is notable is that even before the game was playable, it raised over $108M worth of commitment at a 1.55B $AURY valuation. Such valuation makes Aurory's IDO the biggest seen on the Solana blockchain.
Other outstanding aspects of Aurory:
Their play-to-earn approach is combined with an educational purpose that helps more people understand blockchain technology in an enjoyable and engaging way
The team is talented - many team members have experience in working with big AAA companies such as Ubisoft and EA
The artwork is mesmerizing. The aesthetics combine features of old Disney and Studio Ghibli animation
The price growth prediction potential is said to be 1.6% by the end of 2022
Undoubtedly, Aurory is a project to keep an eye on. It is one of the leading GameFi ecosystems built on the Solana network, and its native token $AURY has gained a lot of traction among gamers and retail investors.
To Sum Up
After reading this article, we hope you have gained some insight into which play-to-earn games built on the Solana Network are worth your attention.
Keep in mind, that before investing in any cryptocurrency, do your own research to understand the project details and be up to date with the latest news and updates.