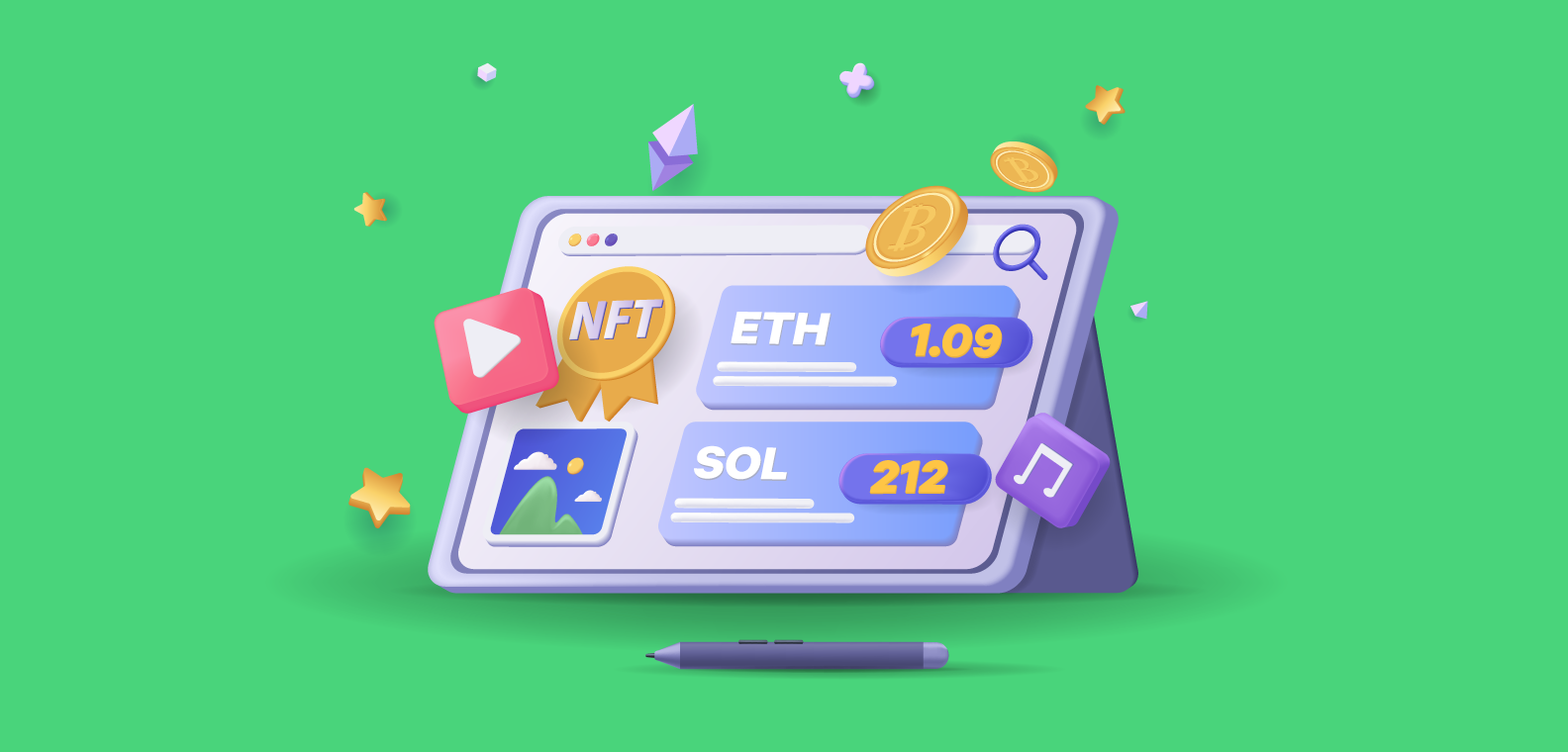 The Best NFT Marketplace: Where Should You Buy And Sell NFTs?
The term 'One size fits' all doesn't apply to NFT marketplaces. Different people have different needs. Thankfully, there are more than a few NFT platforms, and you can learn about the best ones below.
In 2021, people spent nearly $41 billion worth of crypto on NFTs. Along with the rising popularity of non-fungible tokens, the marketplaces where you can buy and sell NFTs have also sprung up.
Which one is the best? Where can you sell or buy digital art? Can you buy NFTs with a low budget? How much do you have to pay in fees?
When starting, you can be overwhelmed with all the questions, but this article will help you answer them and find the best NFT marketplace for your needs.
If you're starting your journey in the NFT world, you might have heard about the OpenSea and Rarible already. These are the most established and one of the oldest marketplaces in the space, so we made an extensive comparison about them.
Top NFT marketplaces in 2022
So, where should you be heading to buy or sell NFTs?
First of all, it largely depends on the preferred blockchain. People commonly choose Ethereum, as the network where NFTs started still has the most volume and activity. Regardless of the high gas fees, most creators choose to mint their artwork or collections on Ethereum. Therefore the blockchain can offer the largest selection of NFTs you can explore.
Ethereum also has the most marketplaces where to buy and sell NFTs. Let's have a look at the best of them.
1. Nifty Gateway
Nifty Gateway is an Ethereum-based marketplace managed by Gemini, a top-tier cryptocurrency exchange that the Winklevoss twins operate.
It exclusively focuses on NFT art pieces and is known for hosting expensive NFT sales, such as digital artist Pak's "The Merge," which sold for $91.8 million.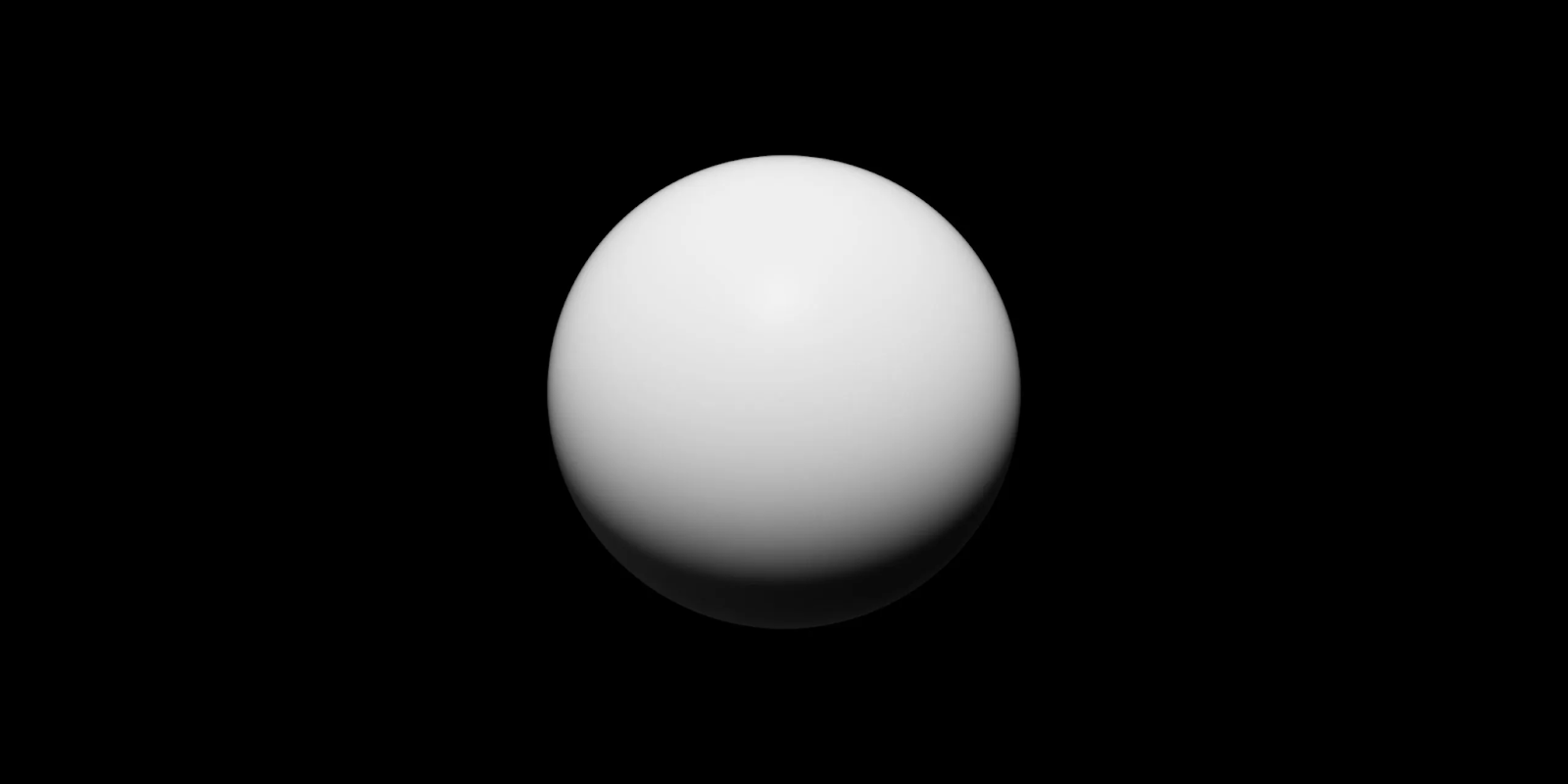 Nifty Gateway is unique in a couple of ways. First, the platform regularly collaborates with famous artists for curated drops. Any other art on Nifty Getaway can only be listed if it is verified by the team. You can be sure to find high-quality art in the marketplace.
The second thing is that Nifty Gateway uses an "open editions" system, meaning that you can buy an item for a limited time. This is great for the artists, as the urgency factor drives the price higher.
At Nifty Gateway, users can buy an NFT using credit cards, which is convenient for many people who aren't familiar with crypto wallets.
Nifty gateway fees
Nifty Gateway has one of the highest fees. When NFT is sold, the platform takes 5% of the sale price in fees and taxes, plus 30 cents to cover transaction fees. There's another 10% fee going to the artists, so if you resell NFT artwork, the total fees are 15%.
2. SuperRare
As the word 'rare' in the name suggests, SuperRare is an art-first NFT marketplace with a strict artist approval mechanism. It only accepts 1% of artists who apply.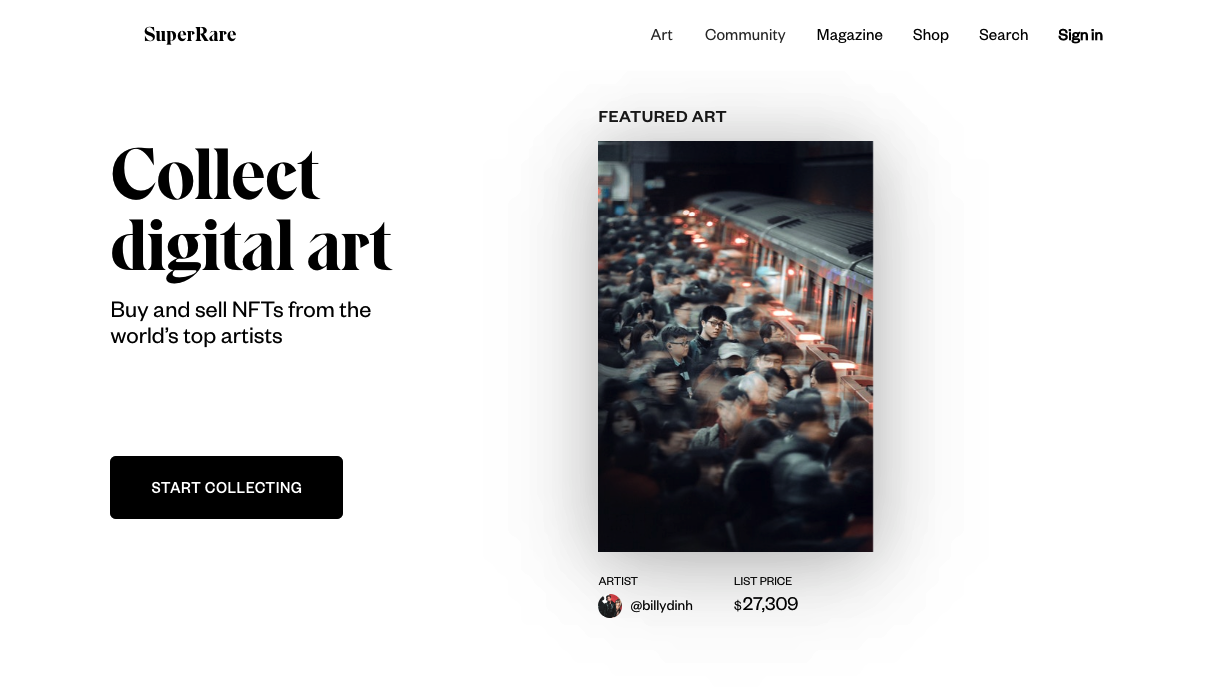 If you're a high-end art fan, SuperRare is a place to go to find a piece you'd fall in love with.
The platform has a user-friendly interface and is easy to navigate. It is Ethereum-based, and to buy an NFT, a user must have MetaMask or Formatic wallet.
SuperRare fees
SuperRare charges 15% for their services the first time an NFT is sold and a commission of 3% to the buyers. The artist gets 10% as royalty.
3. Foundation
Foundation is an NFT marketplace run by a select number of artists. To list your NFT, a creative who has already published work on the platform must invite you, and each artist only has one invite to use.
The platform has some high-quality art. A one-of-a-kind edition Nyan Cat, an internet meme, and Aplex Twin's audiovisual collectible are a few famous NFTs that this marketplace proudly showcases in its hall of fame.
Nyan Cat GIF NFT sold for 300ETH:
The platform offers details about an artist such as joining period, number of creations, followers, social media profile links, website URL, etc. The information is delivered in a feed, which makes the platform even more enjoyable to use. The interface is clean and easy to navigate through numerous NFT items.
Foundation fees
The platform charges a 15% commission rate for each sale. Selling an NFT on Foundation earns the artist 85% of the value, and secondary sales earn 10%.
4. LooksRare
LooksRare is focused more on NFT traders rather than artists and NFT art collectors. It is a decentralized, community-first NFT marketplace that actively rewards traders, token stakers, creators, and collectors for participating on the platform.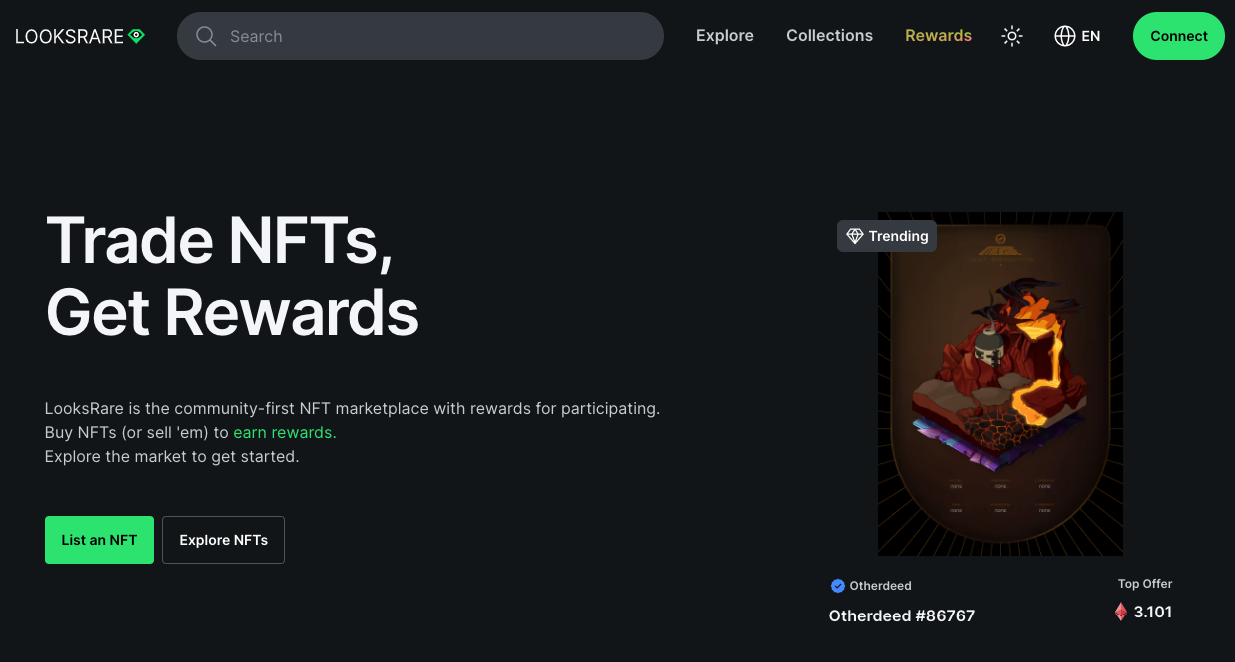 LooksRare rewards participants on your total transaction volume,  therefore the platform is very attractive for people who trade NFTs.
The limitation of the LooksRare is that you will not find one-of-a-kind art pieces. The platform mainly hosts collections where utility, community, or brand is above the art factor.
LooksRare fees
LooksRare collects a basic sales fee of 2%. All fees collected are distributed to the platform users based on the trading volume and those who stake the token $LOOKS.
Ethereum network can be not welcoming for collectors with a low budget. Don't worry, if you do not want to spend a fortune on digital art, there are other options where you can explore digital art or NFTs with utility and lively communities.
The best NFT platforms where gas fees will not shock you
The Solana NFT ecosystem has had a great year so far. More and more people are turning their heads towards Solana, as the network is fast and has very low gas fees.
What are the top NFT marketplaces on Solana?
1. Magic Eden
Magic Eden is an NFT marketplace focused on NFTs with utilities, so if you're looking for unique art pieces, Magic Eden marketplace might not be a go-to choice. Instead, you can find collections with great communities, passive income opportunities, or brand-focused NFTs.
The interface is well suited for NFT traders to whom Magic Eden is the leading marketplace on Solana.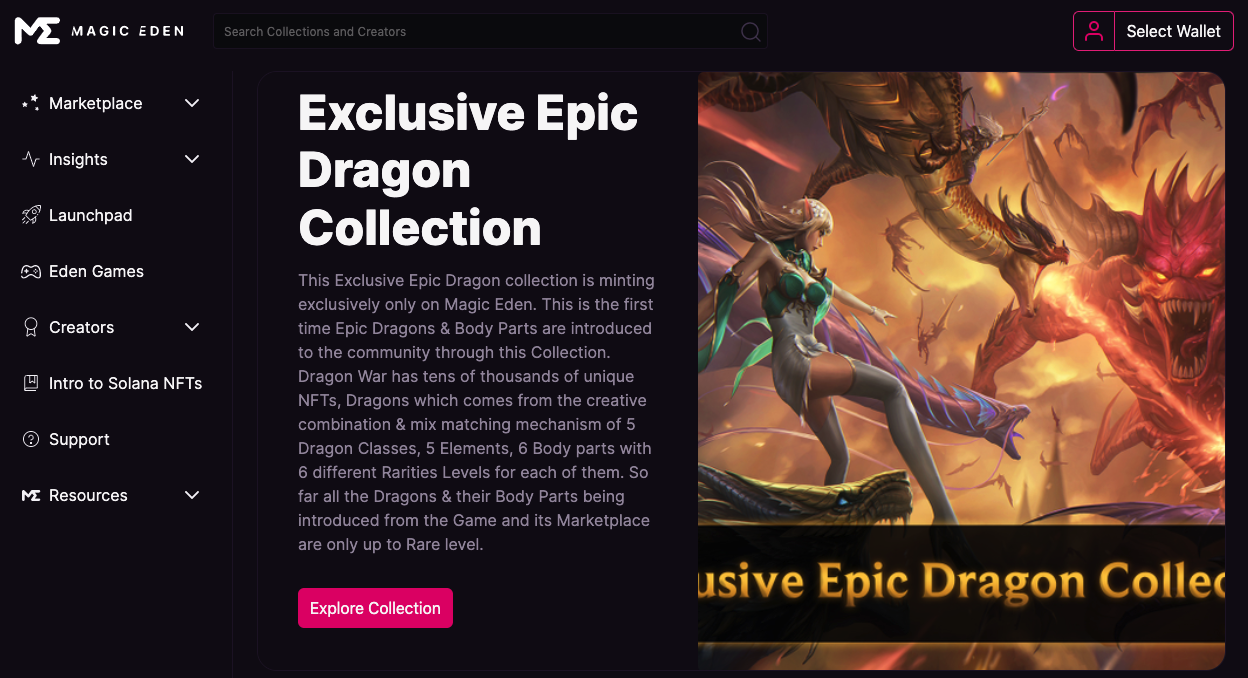 Magic Eden fees
On top of royalties set by a creator, sellers are only charged 2% for transactions without paying any extra when listing or buying.
2. Solanart
Solanart is the second largest marketplace (after Magic Eden) on the Solana blockchain by volume. You can buy or sell Solana NFT from most of the available collections. Or, you can even mint your collection if you're a creator of a Solanart NFT launchpad.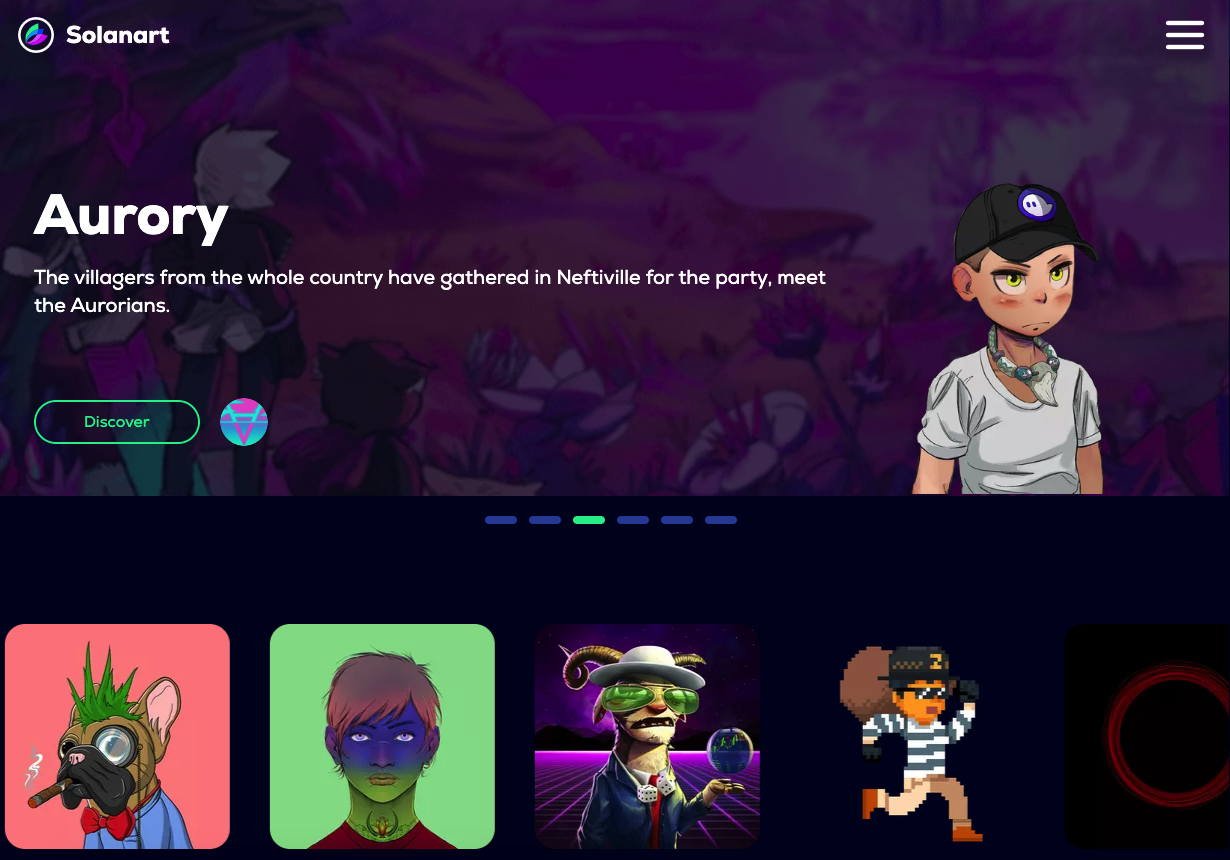 It supports all major Solana wallets like Phantom or Sollet and has a user-friendly interface.
Solanart marketplace also has a Stats page that displays various platform statistics. This section shows the global market cap, seven days volume, SOL cryptocurrency price, and collection-related statistics.
Solanart fees
Similarly to Magic Eden, on top of the royalty fee set by a creator, Solanart only takes a fee when you sell an NFT. However, the fee is slightly larger – 3% on every transaction.
The Solana NFT ecosystem is vibrant and lively with passionate communities. Low gas fees allow P2E games or collections with features like NFT breeding, mutating, and passive income opportunities to thrive here.
On the other hand, the network isn't a go-to environment for digital art fanatics, and if you want to find awe-inspiring NFT art pieces that also don't cost a fortune, there are other places you can explore.
Best places to buy and sell NFT art on a low budget
Tezos NFTs are still under the radar to many, but it has been a treasure trove for limited-edition artworks. It has even attracted surprise drops from Ethereum heavyweights like XCOPY and Blake Kathryn.
You can find digital art for less than $10.00 on Tezos, the gas fees are minor, and it's worth knowing what are the best NFT marketplaces in this growing ecosystem.
1. Objkt
Objkt is by far the biggest player in the Tezos NFT marketplace space, not only in terms of volume but also in terms of active users.
It is an open marketplace that allows you to list NFTs from other Tezos NFT marketplaces as well, and you can find a huge variety of NFTs on Objkt.
Among the large list of NFT collections, you're very likely to discover art gems that can cost as low as a few Tezos, which is currently worth less than $2.00.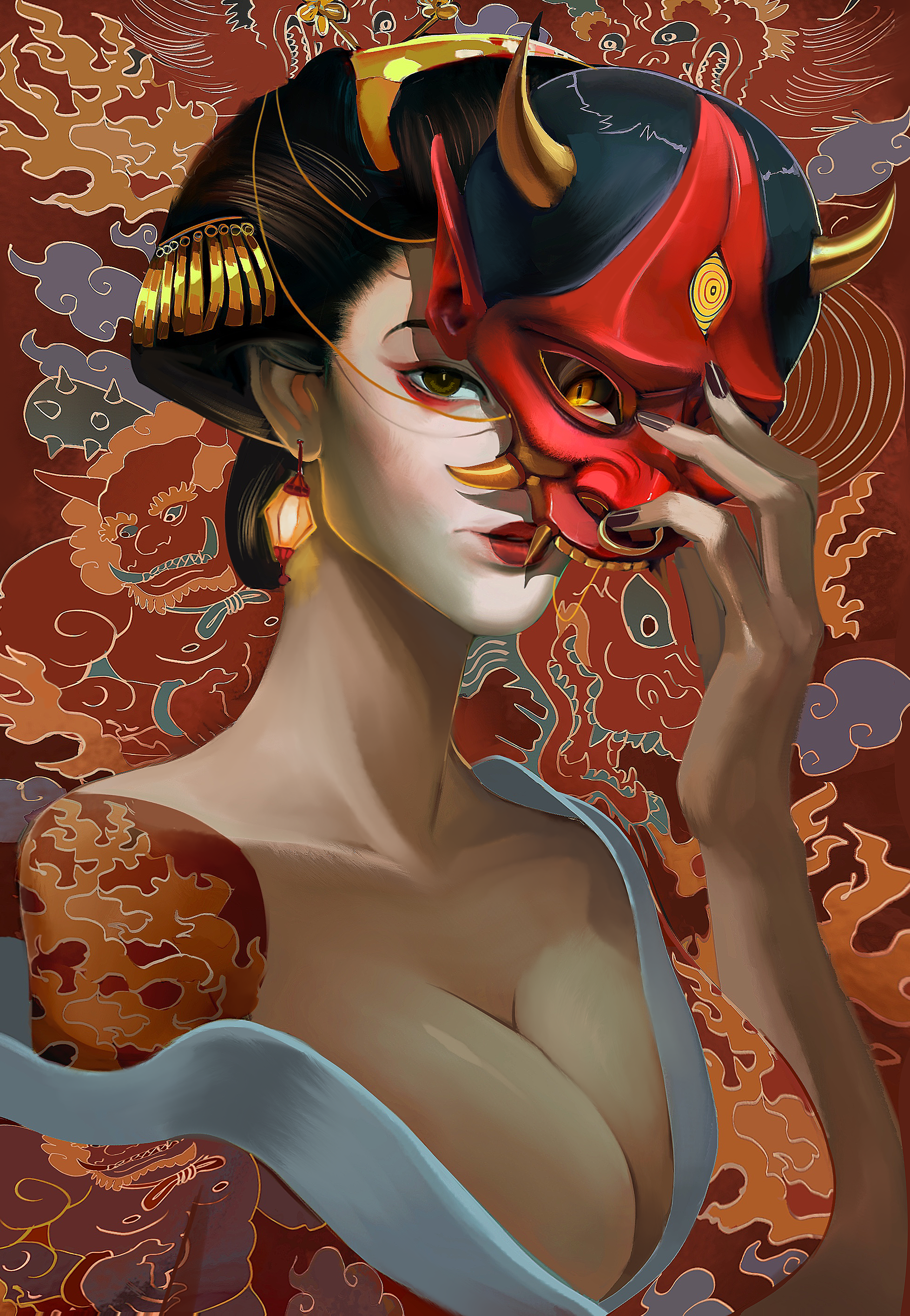 Objkt fees
Objkt charges 2.5% service fees on every successful transaction.
2. Fxhash
Fxhash is a marketplace on the Tezos blockchain, where artists can publish generative art tokens. What is generative art, you may ask? Well, it is a digital art randomly generated by a computer program from the inputs set by an artist. So, when you mint a piece of generative art, it will be completely new, not seen even by an artist himself.
The leading generative art platform on Ethereum Artblocks has curated collections that are worth millions. Today, the floor items of the famous "Fidenzas" of Tyler Hobbs sell for 77ETH (2,3 million US dollars).
Fxhash is similar to Artblocks but with a different approach. The process of launching a collection is much less restrictive, which makes Fxhash more chaotic. While artists have to be verified by the Artblocks team, Fxhash welcomes anyone to join the creator side.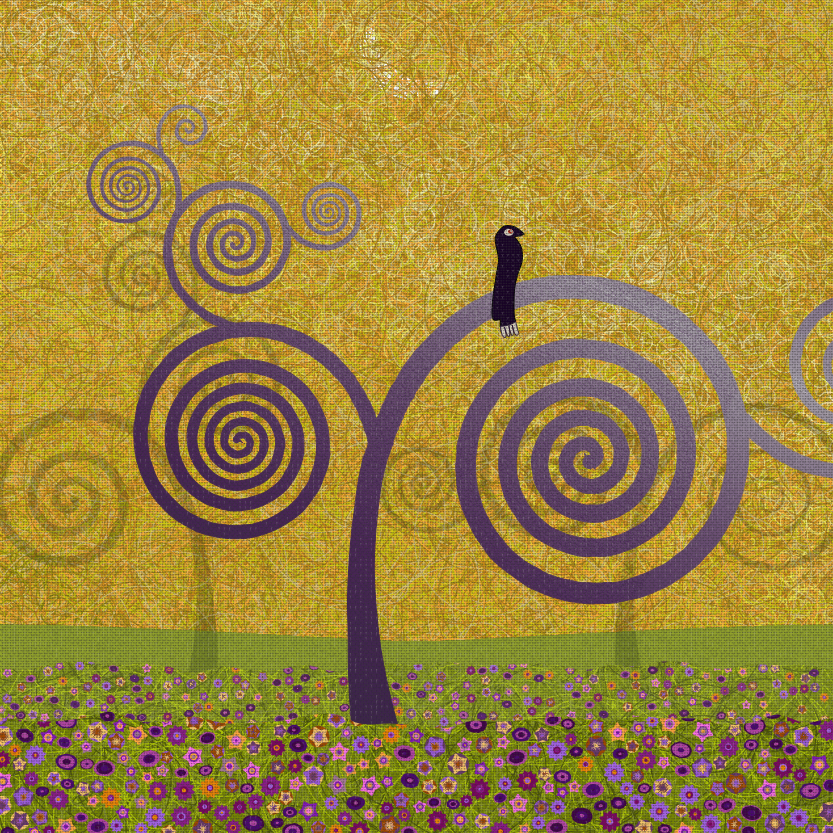 You can be sure to find fascinating artworks on the marketplace and even launch your own. Some are pricey, and others can cost just a few Tezos.
Fxhash fees
The platform charges 2.5% service fee on trades.
Conclusion
By now, you should have realized that you need to consider multiple aspects when selecting the NFT marketplace. Some are better to look for art, others for PFP collections. Fees depend not only on the platform but also on the blockchain. Creators must take into account minting costs and royalties.
Hopefully, the top NFT marketplace list will be handy in your NFT world explorations.