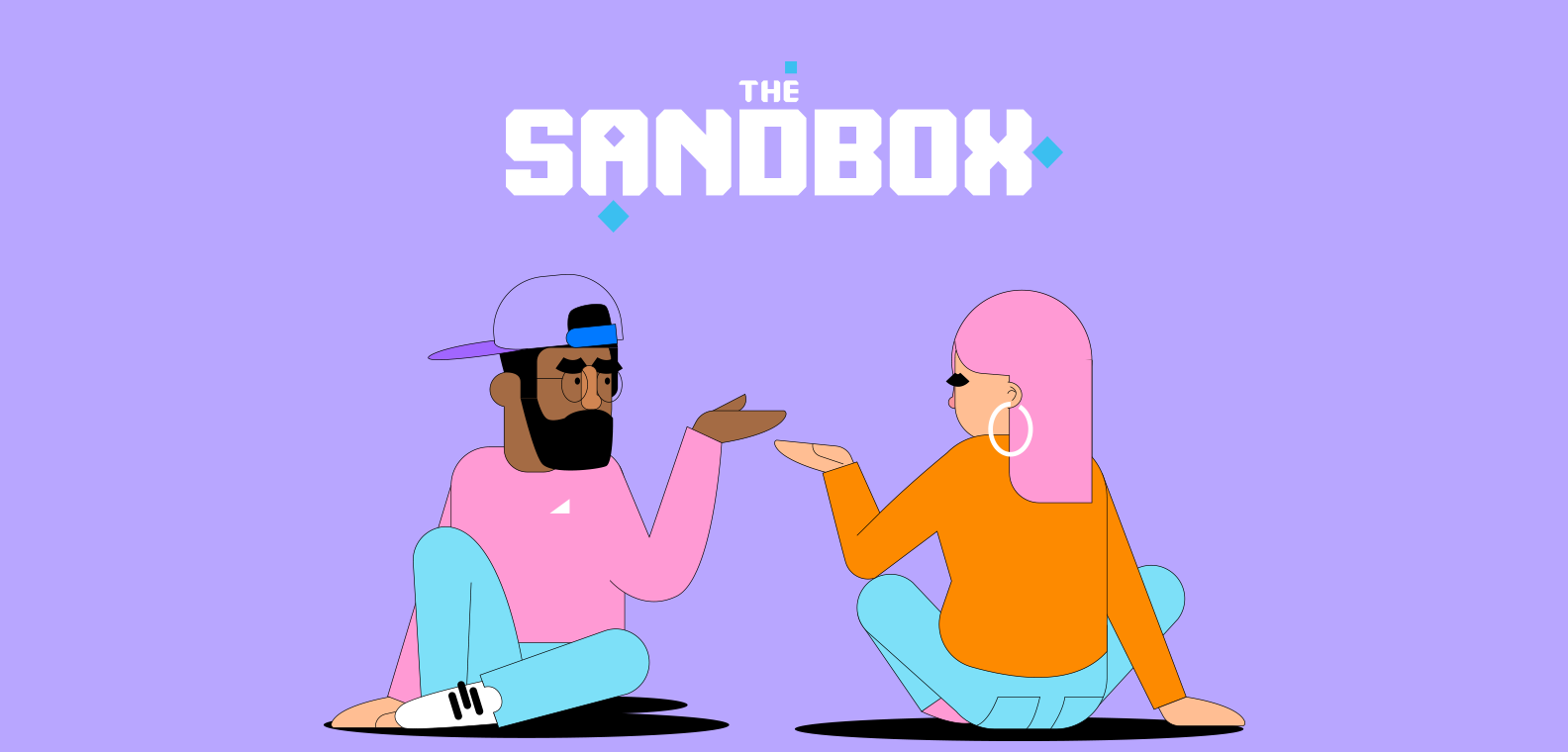 Decentraland Vs. Sandbox: Which Metaverse Land To Buy?
Decentralized and Sandbox have been developed for a long time and are closest to offering metaverse experiences. You might wonder which one offers better land investing opportunities. Read to get your answer!
Both Decentralized and Sandbox are top, well-known multiplayer metaverse games where you can build, own, and monetize gaming experiences.
Decentralized ($MANA) with the market cap of $5.7B is ranked #37 among all crypto projects and $SAND with a cap of 2,8B sitting a little bit below at #64.
Is one a better choice when it comes to buying land over the other? Let's evaluate the projects and the interest they generate.
What is Decentraland?
Although Decentraland is still being developed, it's possible to play the game now.
The game has simple cartoon-like graphics. There are about 1000 users which isn't a lot, but likely, there are many more registered users, they are just currently not in the game.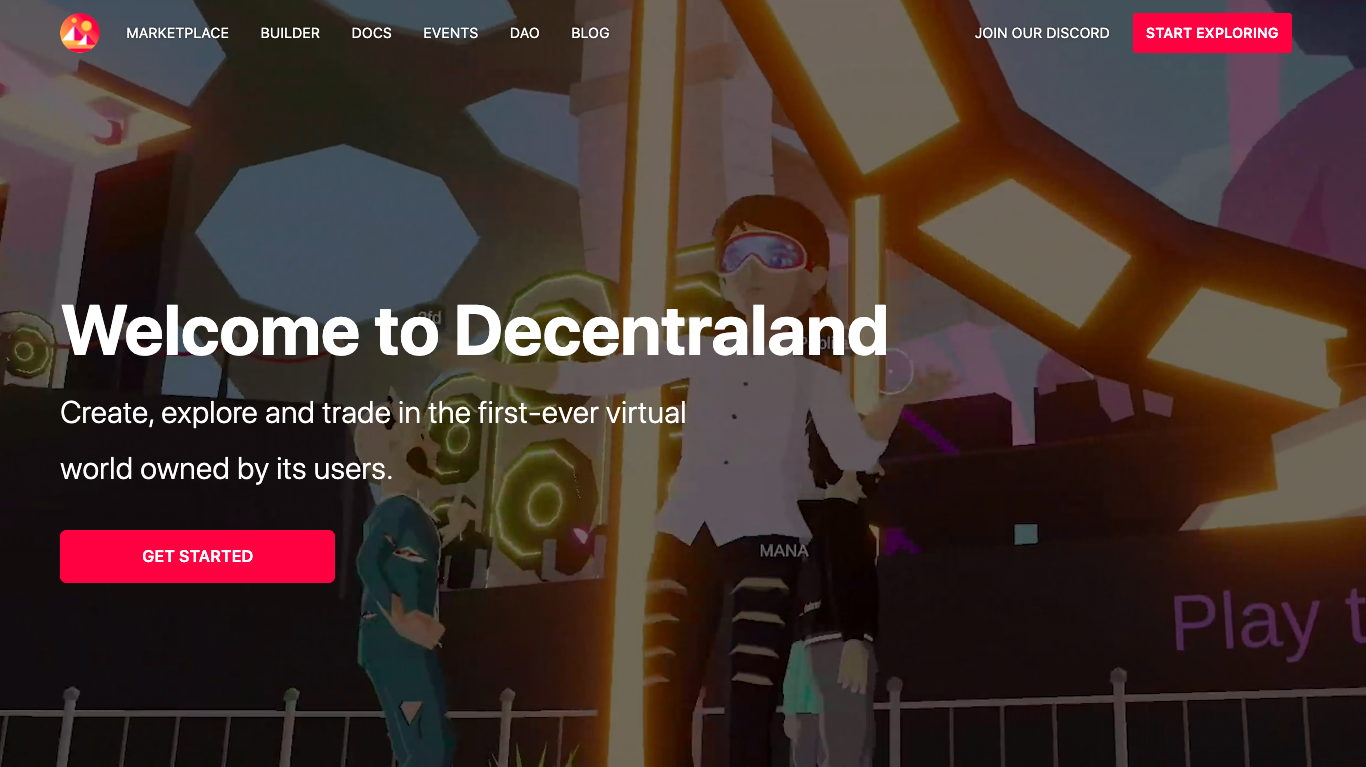 Decentraland token $MANA is powered by Etherium - Etherscan shows 138,8K holders and 1,5M total transactions. This doesn't show the adoption of the game but shows a high interest in the project.
​​Decentraland was launched following a $24 million initial coin offering (ICO) that was conducted in 2017. The virtual world launched its closed beta in 2019 and opened to the public in February 2020. Total funding of Decentraland is $25.5M
Decentraland was co-founded by Ariel Meilich and Esteban Ordano — both of whom have stepped down from major positions, but still work alongside Decentraland as advisors. Linkedin profile of Decentraland shows 60 team members and there are 15 people on Github profile.
There's little information on Decentraland partnerships - from what we've found is that the project has partnered with HTC and Dapper Labs in 2019. How much of these partnerships are relevant today it's not clear.
Decentraland joined Twitter in 2015 and currently has 256,5K followers. In the last 30 days it received 75K new followers and grows by 2,5K new people daily. The account is followed by many notable figures and projects in crypto space.
Discord shows 70k members, 10K are online and there's a large community on Reddit with 55,7 members.
What is Sandbox?
Sandbox is yet to be launched, the game will have very simple low resolution pixelated graphics. It doesn't sound appealing but the game will probably have a sentiment from the Minecraft players or at least Minecraft proved that games with such graphics can be enjoyed by the masses. The Sandbox Alpha is launching on November 29th and will be open for 3 weeks.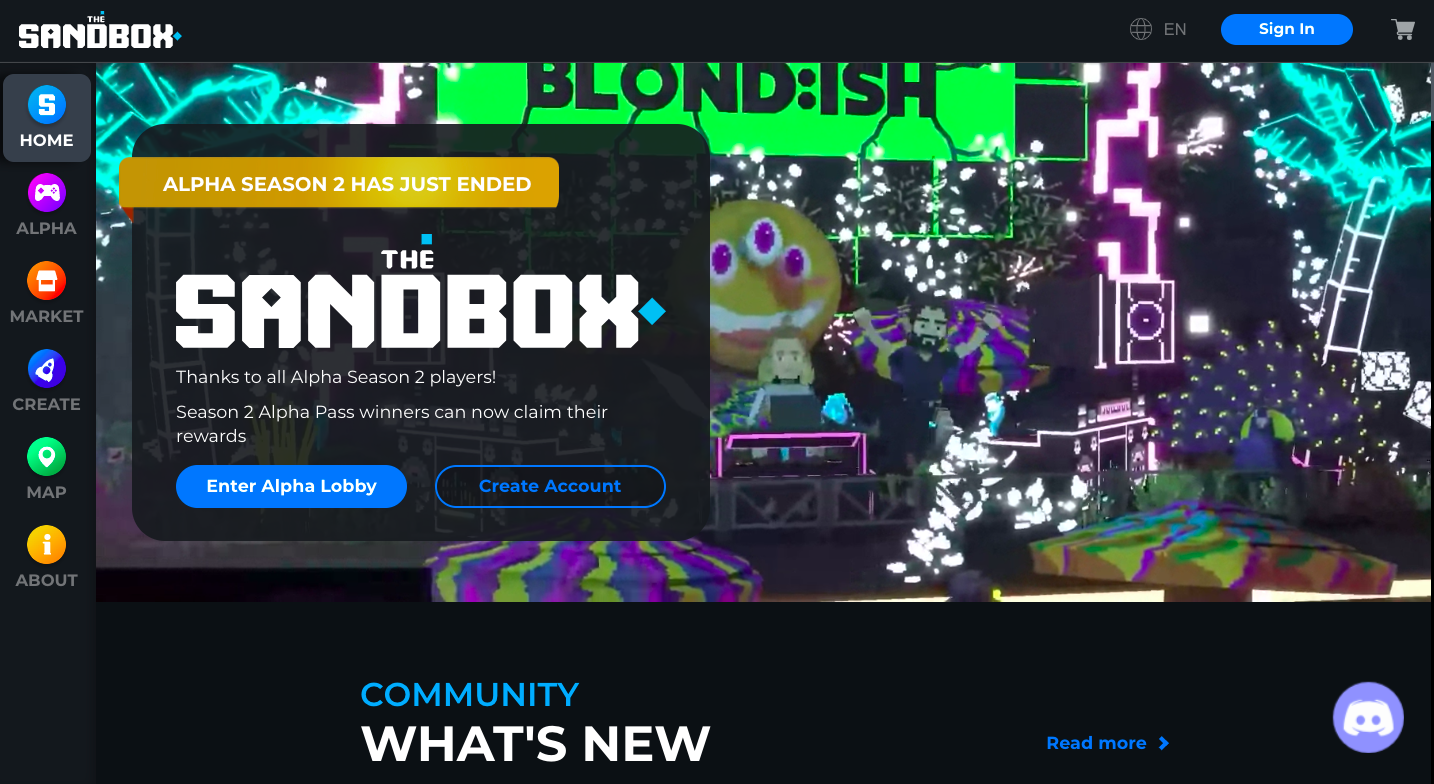 Sandbox token $SAND is also powered by Ethereum and currently has 42,7k holders and 562,1k transfers were made.
The project has raised a total of $95M in funding over 3 rounds. In the latest funding round on Nov 2, 2021, the amount of 93M was raised. The round was led by Softbox.
Sandbox was introduced in 2011 by Pixowl and The Sandbox 3D but only in 2018 the founders announced that Sandbox will be a  blockchain game.
Arthur Madrid is co-founder and CEO at Pixowl, and he is one of the driving forces behind The Sandbox. Sebastien Borget is also a co-founder at Pixowl and serves as the COO of the company. There are 26 other members displayed on a website.
Sandbox is also a subsidiary of Animoca Brands and partnered with Attari, Snoop Dogg (he has some land in the game and will be doing concerts), Deadmaus, and many other famous figures and big companies.
Sandbox Twitter account was created in 2011 and currently has 292,5K followers. In the last 30 days it received 86,8K new followers and grows by 2,8K new people daily. Just as Decentraland, the account is followed by many notable figures and projects in crypto space. There are 130K members on Discord with 14,4K users online.
Decentraland vs. Sandbox: search engine data
Search term "decentraland" has a volume of 10k searches per month and data of the past year shows an increase in searches beginning in October when all metaverse projects blew up.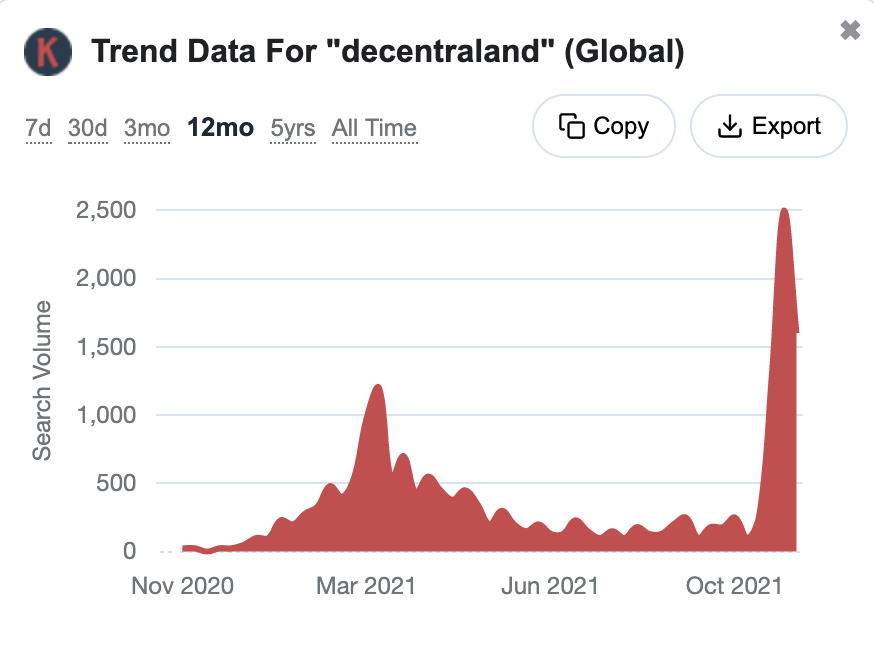 Search term "sandbox" has a volume of 450k searches per month and shows high global search data throughout the year. Although the term "sandbox" is very general and perhaps the recent spike correlates with more interest in the project.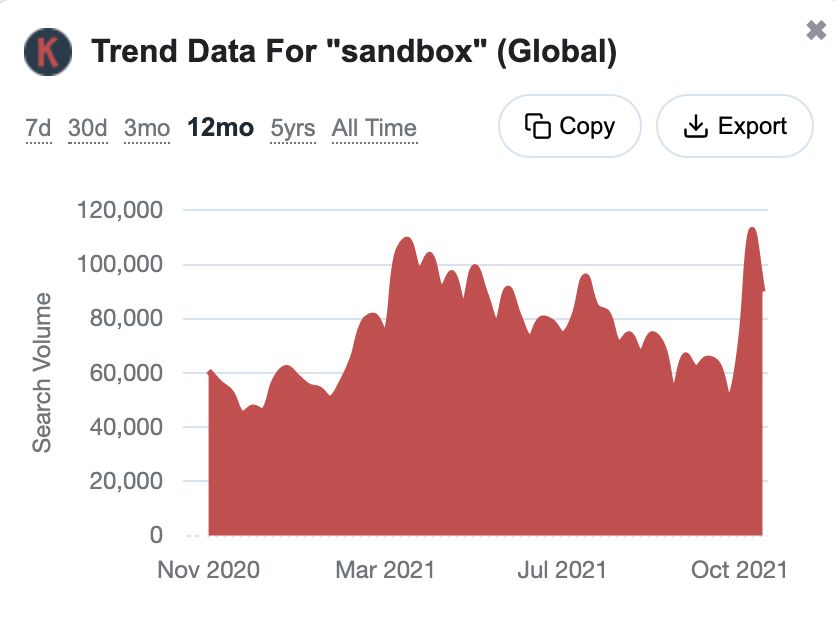 OpenSea sales data

Current floor price
Sandbox - 1,15ETH
Decentraland - 2,4ETH
Volume
Sandbox - 38800ETH
Decentraland - 195000ETH
Land pieces for sale
Sandbox - 101500
Decentraland - 97100
Sandbox shows more activity in land sales, more transactions being made every minute. Perhaps even 5 times more, but the number can be very fluid. The sales volume increased in correlation with explosions of metaverse projects at the end of October.
Tips on buying land in Sandbox metaverse
Let's look at the major key points on buying land on Sandbox although the basics will be very familiar on Decentraland as well.
Having in mind that both projects' floor price is similar, the more valuable pieces of land should also be priced at the same level.
The land in the game can be used for many different purposes. Some brands will build gaming experiences, for example, casinos (building on Sandbox is already possible). Attari has a big plot of land and the brand will probably offer some gaming activities. Locations that currently have logos of musicians will hold concerts. Such places will have more traction, therefore, lands closer to those locations are more expensive.
Important thing is to look at the lands owned by the Sandbox itself. Some of these lands will be portals allowing players to teleport to different locations. This is also important as those locations will have more traffic.
The land can be bought in different sizes 1x1, 1x2, 3x3, 6x6, 12x12, 24x24. Of course, connected pieces have more value. Plus you can put a logo visible to anyone viewing the map on 3x3 and larger connected lands. Currently, big brands, not web 3.0 or teach brands, like Coca Cola haven't started to ape in yet, but it is expected in the future and the bigger plots of land will be their target.
In case of buying a couple pieces of land, the best is to go for 1x2 as you can get a better price per piece, and appreciation in price has more potential because smaller brands will be able to afford those in the future. The scarcity of connected lands will grow with the user base.
Overall the floor of a decent land which isn't in the middle of nowhere is at around 3500 - 4000 SAND ($10000-$14000).
For example, a piece of land next to the Sandbox land which is a teleportation portal and is also in a district with a lot of activity, currently costs 3,675 SAND or $12,384.
Nearby, there are couple NFT project logos and if these lands are owned by the projects, they will attract their fans.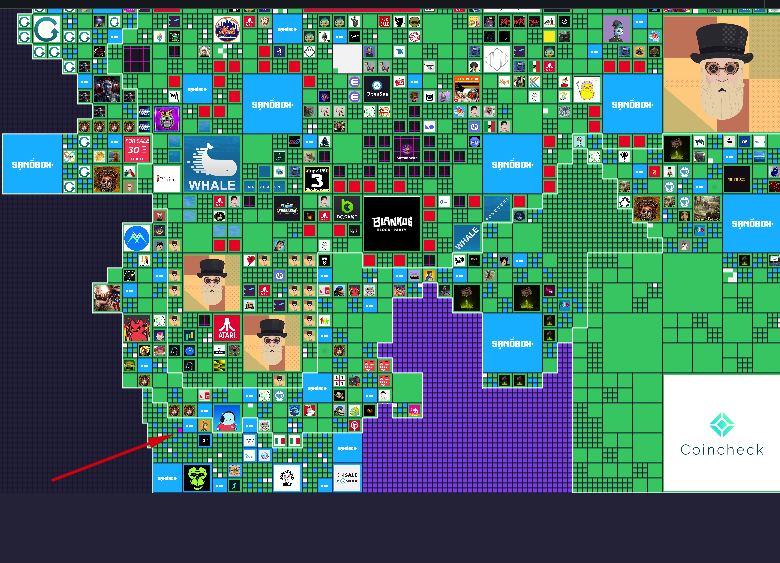 Another land in a busy district is valued at 3900SAND or $13,143. At this moment these 2 lands are average in value and are priced at the near-the-floor level. The prices start rising very quickly and even with higher prices, the lands might not meet the criteria mentioned above.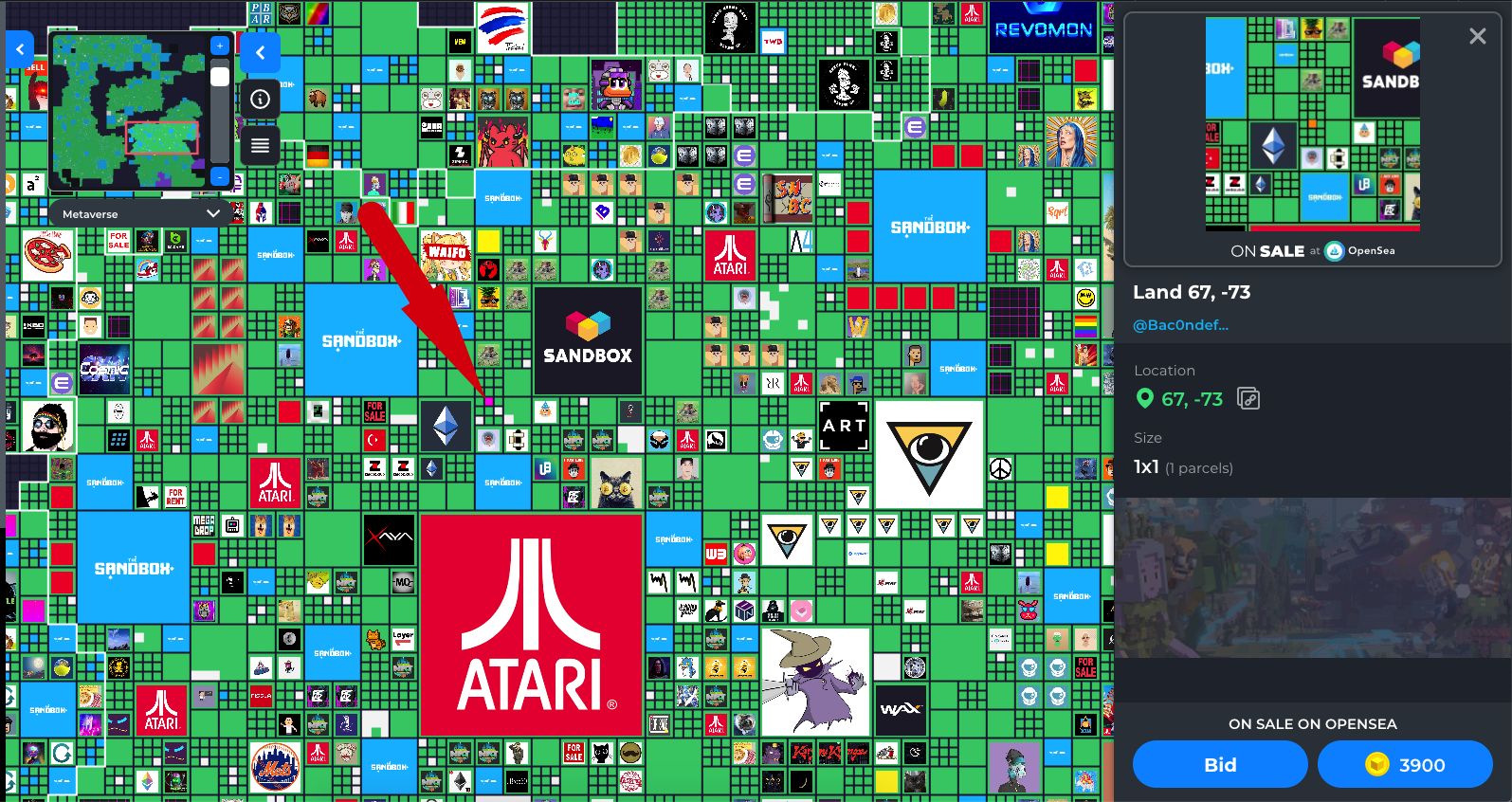 Wrap up
Overall, Sandbox leaves a better impression compared to Decentraland regardless that the latter can be played already and Sandbox's details about the full release are still unclear. Social accounts show similar activity but Sandbox has a slight edge over Decentraland.
The most notable difference is in partners and investors. Sandbox already has some showbiz stars onboarded. The partnerships will attract a lot of users and eyes. A lot of eyes in the game will attract a lot of institutions competing for the land in order to expose themselves to that attention.
The scarcity of the land is very similar but Sandbox has better prices, perhaps because right now the game is not playable yet. Overall, Sandbox feels like a better option speaking about land investments.