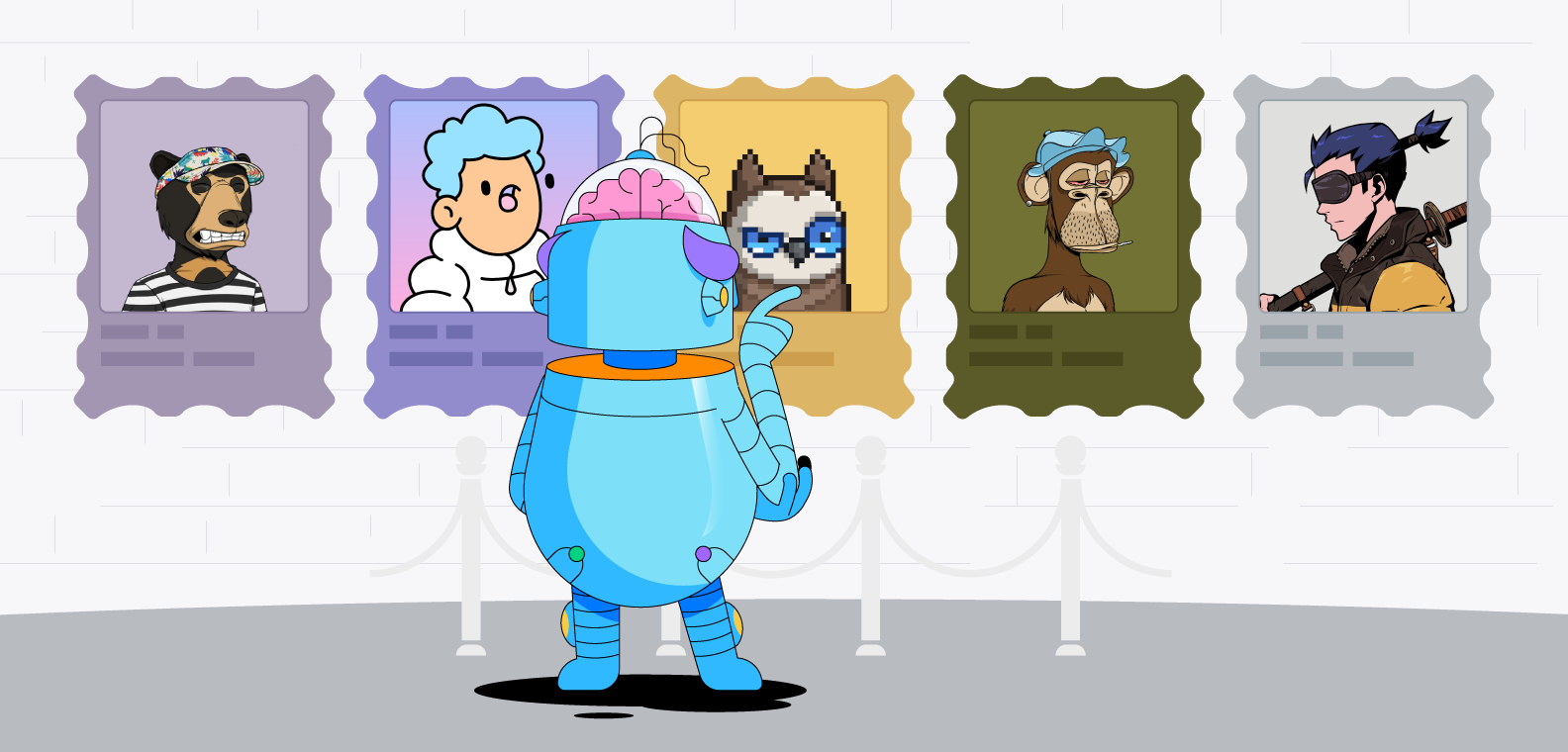 PFP NFTs 101
Social media profile pictures have become one of the most popular ways to display NFT ownership and involvement in the crypto world. So what exactly are PFP NFTs? Let's find out!
Owning an NFT is seen as rather trendy in today's world. Having an NFT as your profile picture on social channels definitely shows that you are very well-informed about the latest technological advancements.
Last year, there was a great rise in the number of PFP NFT projects in the crypto world as people are eager to experience the metaverse and for this, users need unique avatars representing themselves.
And the hype around PFP NFTs has reached even those not so familiar with the crypto sphere thanks to some popular projects like The Bored Ape Yacht Club and also due to celebrities such as Gwyneth Paltrow, Justin Bieber, Jimmy Fallon, and many more, displaying their NFTs as avatars on social media.
So what exactly is a PFP NFT, and what is this fuzz really all about? Let's dig into it by looking at some of the perks and popular PFP NFT projects.
What is a PFP NFT?
PFP NFTs, short for Profile Picture Non-fungible Tokens, are on the borderline of  generative digital artworks and collectibles.
The reason why PFP NFTs can be considered collectibles is that they usually come in large quantities (around 10k) and have various degrees of rarity, which makes some of the NFTs more valuable than others.
A PFP NFT generator creates unique NFTs with each separate artwork displaying the face of the "main characters" (be it apes, ducks, penguins, humans, goblins, etc.) together with a mix of traits (body type, head shape, accessories, background color, etc.) that determine the rarity of the NFTs.
Twitter which is huge among crypto enthusiasts, has launched a feature that enables users to connect their NFTs to their account through their crypto wallet and display the artwork as their avatars.
Why Have PFP NFTs Gained So Much Popularity?
The first ever PFP NFT project, CryptoPunks, definitely paved the way for hundreds of other generative art avatar projects to come into existence.
But naturally, people are often left to wonder how so many are eager to buy these NFTs and, in some cases, pay quite a bit of money for them.
Let's go over what is the driving force behind the profile picture NFT popularity:
Focus on community. The owners of PFP NFTs often get voting rights and are encouraged to actively participate in the decisions regarding the future of the project.
Real-life and virtual utilities. PFPs often offer exclusive access to events to their holders, enable access to their virtual worlds and give out vouchers to use for games, physical toys, and even meals.
Monetizing assets. Many PFP NFT projects have launched their merchandise stores, and some projects also allow NFT holders to monetize their own assets by creating merch like T-shirts, hoodies, caps, mugs, etc.
So, simply put, the reasons why PFPs are so desired and often surpass other types of NFTs is that they offer better monetization opportunities and community involvement and also provide the chance to showcase your personality in the virtual world.
Some Of The Top PFP NFT Projects
We have made a list of some high-performing PFP NFT projects that you should definitely know about (except for the obvious we have already mentioned a few times).
Azuki

Azuki is an anime-themed PFP project that was released on January 12, 2022, and features 10 000 unique avatars.
Azuki's founder emphasized early on that their goal was to create the largest decentralized metaverse brand that is built and owned by the community. Just after the launch, the sales skyrocketed, and the current floor price sits just below 10.3 ETH on the OpenSea marketplace.
CloneX
CloneX is a joint venture between metaverse fashion house RTFKT and the prominent multimedia artist Takashi Murakami.
The PFP project was released on November 29, 2021, selling out in less than a day. The collection features 20 000 3D NFTs, and they have gained a lot of attention with their numerous Nike integrations.
The initial CloneX collection still receives a lot of attention from new and more advanced NFT collectors alike, as they are releasing new virtual and real-world expansions almost on a monthly basis.
The current floor price of CloneX on the OpenSea marketplace is 8.5 ETH.
DeGods
DeGods is easily the hottest PFP NFT collection on the Solana blockchain, with a current floor price of 288 SOL.
DeGods minted on October 8, 2021, featuring 10 000 colorful virtual gods. The project has been received very well by the community as they show high interest in the owners of their NFTs.
For instance, a DeGod NFT gives the holder the ability to mine $DUST, have access to DeGods NFT tracking mobile app DYOR, and many more awesome utilities.
Pudgy Penguins
Pudgy Penguins released on July 22, 2022, featuring 8888 fuzzy penguins that brought a lot of positivity to the NFT space. Currently, the floor price of the cuddly birdies is at 2.9 ETH.
While the little birds have seen some ups and downs, the great thing about this project is that it truly shows the power of the community.
After some problems surrounding the founder last year, the community decided to vote him down, and Pudgy Penguins were sold to Netz Capital for $2.5 million dollars.
Now, Pudgy Penguins together with their companion collection Lil Pudgies are spreading their wings outside of the blockchain environment as well with plans to become an entertainment brand.
Goblintown.WTF
Goblintown.WTF was launched on May 20, 2022. One of the things that makes this project unique is that they were one of the first to introduce free-to-mint model allowing users to get their NFTs with no costs except for gas fees.
Moreover, the collection of 9999 showcasing funny-looking goblins has taken a rather different approach from many PFP NFT collections. They have stuck to their original plan of not launching a roadmap, and not offering utility nor Discord for their users. Nonetheless, they have become very successful and desirable among the NFT community.
To Sum Up
There's no doubt that PFP NFTs are more than just pieces of generative digital artwork and that they will have a strong place in the future of the metaverse.
Furthermore, the reason why PFPs have managed to gain the attention of NFT collectors, investors, and traders are that most PFP NFT projects have a defined roadmap, provide utility, and are backed up by a strong community who are usually given perks such as being actively involved in the development of the project.