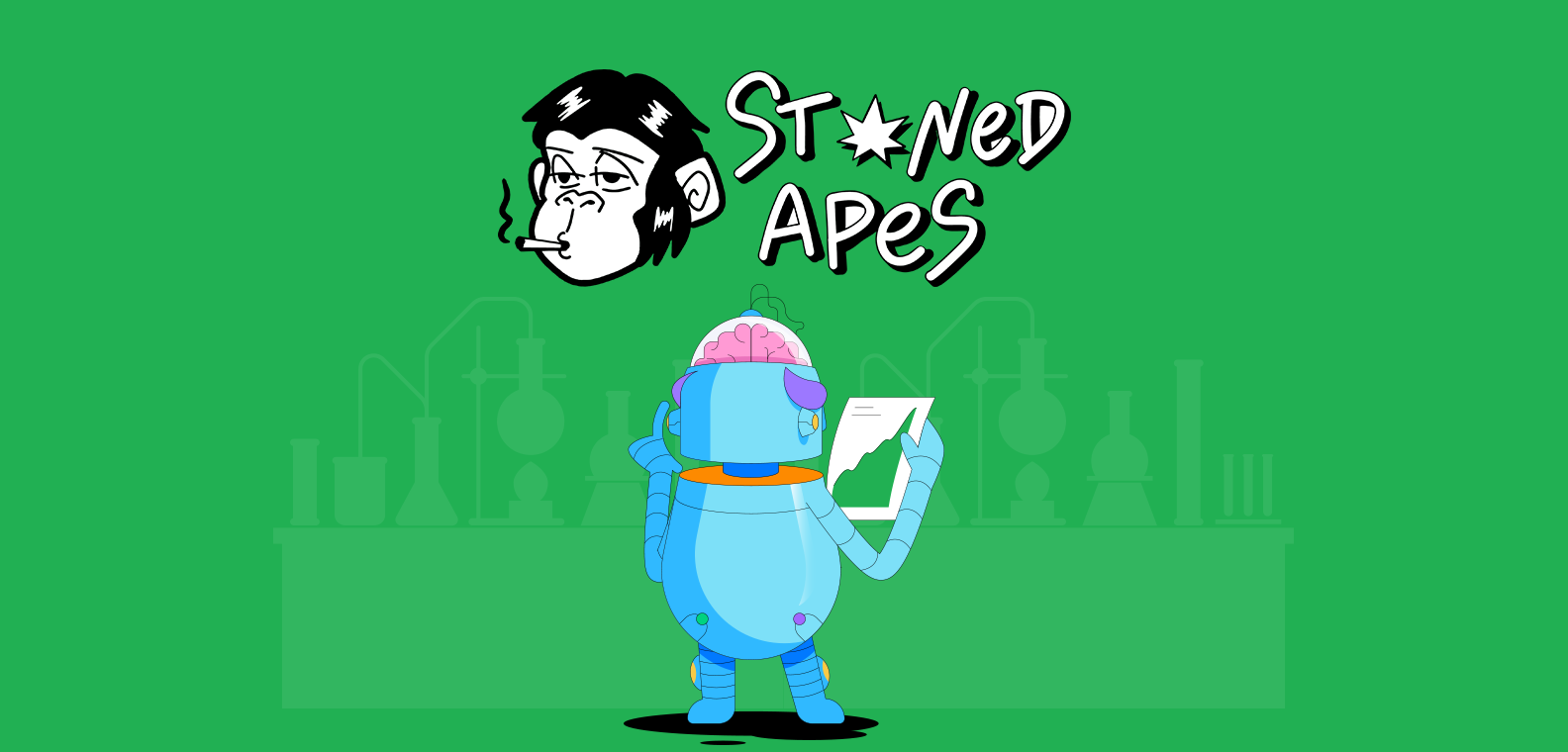 Stoned Ape Crew: Solana NFTs Everyone Is Talking About
Stoned Apes Crew - a collection of 4200 NFTs on Solana with its own marijuana strain!
Stoned Ape Crew is a collection of 4200 NFTs on Solana that minted on 27 Nov.
The project brings a new approach to the Solana ecosystem, allowing staking for daily rewards for utility token $PUFF. Ownership of NFT will also provide access to community parties and hangouts.
The art is themed around marijuana and targets NFT communities that also like weed. The team even plans to craft a weed strain and the community will have a vote on the strain characteristics. There's also a party in Amsterdam mentioned in a roadmap.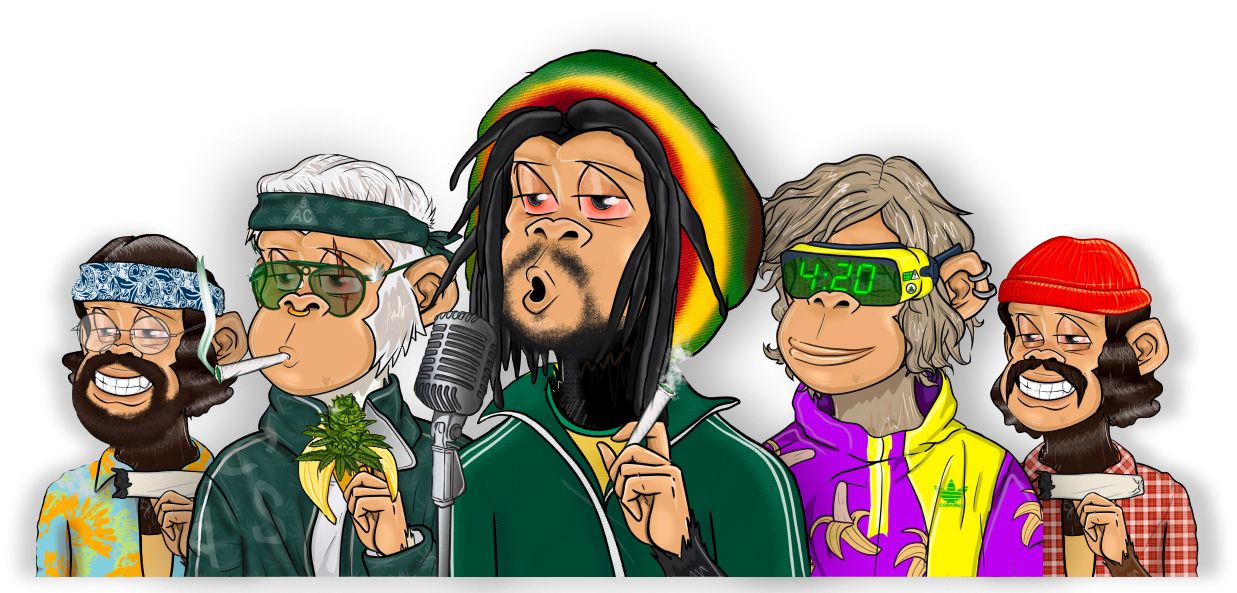 Speaking about the roadmap, the team also hints about other mints coming and the Stoned Apes will have a mint pass for all future collections.
The collection includes 4 types of roles: scientist, businessman, farmer and artist. However, only half of the apes have roles, and these can generate twice as much $PUFF compared to the rest. The apes with a role start at 3.50 SOL.
NFTs minted for 0.69 $SOL and sold out in a couple of minutes. Currently, the price of the cheapest ape is at 2.90 $SOL (around $660 at the current SOL price) and the sales are pretty frequent, approximately 5-10 sales per hour.
What is innovative about the project is that the apes that have no roles are called champions and are lower in the hierarchy of rarities can upgrade themselves by going to what is called a retreat. To do so a user will have to have 333 $PUFF tokens and after 3 days in the retreat, the ape has a 60% chance to get a role or better traits. A champion receives 15 $PUFF a day, so a user can expect to use this function after a little bit more than 20 days, which isn't a lot.
What do you need to know about the token PUFF?
There will be 420M of $PUFF tokens which are currently priced at $0.17. 10% is allocated for the team, a bit for charity, 13% for marketing, 10% for liquidity and 65% for staking rewards.
15% of royalties (7.5% from a sale) will be used to buy the floor, burn some of the tokens and airdrop some to holders who haven't listed their NFT on any marketplaces. That is a pretty attractive incentive to hold your NFT.
15% of royalties are used to buy other NFTs and fractionalize ownership back to $PUFF holders.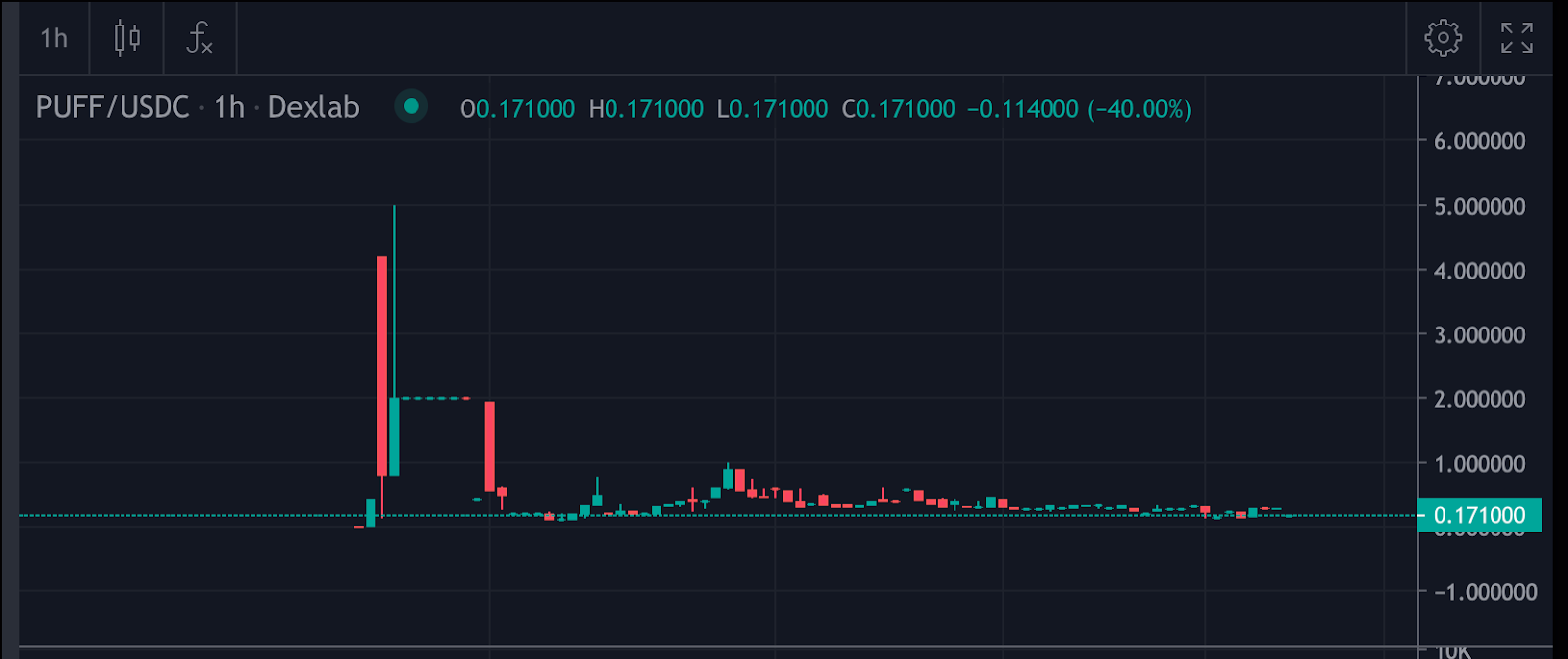 Who is building Stoned Ape Crew?
8 members are listed on the website and all have links to their social profiles but nothing exceptional can be noted from their Twitter feeds.
When it comes to NFTs the artist of the project plays an important role.
Unfortunately, only one of the 2 artists listed among team members has a link to his Twitter but his Twitter page doesn't provide any further details, like other projects he worked on or at least a link to Instagram. So, nothing interesting about the team or artists. Anyway, I think that the art is better than the majority of NFT pfp projects whether on ETH or SOL. Of course, art is subjective.
How large is the SAC community?
There are 14K followers on Twitter which was created in September, engagement is average. And there are 8.5K members on Discord where the general chat is much more alive than Twitter. Messages are frequent, and the vibe is positive.
Can the Stoned Ape Crew go up?
So, if the project takes off, the price of apes should really moon as there are 4200 NFT items when most of the projects have 10K collections. Plus the staking mechanics are really attractive, so I would expect more than 50% of apes to be staked, plus, there are incentives to hold your NFT to get airdrops of $PUFF. I would expect that there will be perhaps a few hundreds of apes floating for purchasing (right now, there are 345).
The project has innovative ideas and the art is really cool. Would be interesting to see what other NFTs they will buy for fractionalizing, this would give some ground for $PUFF and project valuation but the price of apes has to be much higher in order for the team/DAO to make some significant purchases. The apes that will be available for purchasing will not generate many transactions, because many will be staked. Plus only 15% of the royalties will be allocated for the treasury, so they will not collect a lot of funds.