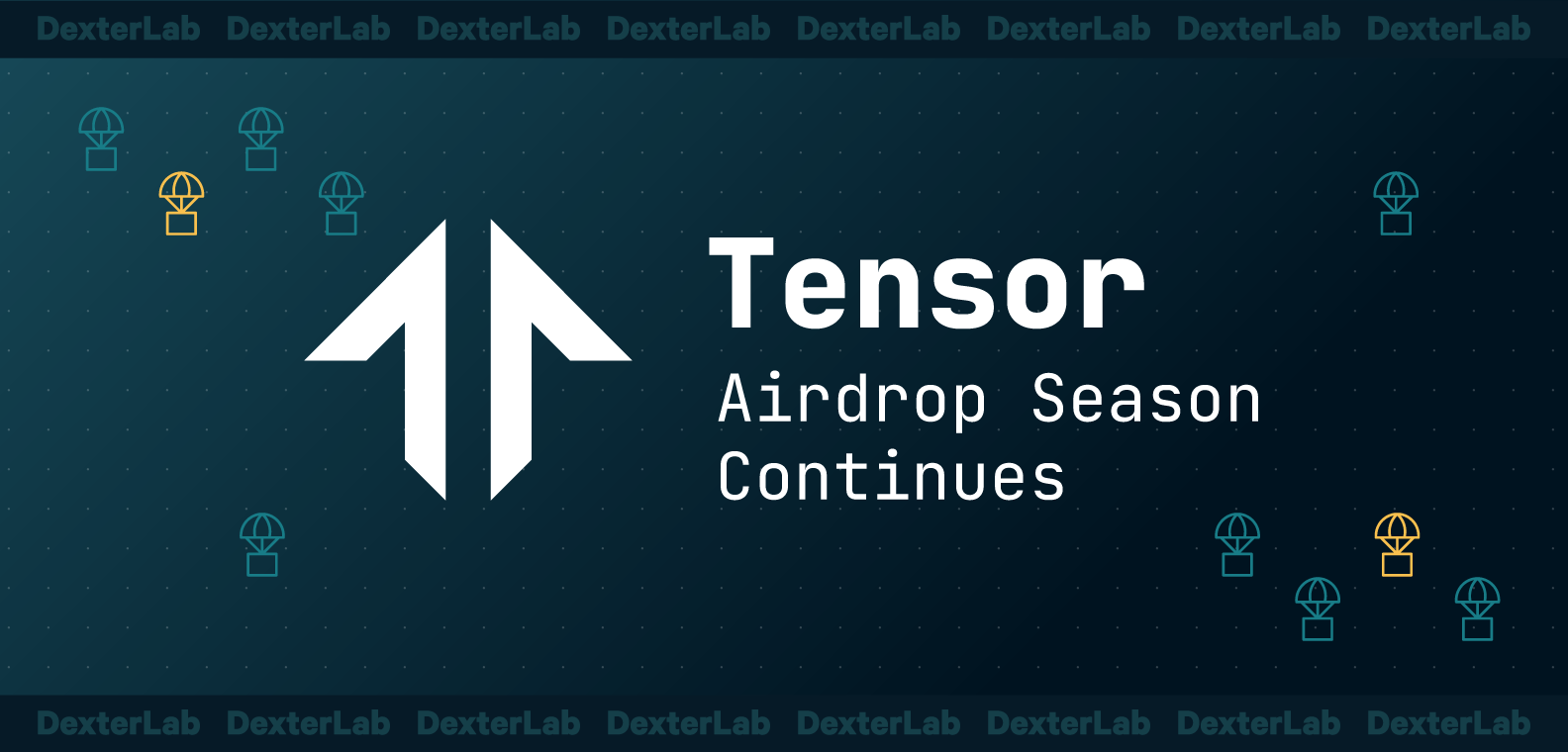 Tensor: Airdrop Season Continues
How to get free money from Tensor airdrop?
Just a month ago, we published an article about how the NFT marketplace Blur was shaking up Opensea's long-standing dominance in the Ethereum NFT world. Today, we are witnessing a similar trend in the Solana NFT market: the leading marketplace, Magic Eden, is losing volume to a competitor who is offering airdrops to attract users. So, who is this new kid in town?
What is Tensor?
It would be incorrect to call Tensor a new platform as they have been operating for a while. In fact, they started their first airdrop season in September 2022.
Tensor claims to be the fastest NFT exchange on Solana, but it offers much more than speed. The platform provides advanced functionalities such as TradingView integration, historical candlestick prices, order books, and AMM pools for NFTs. Furthermore, users can easily sweep, bid, list, and delist NFTs in bulk. These features are especially useful for active NFT traders but a switch from Pro to Lite is right at hand offering a cleaner view for those who don't need advanced features.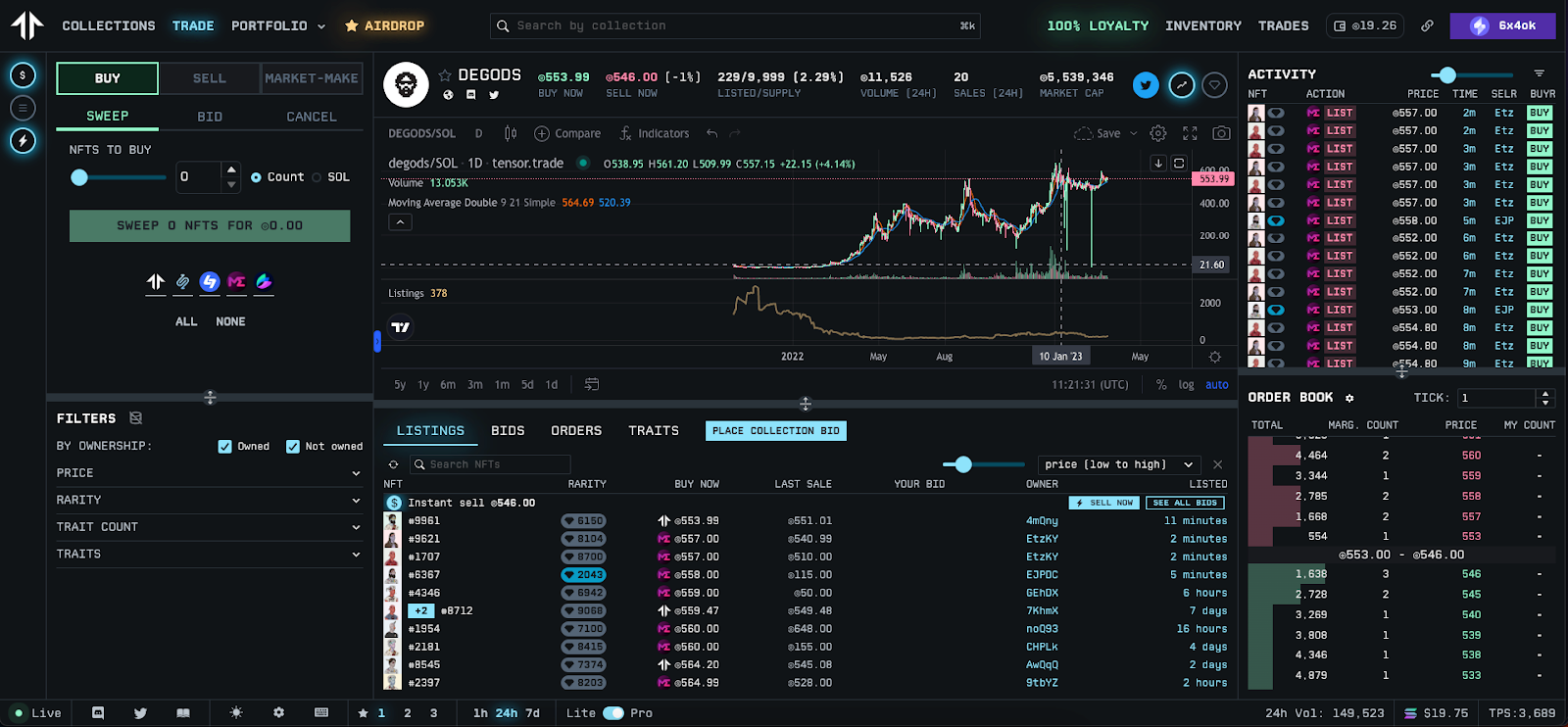 Stats
The historical volume distribution chart across Solana NFT marketplaces clearly shows that Magic Eden has been losing volume to other marketplaces. While SOL NFTs on Opensea have not gained any serious momentum, Hadeswap claimed a portion of the market share in September last year and managed to retain its users.
Tensor entered the picture a month ago when its market share grew from 1% on February 15 to 20% on March 15. With this increase, Tensor surpassed Hadeswap in terms of transaction count and volume, becoming the second-largest NFT marketplace on Solana.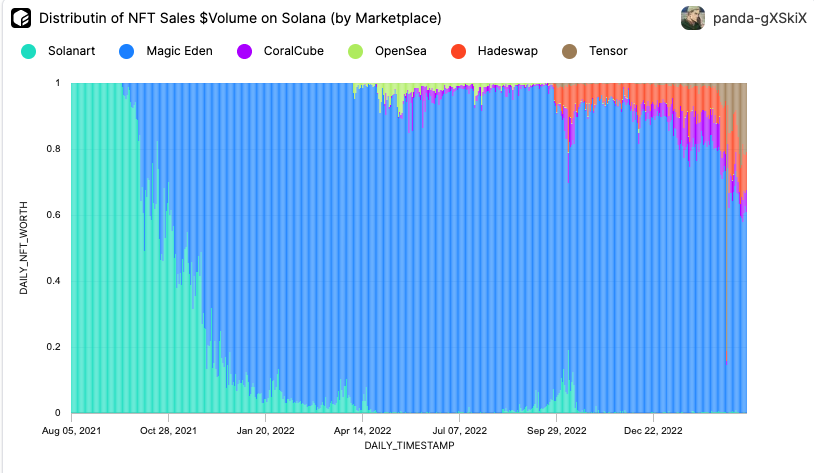 $3 million raise
To say that the surge in attention came purely because of an airdrop would be inaccurate. The platform caught the attention of many NFT traders with the announcement of a $3 million seed round raise. The round was led by Placeholder venture capital firm and included Solana founders Anatoly Yakovenko and Raj Gokal, Solana ventures, Alliance DAO, Big Brain Holdings, and other small angel investors or customers who have been using the platform.
Is it too late for an airdrop?
Unlike Blur NFT marketplace, Tensor does not have a token yet, so no one has gotten rich from airdrops. Instead, users receive reward points for their activity. The rewards for Season 1 were distributed on March 6, 2023, but there were certain requirements that users had to meet to receive those rewards. These requirements included:
1. Users has to achieve at least 500 SOL volume traded for 200 tensor reward points.
2. The volume has to be legitimate to avoid any "wash" trading.

Luckily, the end of Season 1 marked the start of the Season 2 airdrop. Anyone who has traded on the platform from March 1 and meets the requirements is eligible for the second wave of rewards. It is not clearly stated whether the requirements for Season 1 and Season 2 are the same, but users can expect that "wash" trading will not be welcomed.
How to?
The goal of any airdrop is to attract users and create network effects, but active users are much better than someone who just signed up on the platform and isn't using it. So, to qualify for any airdrop, you usually have to be active using a product. The same goes for Tensor and below are some tips on how to get the most of the airdrop Season 2:
Being loyal - activity only on Tensor platform and not other marketplaces
The more you list/bid/market-make, the more you earn
Listing/bidding/market-making more active collections and bluechips
Listing/bidding closer to the floor price
The longer a listing/bid is active, the more points
The rewards are meaningless if they can't be exchanged to something valuable, which leads to the big question: "wen token?"
At this point, we only know that there will be a token $TNSR and that the rewards will be converted into it. In addition, the points will be useful for upcoming Tensor NFT whitelist spots. Although the dates for the token and NFT have not been announced yet, these are exciting events lined up for Tensor users, and it's not too late to get on board.

There's more…
On March 14, Tensor announced its partnership with Wolf Capital NFT project, which is great news for those hunting for airdrop points. Users can earn 1.25x Tensor points for trading Wolf Capital NFTs on Tensor after the mint for a period of two weeks. The public mint of Wolf Capital is scheduled to begin at 3 PM EST on March 17.
Will Tensor become a giant competitor to Magic Eden and ignite a full-on market place war? Only time will tell. For now, degens can hunt for another airdrop from a reputable trading platform.