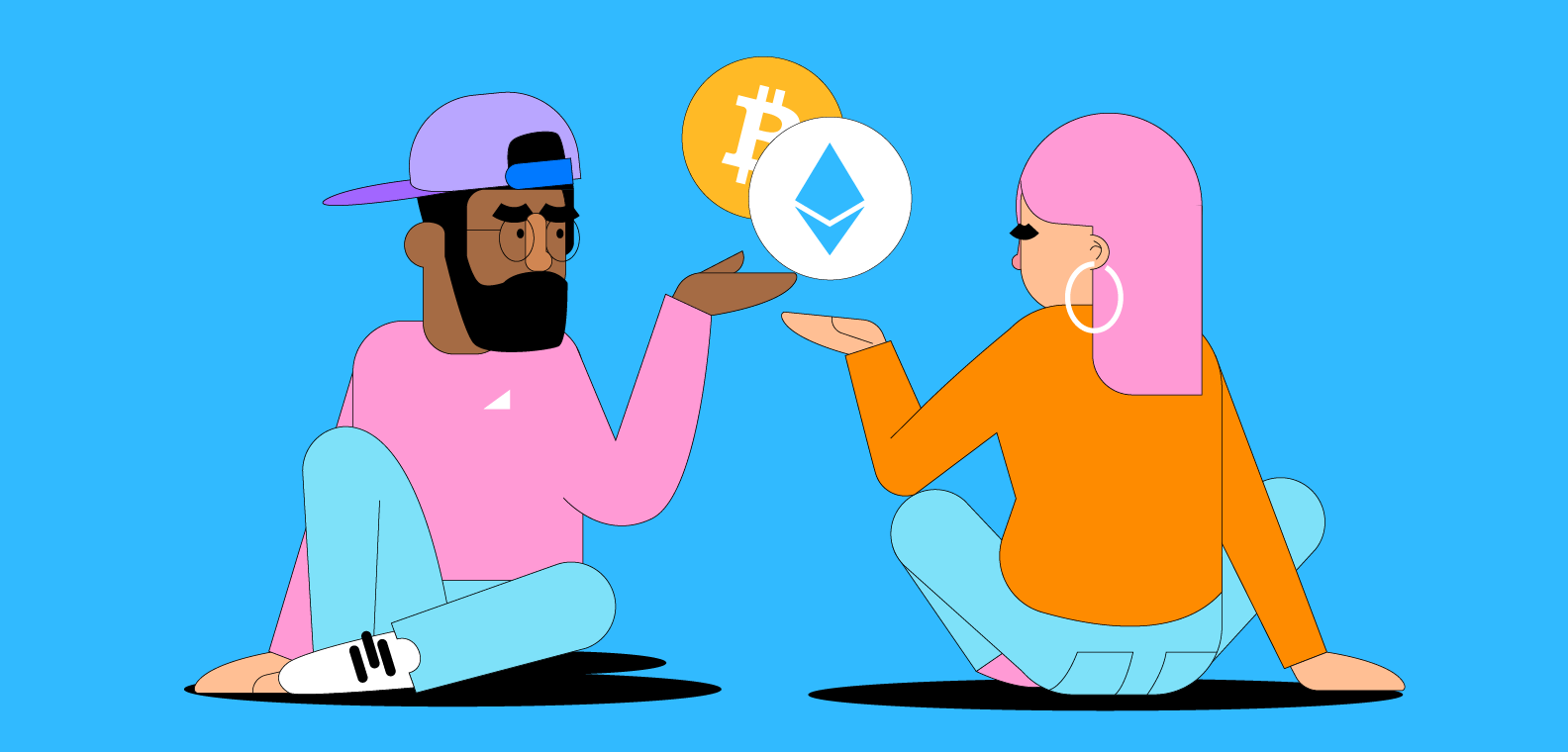 Top 3 NFT Influencers to Follow
Newcomers are not sure what to follow if they want to get updated about NFTs - take a look at this list!

NFTs, in general, can be tricky to navigate through! But you can get a good hold of what to ape into if you are following the suitable influencers who are constantly sharing their thoughts on Twitter.
Today we will talk about the top 3 influencers in the Solana NFT community to follow. This list is our thoughts & can vary for anyone of you. But we feel these are the guys you should follow on Twitter if NFTing is your thing 👀.
@SolanaSensei - The Sensei you need for NFTing

The first influencer we are going to talk about is Solana Sensei
He's been here from the start, a true OG of the space. Not only that, he even made a million dollars for himself within three months 😲! You can find it in his pinned tweet. He often promotes meditation as he believes it can help us reflect on ourselves better to the world & our surroundings.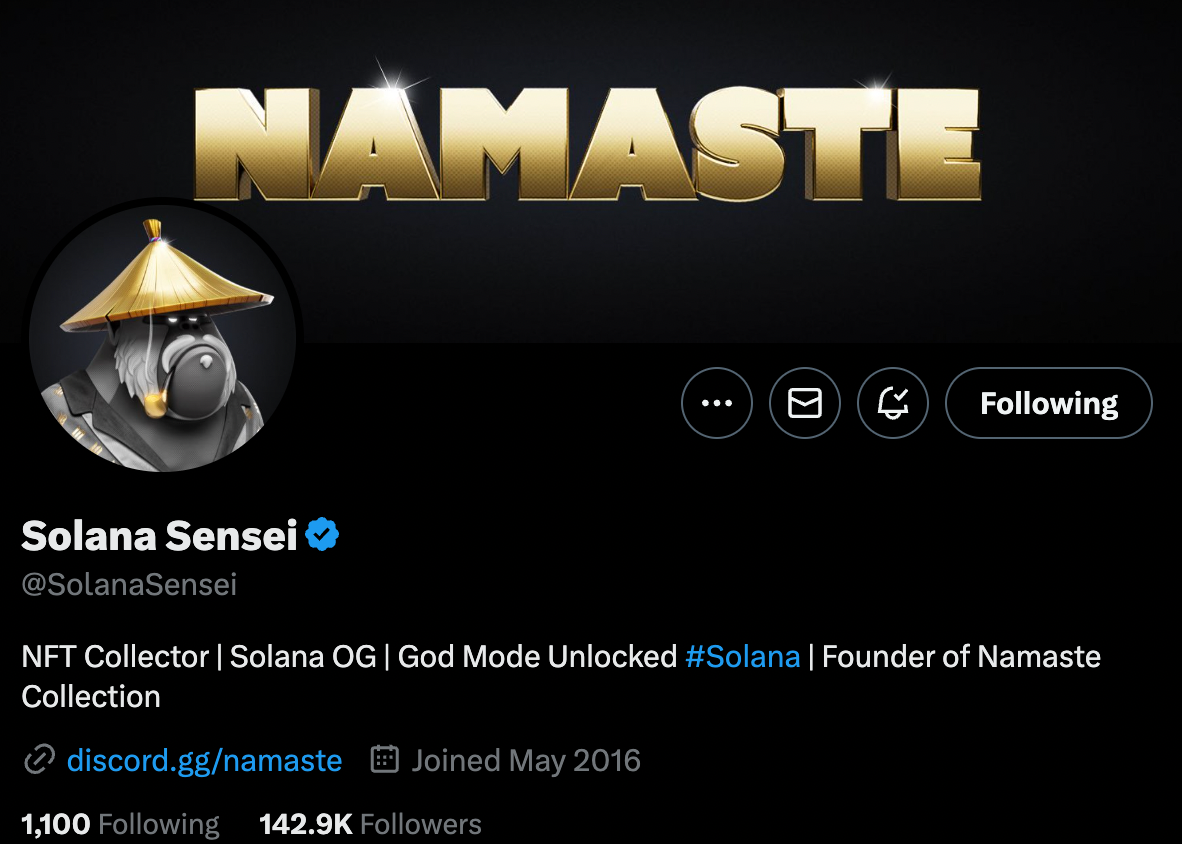 We will find some awesome stuff to dig if we focus on his tweets.
His tweets can be a great place to look for updates or what NFTs you should keep your eyes on. The following tweet shows a list of his all-time favourite NFTs in the Solana community.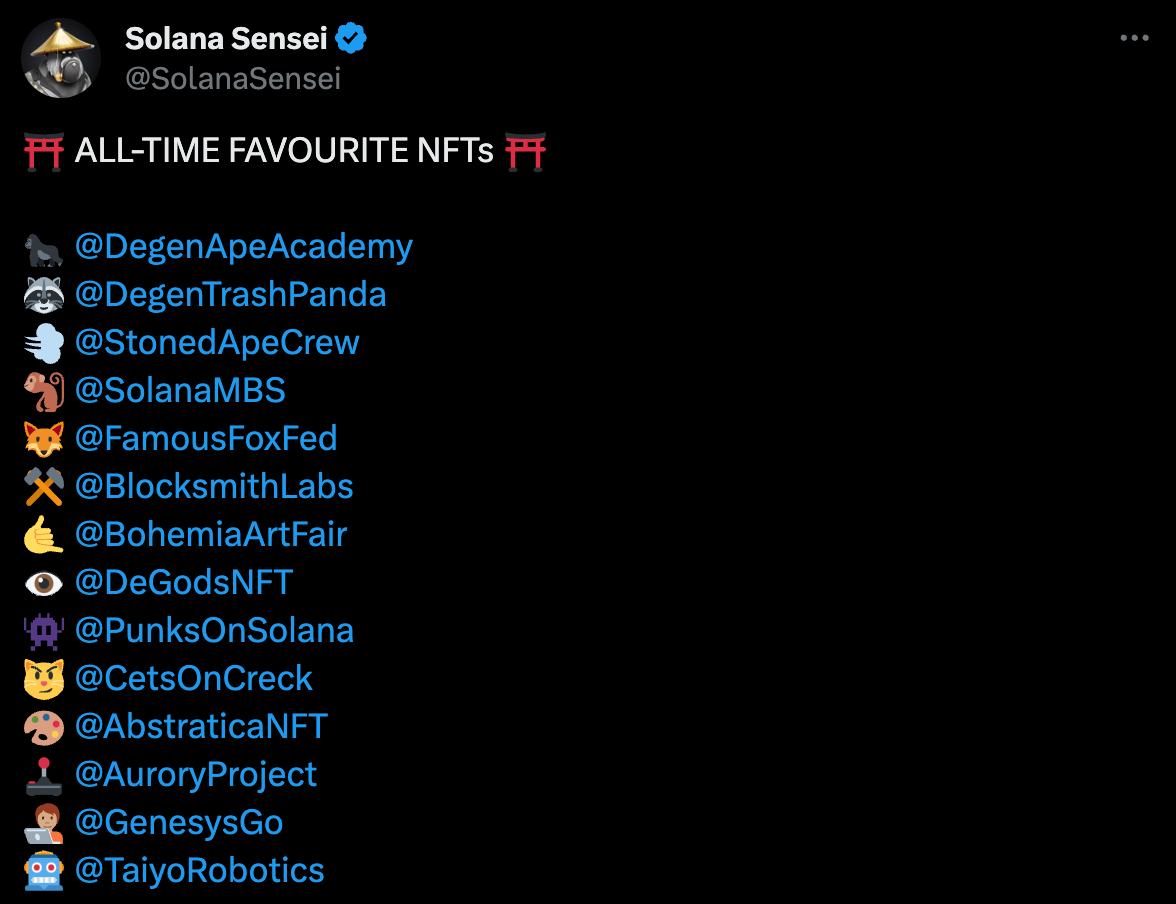 He is an OG of the space. Putting out a list like this regularly helps anyone new to navigate through NFTs they should focus on next & lessens the digging aspect of DYOR for NFTs, also making it a lot easier for newcomers.
Therefore, if you don't want to miss the potential gems, don't forget to turn on the bell 🔔 for his profile.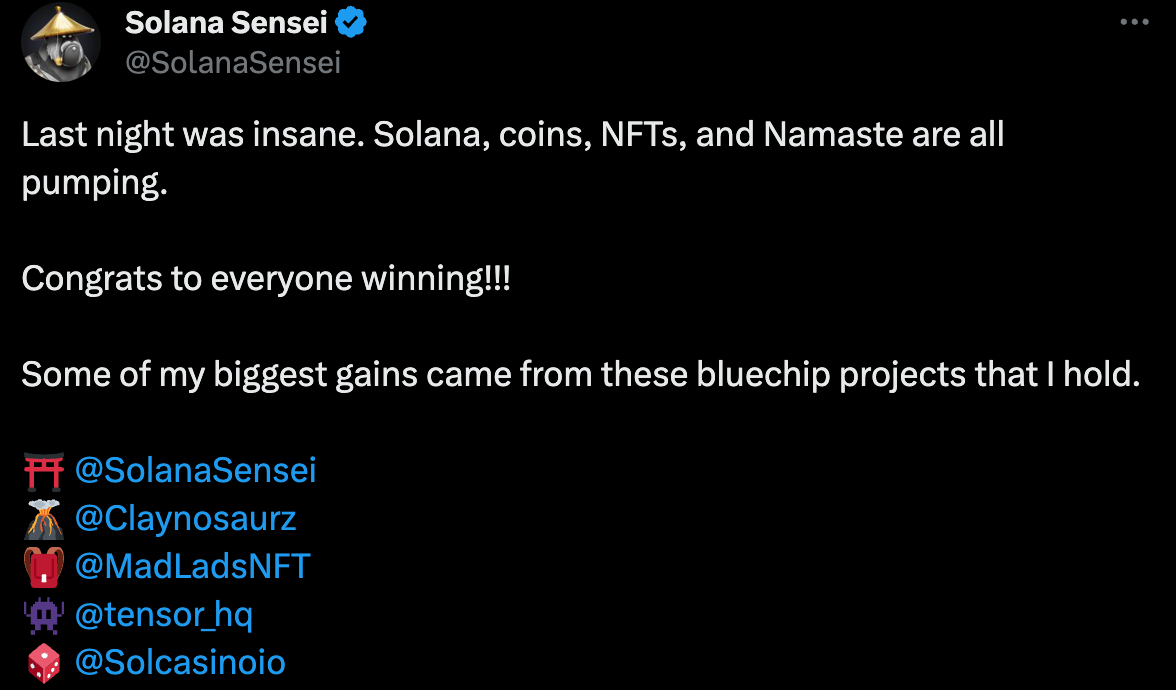 This is what he bought recently on the recent dip. Maybe you should have a look into it 👀.
Oh! Sensei is working on a show with Netflix & some real-life projects that will probably be invaluable assets for the NFT community when they are out.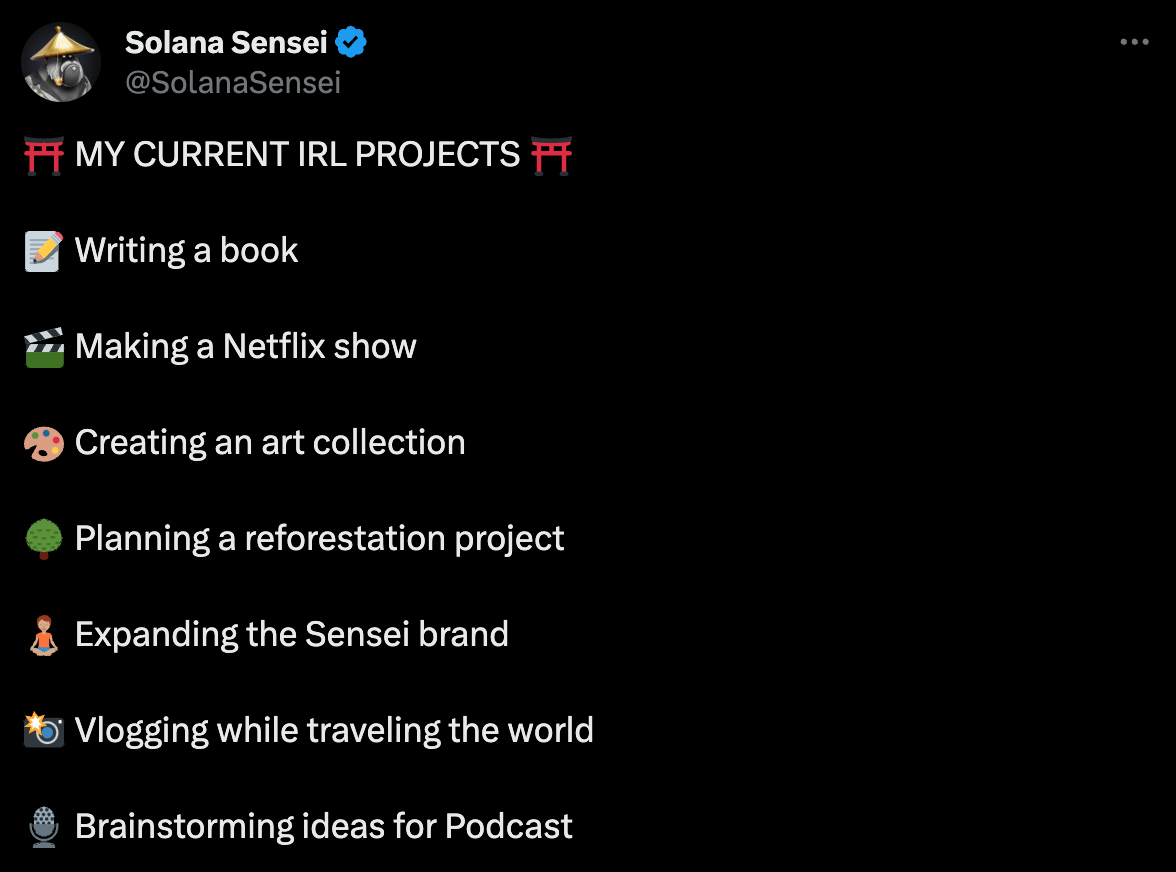 @frankdegods - The Degen lord of Solana

Next up on our list is the one & only Frank, the founder of DeGods.
Love him or hate him, he is the guy to create hype in space & anything he talks about or buys into starts moving straight away!
Not only that, this guy knows how to play the meta & he will often do something crazy & unorthodox to shift the meta entirely. So he is a guy you want to keep your eye on if Solana NFTs is your thing for now.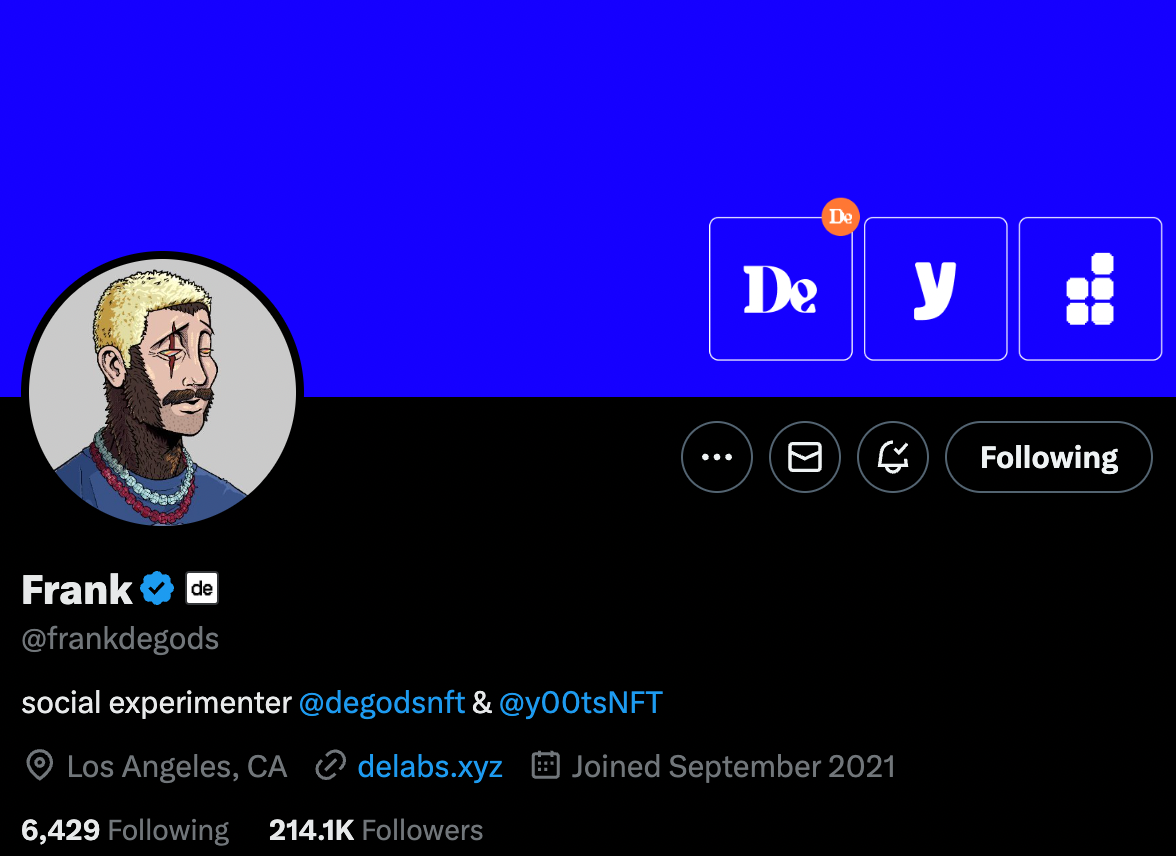 How often have you seen a project in a call with Frank & their floor didn't do something?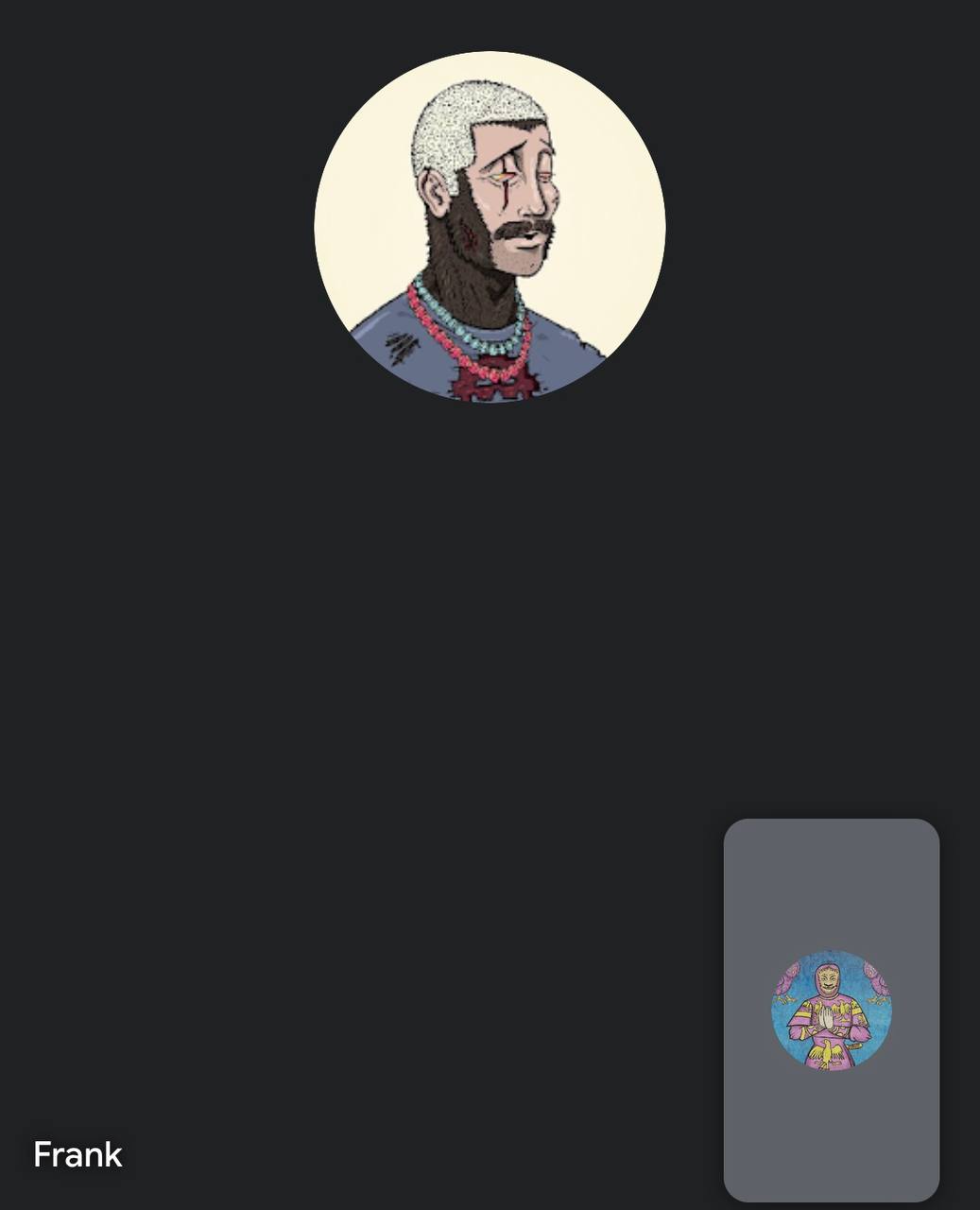 We have seen that with CetsOnCreck, Famous Fox Federation, and OG Atladians & recently, the GhostKidDAO guys were on call with him & they all had a floor pump.
The guy is constantly grinding in Twitter spaces, talking about the state of Solana NFTs while giving out thoughts about upcoming projects. While he doesn't give out any lists, his tweets can be an excellent source for us to know which projects will do well soon. And if he's talking to them, that's an easy buy for any degen of the space 😎.
The following pinned tweet from his Twitter profile tells a lot about his visions in space. The way DeGods had built themselves from day 1, starting from PHBT to a floor of 330 SOL with all the clown faces & negativity in between, Frank deserves some credit for it along with the Team.

Frank promotes himself as a social experimenter & a degen who loves to mint whatever, but when he is serious, you know something big is coming!
So if you want to hear it from the man himself when there is something hyped in the making, make sure to follow him on Twitter. Good chance you will catch some early alpha from the spaces he will be talking to.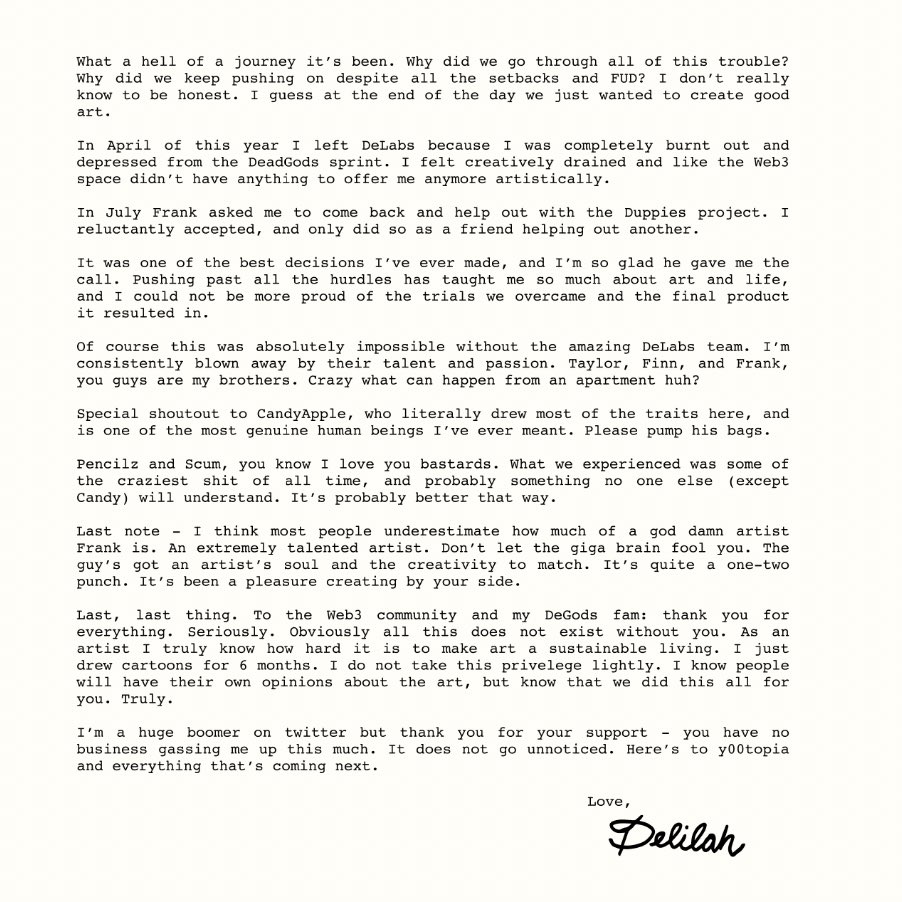 This shows his dedication to the DeGods community & no wonder why that community is crazy for him. Just ask any DeGod's holder. They all love Franky.
Duppies (rebranded to y00ts) is the upcoming collection where Frank will be working closely, although a different CEO will be appointed for the project with its separate IP from DeGods. The Team wants to build a cross-chain community with this collection where everyone can hang around & share ideas.
How DAO WLs, scholarships, etc. are being handled in exciting ways for Duppies shows how Frank is trying to shift the meta to something new & exciting!
Learn about Duppies more here:
https://dexterlab.com/top-3-upcoming-nft-collections/
@_Urkann - #UrkannArmy Governor

Lastly, we have Urkann, an ex-navy, a successful entrepreneur IRL. He is not only an OG in NFTs but crypto too. His profile can be an excellent place to know about exciting projects in the space cause his DAO, The Degen Sweepers (later changed to Degens Factory), is always out there to sweep the floor of any potential gem!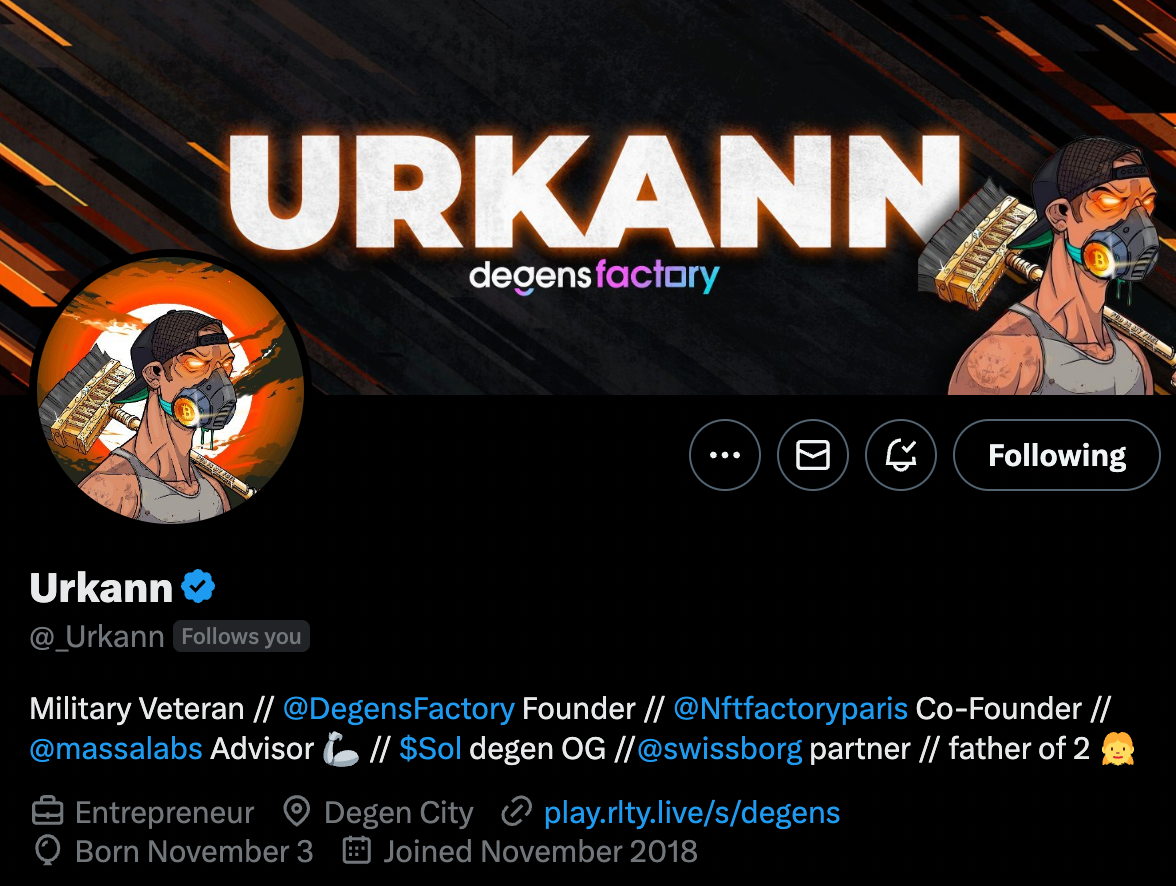 Not only that, he got into Sandbox & DeGods early when they were not a thing.
He even owned the Rank 1 of DeGods for a long time!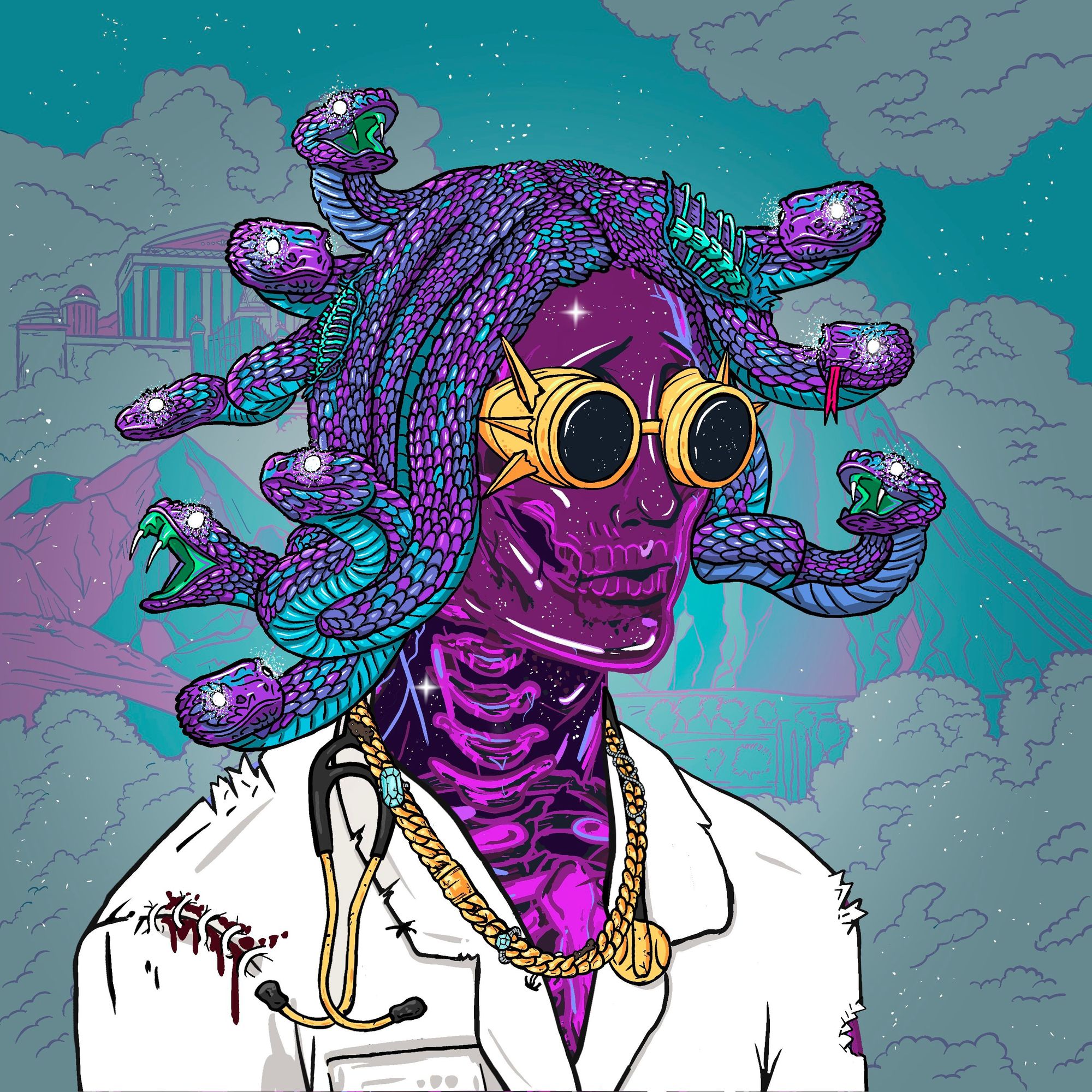 The guy loves to give back to his community with simple goals for the space, to help out newcomers & bring real value to the space. And the following tweet promotes it very profoundly.
He may not be the super active one you can find in Twitter spaces, but his tweets can be beneficial for any newcomer to find exciting projects that have the potential to do good in the future. I mean, the guy found the DeGods early! Can you argue?
Recently he's talking about his upcoming project, The Degen Sweepers (later changed to Degens Factory) & with all the controversies surrounding his promise to deliver for the project believers.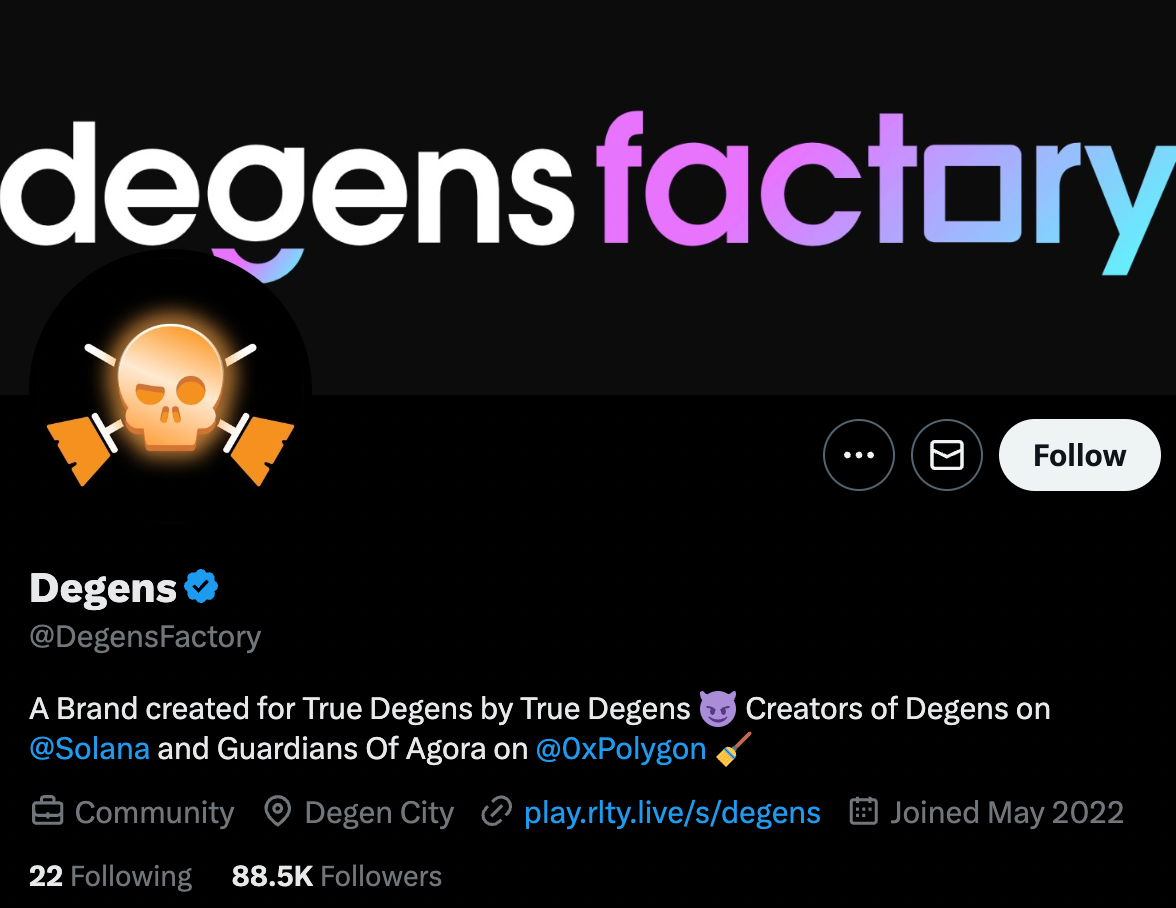 This is his current PFP from the upcoming collection.
The Degen Sweepers (later changed to Degens Factory)  also made it to our Top 3 NFTs list
With some exciting partnerships that are being done behind the scene, you cannot sleep on Urkann or The Degen Sweepers.
Despite all the controversies, Urkann stays strong & the community keeps showing appreciation back to him.
If you don't want to miss the hype train, he's a must-follow for any newcomer.
The market is over-saturated right now. NFTs are getting more challenging every day with so many projects launching. These influencers can help you understand the market better, but we always suggest you do your research, as anything can fail in this market.
Good luck degens! Happy NFTing. May the force be with you!
This article is the courtesy of @pikachu_703 and Discord: P I K A C H U#8530!