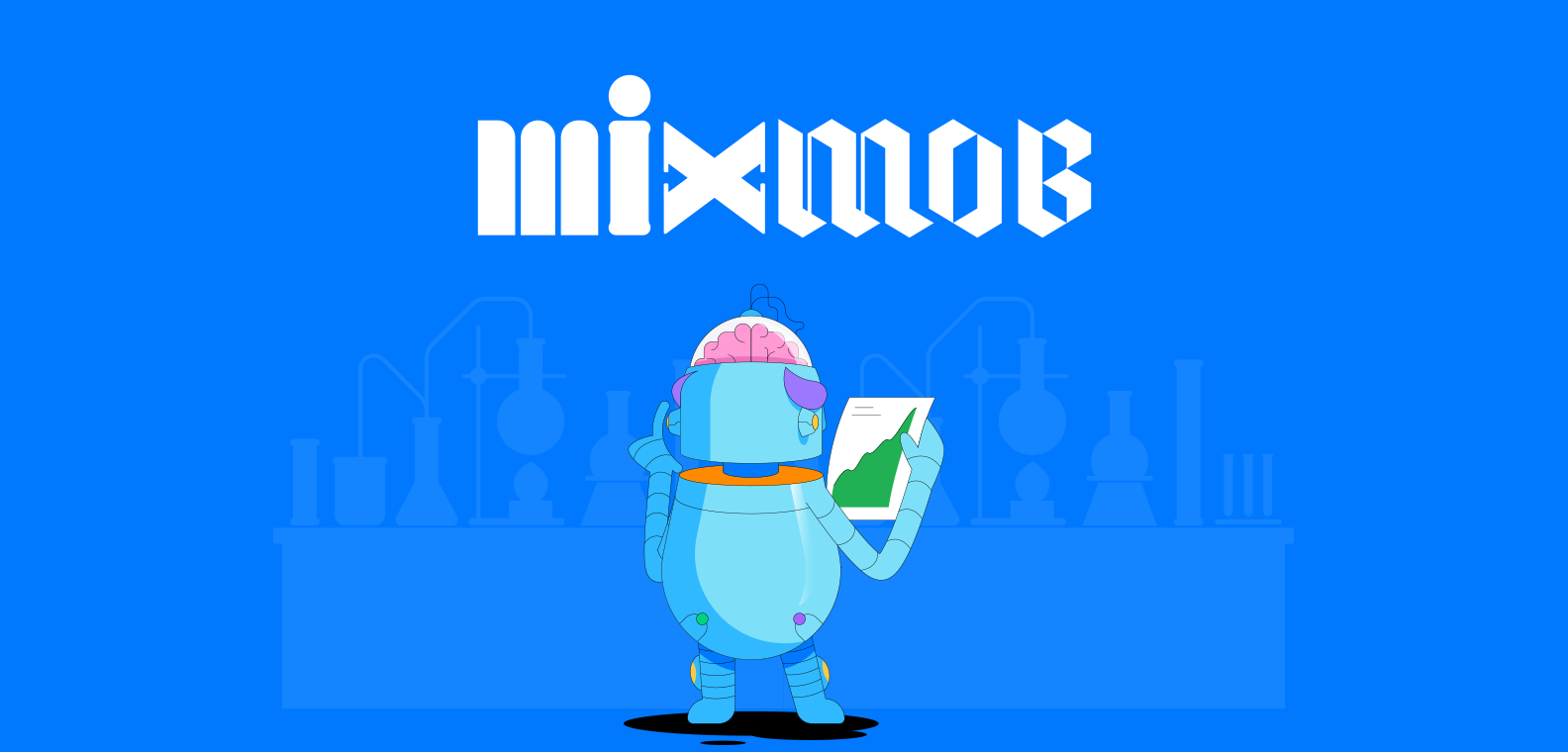 Mixmob: Card Strategy Game Overview
MIXMOB is a P2E  card strategy racing game on Solana where players will be able to compete in multiple game modes.
The product is in early stages, the Twitter account was created in September 2021, so the building phase might not exceed half a year. As with many p2e games the first step is the release of the NFT collection.
5000 Mixmob NFT masks were launched in December 2021, they will give holders an early adopter status in the game and community, NFTs will also evolve as a player progresses in the game.
Gen0 NFTs provide a holder with these perks:
Membership in DAO, specialized role in Discord, and access to exclusive channels
3% of the 1B token MixMob IDO will be allocated to Gen0 mask holders in the following breakdown:
1,000 MXM tokens will be airdropped to each Gen0 Mask holder based on the amount of Gen0 Masks in their wallet(s). These tokens will vest linearly over a 6 month period;
25,000,000 MXM tokens will be given as staking rewards, a maximum of 5,000 MXM tokens per Gen0 Mask;
Staking Club Program - in addition to earning MXM tokens, holders who stake their Gen0 Mask(s) will also receive periodic airdrops in the form of accessories for their Masks (e.g. limited edition glasses, hats, headphones, etc.) Staked Gen0 Masks can be used in game. Masks must be staked for 1 year, continuously, in order to receive all rewards. Once a Mask is unstaked the Mask may not be re-staked for the remainder of the rewards.
Early access to game slices and Alpha gameplay.
Exclusive access to MixMob universe airdrops (e.g. MixBots, accessories, etc.)
The Masks currently sell for 5.5 SOL on Magic Eden, 237 out of 5K are listed, the mint price was 2 SOL. There were 11 sales in the last 24 hours.
The Masks will not be the only NFT element in the game and they will not be required to play the game. There will also be Mixbots, these will be breedable NFTs that will make up the crew. A player will be able to train them and evolve their capabilities. For example, combining 3 Gen1 Mixbots of different categories will create one new Gen2 Mixbot. Players will be able to sell those creations in the marketplace.
The game graphics are simple, the game has its distinctive style and environment that will likely be fun to play in.
Although, there are little details about actual gameplay. From the trailer it looks as if you would race yourself, but the game is described as a card strategy, so perhaps the race will be algorithm based.
Tokenomics
The MixMob universe will have two separate tokens that will act independently of each other.
First, there is the MXM token which is the MixMob governance token and will be earned by collecting and selling special NFTs in-game, participating in special tournaments, and through special in-game quests. The MXM token will have a 1B capped supply and will also be available for purchase on DEXs.
Second, there is the IP (Influence Points) token which is in-game currency and can be earned by playing the game through racing and remixing your MixBots. The IP token will have an infinite supply and will also be available for purchase on DEXs.
As of today, the date of token IDO is unknown.
Team
The core team looks very strong, has many years of experience in their field of expertise and has been working with top brands. They do not have prior experiences in crypto but the game field competence is well rounded.
CEO, Simon Vieira, is a design leader with over 15 years of experience in the tech and video game industries. He has helped manage multimillion-dollar projects and has successfully shipped over 100 video games and apps, from Facebook to mobile, all the way to AAA games. He has worked with companies like EA, PokerStars, Microsoft, LEGO, and Disney.
Game Director, Carina Kom is a game veteran having spent 14+ years working in niche indie game spaces and AAA blockbuster games. She is also a Woman in Games Ambassador having served Women in Games Vancouver for over 10 years.
Art director, Mr. Kone has 22+ years experience and worked with brands like Nike, Adidas, Cocacola, Pepsi, MTV and Nickelodeon.
Another art director, Juan Arenas, also has big names under his profile including Nike, Adidas, Xbox, Amazon and Valve.
The team recently also expanded hiring more new people oriented to marketing. They hired Marketing Director, Content and Marketing Specialist, Discord Designer and Marketing Coordinator, also Senior UI Designer. They all seem professional, in terms of experiences, worth mentioning, Marketing Director, Chris Koziak who has over 12 years of experience in the mobile gaming space, at companies including EA, he has a track record of scaling multiple games to 10M users.
Investors
Just recently, on 15 February, Mixmob secured 7M investments in the Seed round. This round was led by DeFi-GameFi crypto-asset fund Defiance Capital. Among VC firms, there are also few notable personalities like Kieran, a co-founder of Illuvium and Alex, a co-founder of Nansen.ai. Full list below (on the official website, Solana Ventures is also mentioned as an investor).
Social sentiment
Currently Mixmob social accounts have an average following. The engagement is low, the tweet showcasing gameplay video received almost 300 likes and 130 comments. Comments seem as a result of an incentive campaign, where people engage just for the sake of engaging, perhaps a push from a Discord. Although, it is a common practice and isn't something alarming. With the recent increase in the marketing team, I believe the project should get more people interested in it.
There are 8,5K followers on Twitter, only 692 new people joined in the last 30 days. Discord has 15K members, 1,6K are active, messages in the general chat aren't frequent.
Mixmob Medium contains articles about most important events or updates. Projects' Github account couldn't be found.
Roadmap
Marketplace and Alpha, a mini version of racing game, is coming in April 2022. In July of 2022 - Mixmobs & Breeding, Game Beta, tournaments and staking. Later the game will mature into the MMO universe and DAO based governance.
Summary
So, until there's more information about the token, (there is nothing about it even in the roadmap), NFTs seems like the only option to get into the ecosystem of Mixmob.
The fact that mask holders will get 1000 tokens can mean that the price paid for NFTs will sooner or later be returned, especially if you will also stake the mask bringing more tokens into the wallet. The return might not be massive, it will depend on the value of the token but there's much less chance that the money put in NFTs will go to zero. NFTs seem to bring a decent benefit although it is likely that the floor price will rise very slowly as the staking and a token airdrop is far ahead. So, not too many bullish events while the game is being developed.
Team looks great, funds raised and investors too, the project is in early stages but the chance of the team being able to build something cool is high. Now that the marketing team has expanded, Mixbots should attract more attention from the public.