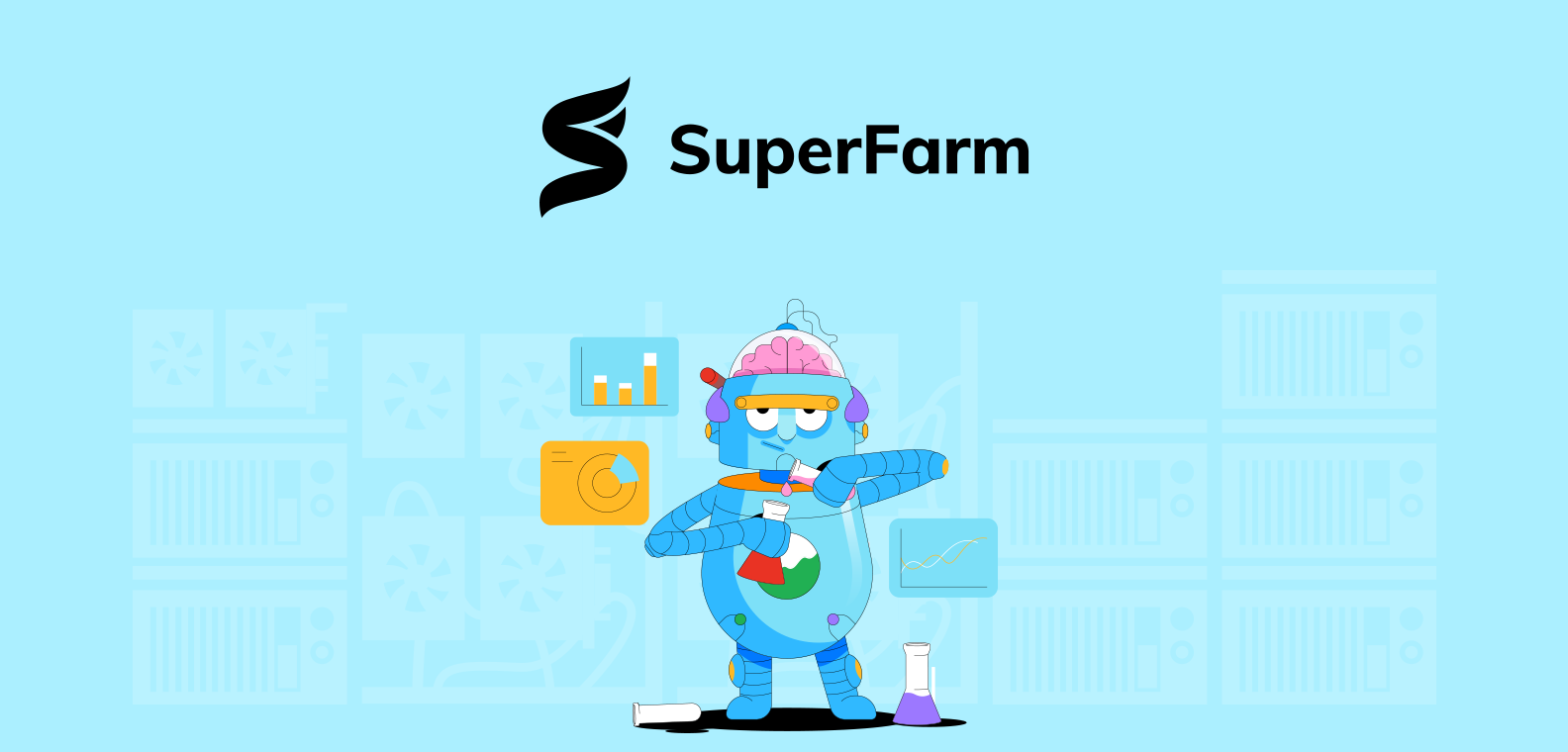 SuperFarm Coin $FARM: Deploy Tokens And NFTs
SuperFarm is a platform allowing new crypto projects to deploy their tokens and NFTs with no code required.
What is SuperFarm? It is a platform allowing new crypto projects to deploy their tokens and NFTs with no code required. In other words, if you want to launch an NFT with a token, Superfarm will provide all tools and features you might need in a user-friendly platform.
The tools include:
NFT generation
ERC20 generation
NFT farming
Crypto farming
One of the most significant value propositions of Superfarm is NFT and token farming. It matters because when a new project launches a token or an NFT, investors who purchased it can either hold or sell and the team of the projects cannot provide more options.
After all, they need to implement them. With Superfarm, farming features will be available immediately after the launch giving investors more chances to get more rewards until the project launches its main product.
Social sentiment - the community is growing
@SuperFarmDAO joined Twitter in January of 2021. In the last year, it received 250K new followers which is very impressive. Most of the posts the account tweets are related to the projects the Superfarm partnered with and their NFT drops, the engagement below the posts is high. Apparently, launching your project on Superfarm gives additional exposure to a large audience which is a benefit on its own.
There's also a Telegram channel with 55K members (5k are online).
The Ethereum contract address of Superfarm shows almost 26K holders and 328,506 transfers, and there are 7K holders on BSC with 146,897 transfers.
Team and ecosystem - decent progress
The founder and the main promoter of the project is Ellio from Elliotrades Youtube channel. The influencer has 533K subscribers on Youtube and 514.4K followers on Twitter.
The project is pushing towards decentralized governance, so details about the team are non-existent. In short, the team is Ellio and over 30K $SUPER holders.
The project has collaborated with big names like COTI, PARSIQ, Injective Protocol and Polygon Network, and has backing from Spark Digital Capital, GBV Capital and Animoca Brands.
Currently, the project has few token farms available and the total TVL in the farm is 191,4M.
The tokenomics
$SUPER token IDO took place on Polkastarter on 22d of February, raising 250K for $0.025 per token.
SUPER token holders help govern the SuperFarm network by voting on governance proposals. Users participating in their project need to stake 100,000 SUPER to create their farm.
The max supply of the $SUPER is 1B, and 36% of tokens are already in circulation. Therefore, the diluted market (1,7M) is 2,8 times larger than the current market cap (623,3M).
The project doesn't have an official whitepaper, so coin allocations, locking, or vesting schedules are unclear.
The roadmap
NFT farming, NFT drops, and Super starter (launchpad) were already launched. The next upcoming updates - tools for generating NFTs, NFT trading, NFT marketplace, tools for creating games using blockchain technology, and multichain compatibility has no scheduled dates, just as the rest of the roadmap.
SuperFarm price
SuperFarm price - right now $SUPER is trading 170% below ATH claimed in April this year.
SuperFarm coin $SUPER started to climb upwards at the end of October after long consolidation, painted a bull flag and continues to reach higher levels.
Having in mind a quickly growing community I can see $SUPER reaching the level of the ATH in this bull run. The closest targets would be $2.89 which is a Fib 0.618 level and $3.35 at Fib 1.
Summary
So far, the project seems to have a large community of investors, which was built because of the influencing power of Ellio. But the adoption and actual use case of the available products is a little bit behind, and it would be nice to see more farms, NFT drops, and projects launched. Right now, I get the impression that the Superfarm development is progressing slowly.
Bull flags
Large community and possibly a lot of new people joining as Ellio repeatedly promotes the project. His Youtube channel receives many crypto newbies who ape in without much thinking
There are notable names among investors
Bear flags
Details on tokenomics, developers and roadmap are unclear. There is no official whitepaper.