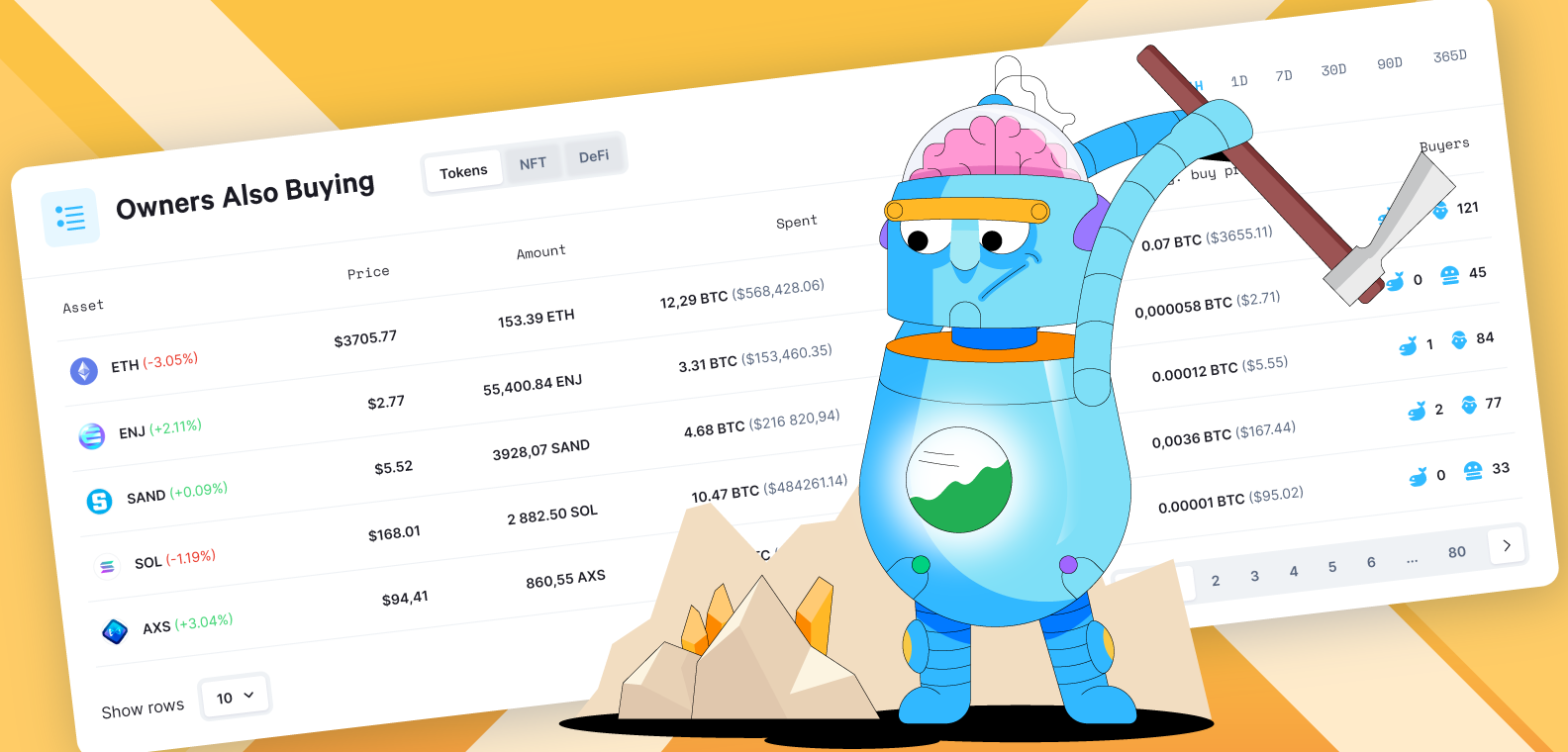 The Importance Offering Utility With The Tokens Produced During The NFT Staking Period: With Examples
Many NFT projects offer the option to stake their NFTs and earn rewards such as projects' native tokens. However, it's important to understand if the token provided actually has utility. So let's take a look at some projects that have succeeded in doing so.
NFT space is crowded with NFTs that are desired by NFT enthusiasts simply for their artwork and the potential of it becoming highly valuable. But many are looking for projects that will give them something extra besides becoming the owner of a unique piece of art.
Simultaneously, as the market grows, artists and developers are looking for new use cases for NFTs.
One of use cases gaining popularity is NFT staking - locking up a collection in a pool and earning rewards during the staking period, which is usually in the form of a native token. However, in many cases the tokens produced during the staking period do not own a value of on their own and their utility is questionable.
This is why we here at DEXterlab believe it's important to ensure that the token produced during the staking period has a clear utility from the start to really benefit the community and build something bigger around the project at hand.
In this article, we will cover what is NFT staking with some examples of projects that have successfully implemented staking providing real utility with the tokens produced during their staking period.
NFT Staking Explained With Examples
In simple terms, NFT staking means locking up non-fungible tokens on a platform or protocol to support a blockchain network's operation and, in return, earn passive income without having to sell their collection and lose ownership.
Of course, NFTs have provided value to their owners before staking has come into play.
With NFTs being able to provide authentication of ownership and authenticity of almost anything physical or digital, they have made a big name in terms of revolutionizing art collecting and providing a way for creatives in various industries to monetize their work.
Moreover, NFTs have greeted a demand in play-to-earn games, which give players ownership of the virtual items they have purchased or collected in games such as Axie Infinity and Stepn.
As you can see, the use cases of NFTs mentioned above are very clear, but NFT staking brings developers and collectors new opportunities
The teams behind NFT collections can grow their community and boost the demand for their future projects
The collectors can monetize their NFT collections, earn passive income and unlock some unique benefits
Of course, when considering investing in a collection, you should see some benefits other than just being able to stake your NFTs to receive tokens, especially in cases when there's no real use for the tokens produced.
To make it clear by what we mean by ensuring that the tokens produced during the staking period need to have clear utility, we have selected three projects that have successfully introduced staking, offering clear utility for the token that the users earn.
DeGods
Source: Coin98 Insights
DeGods is a Solana-based NFT collection featuring 10 000 virtual gods. The project also integrated with Dust Protocol so the $DUST token could be used across its entire ecosystem.
The $DUST token can be used for
Winning top-tier NFTs every day
Purchasing NFTs in the DeDAO treasury
DeadGods mutation, auctions, raffles, P2E & PVP games, and betting platforms
Sending to the DeDEAO treasury for maintaining a healthy supply of circulating $DUST tokens for economic activities and utility development
In the future, DeGods plans to release a new NFT collection that can be minted using only $DUST.
Currently, there are two types of DeGods NFTs, both with their benefits:
DeGods
DeGods NFTs can be verified and allow its holders to access the DeDAO community and become visible on DeMap.
Moreover, each NFT can also be staked to mint 5 $DUST tokens per day (no matter the rarity) or users can burn DeGods NFTs to earn $DUST tokens. With the latter, the rare NFTs will generate more tokens than the common ones, and only one DeGod will be burnt in one day.
DeadGods
DeadGods NFTs are like an upgraded version of DeGods NFTs, or more specifically, they are mutated forms of DeGofs NFTs and are created by transcending DeGods NFTs by using $DUST tokens (see the photo above for reference). When users stake their DeGods NFTs, they can mutate the NFTs during the staking without unstaking it. Each DeadGods NFT can mint 15 $DUST tokens per day.
Blocksmith Labs
Blocksmith Labs is a collection of 4444 NFTs that were minted on March 24, 2022. They claim to target solving real problems within their ecosystem, and by today, they have launched their first tools, Mercury and Bitfrost.
Mercury aims to tackle the tedious process of whitelisting by making the whole process seamless for both users and projects.
Bitfrost is a price discovery launchpad that enables projects to maximize capital raise while providing a seamless mint experience with anti-bot measures.
The holders of Blocksmith Lab NFTs can stake them to earn $FORGE tokens. Currently, the token holders are able to:
Buy whitelist spots from the projects that have been onboarded to Mercurcy, allowing easy whitelisting for holders only
Mint NFTs on Bitfrost
Spend $FORGE on various things such as raffles and auctions
Purchase their NFTs and other tangible items
In the future, Blocksmith Labs wishes to release more use cases for the token holders and is working on developing various products and apps while enhancing existing ones.
Famous Foxes Federation
Famous Foxes Federation has successfully launched four collections that have gained a lot of traction thanks to staking and the opportunity to earn $FOXY tokens, which can be used for all of the project's future mints, features, and utilities.
As it's no longer possible for investors to mint NFTs from FFF's ecosystem with SOL, the only way of getting your hands on upcoming mints is by spending $FOXY tokens.
So let's take a look at the collections in the FFF's ecosystem and how it's possible to earn $FOXY tokens to become part of their world and the benefits provided.
Famous Foxes
The collection Famous Foxes (FFF NFTs) consists of  7777 randomly generated NFTs on the Solana blockchain network.
The holders of FFF NFT get a members access to a DAO (decentralized autonomous organization) where they can participate in various events such as SOL raffles, airdrops, NFT mints, and community giveaways, and more.
DAO members are also a part of making important decisions regarding the project and its development. For instance, users have the chance to vote on various decisions, such as
Voting for organizations that would receive a part of a donation of FFF's 800 SOL donation fund
Voting to choose the name for FFF's utility token ($FOXY)
FFF NFTs have also introduced staking, which allows users to earn $FOXY tokens on a daily basis receiving 100 tokens per day.
Transdimensional Foxes
Transdimensional Foxes (TFFs) consist of 7777 pixelated NFT versions of Famous Foxes that were originally airdropped to FFFs holders, and the remaining 800 were minted for 0.5 SOL.
TFF NFTs holders also have the opportunity to earn rewards for staking. By staking TFF NFTs, the users will receive 25 FOXY tokens daily. The difference in the tokens received from staking either FFFs or TFFs comes simply from the fact that TFFs are much cheaper and more accessible to an average collector.
The additional benefit for TFF holders is that they provide a higher chance of receiving a future airdrop. However, unlike FFFs, TFFs don't grant access to the DAO, and the only way to become part of the DAO, or as the community calls it, The Federation, is by owning FFFs.
Fox Dens
Fox Dens is a Metaverse collection consisting of 3000 NFTs that resemble the style of "virtual real estate" collectibles, and they were minted for $FOXY.
Dens act as the ownership key to both holders' personal Den and the Dens utility enabling users to earn rewards and show off both Solana NFTs and Ethereum NFTs in the same collection.
Friends & Foes
Friends & Foes collection is an honorary collection consisting of 15 NFTs that is a series of Foxes created by various artists, and usually, these are auctioned off for $FOXY token.
By owning a Fox from this collection, the holders can earn 100 $FOXY a day, qualify for all the missions in the FFFs ecosystem, and provide DAO access in discord.
In Conclusion
At first glance, staking NFTs can seem like a great opportunity to earn passive income by earning projects' native tokens.
However, the question to ask yourself is what you will actually be able to do with the token produced during the staking period - if there's no real utility, the token has no real value.
By analyzing some successful projects like DeGods, Blocksmith Labs, and Famous Foxes Federation, we here at Dexterlab are determined to only introduce staking once our $DXTR token can provide clear utility.